Tell the Republican National Committee to SUPPORT the FairTax!
Messages Sent So Far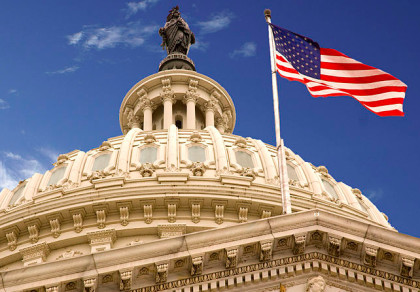 The Republican National Committee is asking the American People about tax reform.
They want a "bold and achievable plan" that:
Provides tax-relief for the middle-class
Simplifies the tax code
Grows the U.S. economy
It's time to take the FairTax to Republican leadership! The FairTax is the only tax legislation that treats every person equally and allows American businesses to thrive, while generating the same tax revenue as the current four-million-word-plus tax code... and without the I.R.S.
Take action now: Add information below to sign and send your letters to the Republican National Committee!
Public Comments
Apr 28th, 2017
DANIEL H. from Fort Pierce, FL writes:
The Fair Tax system should replace the IRS
Apr 28th, 2017
Jamie W. from Kennewick, WA writes:
True Tax reform will abolish the IRS and stop taxing income. FairTax is the Make America Great Again tax reform!
Apr 27th, 2017
Aron J. from Antioch, CA writes:
Please take the time to read and understand the Fair Tax plan. It is a simple replacement for the current taxation system.
Apr 27th, 2017
Lyn G. from Humble, TX signed.
Apr 27th, 2017
Someone from Chattanooga, TN signed.
Apr 27th, 2017
Someone from Chattanooga, TN signed.
Apr 27th, 2017
Richard C. from Clearwater, FL writes:
I'm a long-time republican, and I think the Fair Tax is the perfect solution to our broken tax system. I'm counting on your help to make this happen.
Apr 27th, 2017
Eric S. from Salem, VA writes:
We need this Fair Tax, please support it.
Apr 27th, 2017
Gary S. from Tallapoosa, GA writes:
By enacting the fair tax everybody pays taxes. If you buy anything your going to pay taxes. No one will be able to get around it. The more buy the more you pay. No more IRS. Let's take the power from the government and give it back to the people where it belongs.
Apr 27th, 2017
Someone from Atlanta, GA writes:
Apr 27th, 2017
Charles F. from Niceville, FL signed.
Apr 27th, 2017
Debra D. from Albuquerque, NM signed.
Apr 27th, 2017
Vickie C. from San Jose, CA writes:
We NEED to make a change!
Apr 27th, 2017
Steve G. from Papillion, NE writes:
I don't mind paying my fair share. What bothers me is all of the breaks that people get for no reason. I work hard for my money and I want to keep my fair share of it. I feel that everyone needs to contribute. I do not care if a wealthy person gets to pay less in taxes, they earned it! I am tired of subsidizing people that won't or don't work, people that make irresponsible choices; quitting school, having kids they can't possibly afford, buying things they can't possibly afford. We are all equal, yet certain groups get money from others for simply being irresponsible. It needs to stop. The Fair tax will level the playing field. People will be forced to make better decisions. Congress needs to act NOW!! The Fair Tax will release the chains of the government which will enable businesses to grow at a fast rate. Prices will drop. The IRS will be gone as well as the lobbyist. It is clear that something needs to be done. The Fair tax is the best taxation method ever invented. Let's get this pushed through. It will help everyone.
Apr 27th, 2017
Trisha H. from Christiansburg, VA signed.
Apr 27th, 2017
Curtis N. from Manson, IA writes:
The Fair Tax Plan should cause "everyone" to have "some skin in the game" and reduce Federal spending on the IRS Department.
Apr 27th, 2017
Tom H. from Brooksville, FL writes:
Fixed income individuals can be quite frugal with their small and large purchases by shopping in the second hand market. I myself am approaching 80 years and new is not as important as it was when I was younger.
Apr 27th, 2017
Ronald E. from Pleasanton, CA writes:
PROPOSED LAWSUIT (Violations of 16th Amendment, Tax Clauses US Const) CALIFORNIANS FOR FAIR TAX (Plaintiff) VS. UNITED STATES CONGRESS INTERNAL REVENUE SERVICE DEPARTMENT OF JUSTICE (Defendants) The following complaint herein addresses federal income tax matters as administered and enforced by the named defendants, plaintiffs argue, are repugnant to and violation of the United States Constitution including Amendment Sixteen, Statutes At Large, United States Code (26 USC) referred to as the "Internal Revenue Code" (as amended), Code of Federal Regulations (Titles 26 and 27), U.S. Supreme Court rulings, opinions as relevant and citations as relevant within the Congressional Record.
Apr 27th, 2017
June L. from Dallas, TX writes:
FAIR TAX is the way we should go. End the IRS, make taxes simple and make sure all pay
Apr 27th, 2017
James M. from Proberta, CA writes:
Fair Tax Plan allows big investors to invest in USA vs overseas. Bringing back huge dollars. Bring back the availability of jobs and bringing back higher GDP numbers. Plus: Workers get to keep and spend full paychecks
Apr 27th, 2017
Mark and Sharon K. from Twin Falls, ID signed.
Apr 27th, 2017
George H. from Somerset, KY writes:
The FairTax has been in the making for a long time. It has completely and fairly been researched and is far beyond any past or currently proposed plans. Please consider supporting and passing this FairTax act.
Apr 27th, 2017
Rustin M. from Delta, CO writes:
Please, let's get President Trump to seriously consider getting behind the FairTax. Just the tax revenue from drug dealers and cartels buying their cars, homes, and bling here would pay for the border wall. Also, the thousands of persons here illegally from around the world would help pay for their "entitlements" and "benefits" when they buy new things. So, "Please, Mr. Trump.....listen to Fair Tax advocates and HELP America." Thank You.
Apr 27th, 2017
Jack W. from Atlanta, GA writes:
Gasoline sales are an example of Fair Tax. Pump price of $2.50 means the seller sends state and federal tax to state who keeps their share and forwards the rest. If gas tax was like income tax, all gas receipts from all states would have to be saved. Government would withhold the expected amount of tax based on expected driving for your specific vehicle. At end of year a tax return would have to be filed with more tax due if you drove over expected. State tax returns would need to be filed for every state gas was purchased in.
Apr 27th, 2017
James H. from Redlands, CA writes:
Only The FairTax taxes the underground economy which would result in close to a trillion dollars boost to government income without hurting the average guy. Why would anyone be against that?
Apr 27th, 2017
Jack L. from Fenton, MI writes:
gets rid of the payroll tax giving the lower 50% of workers a 15%increase in take home pay!
Apr 27th, 2017
Francis C. from The Villages, FL writes:
Apr 27th, 2017
Jim F J. from Sherman, TX writes:
This is the only solution to fair taxation. The redo going on in Congress right now is just messing with a broken system. It is not really solving anything in the long term.
Apr 27th, 2017
Someone from Milpitas, CA writes:
This is the best taxation system I've seen yet because it does away with the often-abused IRS, helps low-income workers, and removes taxation paperwork headaches from businesses. Imagine all of that money being repatriated and spent in the USA!
Apr 27th, 2017
MIKE M. from Joliet, IL writes:
The new presidential political promise will be: "I will lower the Fair Tax Percentage When I Am Elected"
Apr 27th, 2017
Richard H. from Austin, TX writes:
A tax on income is an unconstitutional invasion of privacy no mater how simple or flat.
Apr 27th, 2017
Richard S. from Petoskey, MI signed.
Apr 27th, 2017
Brad S. from Newnan, GA writes:
Since the Fair Tax is paid when money is spent, it provides an automatic incentive to save, and does this without the administrative burden of an IRA or 401k.
Apr 27th, 2017
Francine P. from Powder Springs, GA writes:
Please consider the Fair Tax Bill. It will give the middle class a badly needed tax break, remove the bureaucracy of the IRS, and be good for the economy of our country. Thank you for considering what is best for our country. We need relief and a big positive change. Sincerely, Ralph and Fran Pauly
Apr 27th, 2017
Someone from Carriere, MS writes:
With no personal/corporate income or payroll taxes, the Fair Tax Act of 2017 will cause the US economy to blast off like a space shot!!!!!!!
Apr 27th, 2017
Joseph M. from Macon, GA signed.
Apr 27th, 2017
Sam M. from Casper, WY writes:
To interested Fair Tax supporters, Recently I have become somewhat frustrated by the ineffective efforts to push the US Congress in the direction of REAL tax reform. The meaning of real tax reform starts with the proposition, and recognition, that the IRS is an evil and corrupt agency of the Government that controls a tax system that will be forever modified to benefit special interests. As far as I can determine, the proposed Fair Tax bill, presently gathering dust in the US House and Senate, is the only positive tax reform measure that has any hope of, finally, repealing the present tax code and forever lifting the burdens caused by the gestapo-like procedures of the IRS. Now, for the meat of this tirade. There are many (but not enough) enthusiastic supporters of the Fair Tax movement. Some of these supporters (like me) have read much of the available material describing the Fair Tax and believe that this tax system is a multi-faceted and a very positive approach to economic growth, fairness and productivity improvement. BUT. There is always a "but" involved where good ideas become stagnant and thusly are never implemented. The Fair Tax legislation is in this "but" category and there has to be a reason for the stagnation. I personally believe that the lack of enthusiasm for the Fair Tax legislation to become the "law of the land" is the behind-the-scenes perks (campaign contributions) that are available to lawmakers. I am not going to try to describe these perks here because there is probably enough material out there defining deal-making and questionable compromise by lawmakers to fill an entire book. In addition to concealing personal enrichment activities, most Washington congressmen and women are very adept at defining imaginary obstacles to avoid constructive arguments about subjects (like the Fair Tax) that might limit their power. Presently, the Fair Tax approach to finally changing the corrupt Income Tax system is through an appeal to Washington lawmakers with logic, supported by creditable studies, showing how the Fair Tax system is far superior to the existing Income Tax system. These elected lawmakers accept the idea of real tax reform and will even favorably listen to the logical arguments presented by Fair Tax supporters until the Fair Taxer has gone. Most lawmakers after enthusiastically listening, and even approving with the presented arguments, continue with their other (more important) duties such as health care, the border wall, foreign affairs, the budget, immigration or other "news-of-day" items. Lawmakers consider the Fair Tax a conversation subject which can possibly be used as a campaign slogan but will never see any positive movement in the US Congress. In my opinion it will take "Trump-like" rallies on a continuing and nationwide basis to have any positive outcome relative to the present Fair Tax legislation. Letter writing and personal visits to lawmakers will be met with respectful but meaningless results. Just my opinion.-----------------Sam
Apr 27th, 2017
jay n. from Lansing, MI writes:
As there is no statutes that makes any state citizen liable to pay a national tax or debt, its about time to recognize this and for once and for all only tax what entities are liable, incorporated businesses.
Apr 27th, 2017
David O. from San Tan Valley, AZ writes:
Please endorse the return of power and control of our federal government back to the people with the adoption of the Fair Tax. Invigorate our economy with tremendous investment, savings and repatriation of foreign capital by raising all federal revenue through the Fair Tax. Do not continue to tax our productivity but rather our consumption, which is already 75% of our national economy. Thank you.
Apr 27th, 2017
Someone from Bartlesville, OK writes:
Reforming the current system is not the answer. We need a new and bold system that helps all economic classes. The Fairtax is such a plan.