Tell the Republican National Committee to SUPPORT the FairTax!
Messages Sent So Far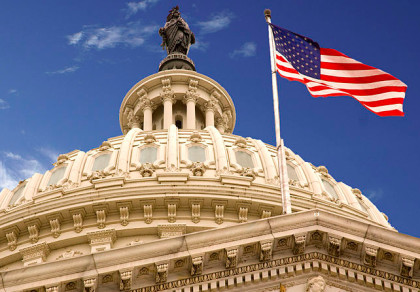 The Republican National Committee is asking the American People about tax reform.
They want a "bold and achievable plan" that:
Provides tax-relief for the middle-class
Simplifies the tax code
Grows the U.S. economy
It's time to take the FairTax to Republican leadership! The FairTax is the only tax legislation that treats every person equally and allows American businesses to thrive, while generating the same tax revenue as the current four-million-word-plus tax code... and without the I.R.S.
Take action now: Add information below to sign and send your letters to the Republican National Committee!
Public Comments
Jun 3rd, 2018
David T. from Anchorage, AK writes:
Please do something to help ALL people in this country. The FAIR TAX is the ONLY fair taxation program. Cut the bull and get it done!!
Aug 21st, 2017
Rudy T. from Deland, FL writes:
We need real tax reform, not a patch to a failing system. Eliminate income tax on people and businesses and move to a National Consumption Tax. It is really simple, extremely efficient, and highly visible. Plus, America WINS and the FAIRtax will create the second American Industrial revolution.
May 28th, 2017
Lance I. from Sweet Water, AL writes:
Take down IRS! Pass Fair Tax
May 23rd, 2017
Joe K. from Seaford, VA signed.
May 23rd, 2017
Someone from Norcross, GA writes:
Tax reform has been identified as a high priority for congress. The FAIR Tax is the best solution! Make it happen!
May 21st, 2017
Someone from Lovettsville, VA writes:
Dear Congress, I am tired of paying more taxes due only to the size of my salary. I persevered to finish my bachelor's degree (at age 43), and any increases in my income should not be penalized. I worked hard for my degree for the potential of a higher salary, and any increases should be my reward for that hard work. Taxing higher levels of income takes away any incentive to do the hard work required for advanced education, especially when folks who don't take that path are rewarded with lower tax rates. It also reduces the incentive to limit risking saved capital instead of investing it. The system is backwards! I believe the Fair Tax provides the incentives and rewards for hard work. I believe it is progressive due to the fact that those who make higher incomes tend to spend more money, while at the same time allowing folks the option to choose if they want to pay the tax (i.e. they don't pay the tax if they don't make the purchase). The Fair Tax provides citizens the freedom to make monetary decisions on their terms, It ends the IRS as we know it, and the financial costs that WE pay to keep this unnecessary agency alive (allowing the savings to be used to pay off our country;s debt. It ends the nightmares of filing tax returns and keeping all the tax-related paperwork to do so. It ends the privacy-eroding need to tell the government private information such as family status and size, income amount and sources, residence information, etc. This is information free people should not be forced to tell the government, and the government does not need to know.... I can go on about the benefits, but don't want to waste either of our time; I'm sure you get the point. The Fair Tax is a superior system to our current system or a flat tax, which keeps most of the negatives we currently have. I support the Fair Tax system, and encourage you to learn all you can about it. Once you do, I believe you will support it as well. Respectfully, A Concerned Citizen
May 21st, 2017
Someone from Mcdonough, GA signed.
May 18th, 2017
Someone from Saint Cloud, FL writes:
Please do something to help ALL people in this country. The FAIR TAX is the ONLY fair taxation program. Cut the bull and get it done!!
May 15th, 2017
Someone from Urbandale, IA writes:
Obama even said that people should pay their "fair share"; really now, what could possible be more fair than the Fair Tax? It is how this country used to be until 1913 with Woodrow Wilson as POTUS - let the greed and power and control grab begin - SAD!!!!! Does anyone even remember the Boston Tea party - taxation without representation ... hmmm corporations are taxed but not represented .... unless you can afford lobbyist which is another sad topic, HOWEVER, with the Fair Tax, the Lobbyist swamp can be drained some too!!
May 15th, 2017
DENNIS L. from Chickamauga, GA writes:
All employees and elected officials need to be under the same health care and retirement laws that you put "we the people" under.
May 14th, 2017
Allen T. from Miami, FL writes:
We need this legislation to allow our economy to grow. The majority of the tax revenue lost due to the underground economy, evasion, and the new employment trend will be recovered.
May 14th, 2017
Raffaele G. from Allentown, PA writes:
It is the only logical solution to have everyone contribute honestly, because it is based upon what you can afford to spend, not what you say you make.
May 13th, 2017
Rick S. from Ocala, FL writes:
The Fair Tax is a no brainer. The reason it was not implemented years ago, can be summed up in one word, "control." Want another one, "power." If this last presidential election has revealed anything, it's that the system, the Washington political machine, is all that's important in Washington. It isn't the law, the Constitution, and certainly not the people and our will, that matter. The election of Donald Trump has forced Republicans into revealing who they really are. The Democrats have never tried to hide it. So fellow Americans, don't expect Congress to embrace the Fair Tax...unless we force it upon them at gun point. The Declaration of Independence supports the position that it is high time we do just that.
May 13th, 2017
Someone from LA Mesa, CA writes:
Paul Ryan was recently on Fox & Friends discussing tax reform. He said one goal was to reduce corporate taxes to entice American business back to America from off-shore operations. The plan he has in mind only slightly reduces corporate taxes, and they can be raised right back up later. The FAIRTAX totally eliminates corporate taxes - as well as federal income taxes including, personal, estate, gift, capital gains, alternative minimum, Social Security (FICA), Medicare, and self-employment. You can't get lower than zero, and because the whole current system is replaced, the taxes can't be reinstated. The FAIRTAX is the only true tax reform.
May 13th, 2017
Stephen M. from Edmonds, WA writes:
The Democrat Party has completely sold out to Leftism but the Republican Party becomes the "Do Nothing" or (worse) "Do the Wrong Thing" party after achieving power. With all three branches of government in its control, IT IS TIME to: (1) Reform taxes by passing the FairTax law; (2) De-fund Planned Parenthood from receiving any tax money; (3) Repeal Obamacare(less) by passing similar legislation to what the Congress passed BEFORE Obama left office (otherwise you are hypocrites!); (4) Lay off the Freedom Caucus (because these principled people stand for Constitutional government - something the Republican Party SAYS it supports but its actions speak otherwise); and (5) Quit appealing to the baser instincts of Republican members (specifically the Left-to-moderate element which would be more comfortable in the Democrat Party ... Sen. Susan Collins, Speaker Paul Ryan, Sen. John McCain, Sen. Jeff Flake, "leader" McConnell, etc., etc., etc.
May 13th, 2017
INA M. from Athens, GA writes:
WE TALKED ABOUT THIS FOR YEARS AS A WAY TO EVEN OUT THE TAX BURDEN ON THE MIDDLE CLASS AND ALL. IT IS AS IT SAYS A FAIR TAX.. IT S NOT REALLY A NEW WAY OF THINKING. THE OLDER GENERATION GREW UP ANTICIPATING THE COST OF ITEMS BEFORE MAKING PURCHASES AND THAT INCLUDED THE TOTAL COST. THEY WERE THOUGHTFUL AND THRIFTY WITH THE SPENDING OF HARD EARNED MONEY. PERHAPS A LITTLE LESS MATERIALISM AND A BIT MORE SPIRITUALISM IN SPENDING WOULD BE A GOOD THING.
May 12th, 2017
JOSEPH C F. from Philadelphia, PA writes:
I BEEN A CO-SPONSOR SINCE 2009 I WENT TO A FAIR TAX MARCH.DOWN IN WASHINGTON BACK IN (2009) AT THE MARCH I WAS TOLD THERE 10.000 PEOPLE.I THINK IT WILL GIVE OUR YOUNG PEOPLE INCENTIVE TO GO TO WORK.WHEN THEY ARE TAUGHT ABOUT THE FAIR TAX.
May 12th, 2017
Someone from Lilburn, GA writes:
In the words of former POTUS, Ronald Reagan, "Government IS the problem NOT the solution." The Fair Tax would be the greatest transfer, in history, of power from big government to the people! Liberals (you establishment republican leadership) resist the Fair Tax because they fear the loss of power. They are more concerned with self preservation than the welfare of the American People. You know who you are and you should be ashamed of yourself for not trusting the American people to know what is best for themselves.
May 12th, 2017
Joey H. from Tulsa, OK writes:
This country has been on the same tax plan for decades. Presently, it only benefits the government. When will politicians truly work for the people? We now have a businessman as a leader in the White House. Once the Fair Tax is enacted and government STOPS the FRIVOLOUS SPENDING, then this country will start to prosper more.
May 12th, 2017
Rick B. from Henderson, KY writes:
May 12th, 2017
Mark R. from Smyrna, GA writes:
I have carefully studied the Fair Tax since the first Fair Tax book was published. It is the ONLY tax method that is completely fair, simple, and much more tax-efficient than any other. When it replaces the present corrupt and inefficient income tax system, the U.S. economy will SOAR!
May 12th, 2017
michael c. from Atwood, KS writes:
While your at it make sure it will take a 2/3 majority to either raise or ( or God forbid LOWER it ) in the future!!
May 12th, 2017
Rick C. from Juneau, AK writes:
Income tax is regressive; not progressive. My wife and I are educators. I am a U.S. Coast Guard veteran with twenty-three years of service. All of our income is wage-based. We pay over thirty thousand dollars in income taxes each year. We literally can't afford to retire because of our tax burden. Income tax withholding takes up to thirty percent of working people's wages. While the income tax system offers members of congress immeasurable power to reward and punish, the workers who support the system are deprived of market choices for their hard-earned wages. Presidents over the years are used or, more properly, abused the tax code to punish enemies. The actions of Lois Lerner and the Obama administration are an example. Please adopt the Fair Tax Act of 2017. It will introduce equity into tax collections, increase prosperity beyond imagination, and uncheck market forces.
May 11th, 2017
Someone from Roy, UT signed.
May 11th, 2017
David D. from Spring, TX writes:
The FAIR TAX is the only equitable, long term option for much-needed reform.
May 11th, 2017
Mary Teresa P. from Berryville, VA signed.
May 11th, 2017
Robert C. from Waynesboro, VA writes:
I will fully support my legislators who will champion the FAIRTax.
May 11th, 2017
Someone from Knoxville, TN writes:
Please abolish the IRS!! It is the most repressive organization that I have ever witnessed. Taxes are too high and too complicated. It is insane to have to pay someone to tell you how much you owe. It has to be simple enough and easy enough that folks can pay as we go and know that our taxes are paid, not riddled with anxiety as that deadline looms not knowing if we have paid enough and how much penalty and interest will be added.
May 11th, 2017
David W. from Bahama, NC writes:
Any politician, no matter their party, will get my vote if they support the Fair Tax. I will never vote for an incumbent that doesn't.
May 11th, 2017
Richard G. from North Richland Hills, TX writes:
Get the IRS out of the tax business
May 11th, 2017
Paul L. from Jacksonville, FL writes:
Please consider the real need for tax reform with this Problems and Solutions approach. Key debate question, "What is wrong with the federal tax code and how to fix it?" The root of the tax issues is the 16th Amendment (enables direct taxation and without limits) passed in February 1913. Six months late came the first legal income tax, then the IRS, payroll taxes for Social Security and Medicare and tax withholding. The 16th Amendment gave the federal government huge new taxing power and we lost Freedom, Liberty and Civil Rights. The 16th Amendment in our Constitution, the document that protects the people from its government, enables a graduated income tax, the second requirement for communist state per the Communist Manifesto by Karl Marx. Please consider the following problems and note that taxes are a discouragement, a burden, a punishment. 1. We all fear the IRS. This is government tyranny. An IRS investigation does not involve a judge and jury, thus a loss of Civil Rights. The IRS is used for political purposes and needs to be eliminated. The federal tax code has grown to over 74,000 pages. Nobody understands the code, it's too large to administer, full of loop holes and encourages bad practices. 2. Direct taxation discourages work and creativity by taxing production, income, savings and investment. We want more jobs, but have a regressive tax on jobs of 15.3%, shared 50/50 by the employee and the employer. Production is what creates jobs, a vibrant economy, better the standard of living and a larger tax base, but we tax production. 3. The 47% think they are not paying federal taxes, but in fact they are paying over $0.28 per dollar in embedded business taxes as a hidden regressive sales tax. You see all taxes, fees, etc. to businesses are costs that raise prices and are passed onto the next buyer until finally paid by the final consumer. 4. Untax "Made in USA" and put imported goods and US goods on the same tax system. The USA has the highest business taxes in the world thus raising the prices for USA goods, but imported goods do not carry that same high tax burden. 5. Federal taxes are based on jobs, companies and capital; thus driving them out of our economy and also discouraging them from entering. 6. Federal tax withholding reduces spendable income and take home pay. 7. "United we stand, divided we fall" and our tax code divides us into classes. 8. We spend some $431 billion per year to just comply with the tax code. That is an expensive stay our of jail card that adds no wealth. 9. The "underground economy including illegal aliens" is estimated to be over $2 trillion and is untaxed. 10. Tax evasion is at $0.6 trillion and growing. 11. There are many who cheat or don't even file a tax return. 12. The tax code hurts most the impoverished and lower incomes while the deductions, loop holes and exemptions are of most help to the wealthy. 13. Let's put the care and feeding of the family before paying federal taxes? 14. The Washington beltway commodity is the federal tax code as it is bought and sold by the lobbyist, special interests and politician. Hence the growth of "Crony capitalism". Today we are infected with "tax cancer", a deadly spreading evil. Would you like a solution to all of these problems? Flat taxes and rate changes are not the answer as they still tax labor and creation, need the IRS with annual tax filing, tax withholding and most still tax job. A flat tax may make it easy to file your income tax, but we have been there before and politicians know and agree the tax system will quickly revert back to its old ways. The value added tax (VAT) is another new tax without eliminating any old taxes. It is called a consumption tax but still taxes businesses and opens up a whole new play ground of taxation for the politicians, lobbyists and special interests. Both the flat tax and the VAT still need the 16th Amendment and are not solutions to the real problems. America's Big Solution is called the FAIRtax ®, a bill of 132 pages (double spaced) in Congress HR 25 / S 18 that does address all of the problems mentioned above. The new Congress has 45 supporting the FAIRtax (40 House and 5 Senate). The FAIRtax is real "replace and repeal" tax reform. It abolishes all federal personal and business income, gift, estate, capital gains, alternative minimum, Social Security, Medicare and self-employment taxes and replaces them with one simple, visible, federal retail sales/consumption tax – collected by existing state sales tax authorities. The FAIRtax is easy to understand, has no tax loopholes and one tax rate. It collects the same tax revenue with a progressive sales/consumption tax on new goods and services of $0.23 per dollar. The FAIRtax has only one tax break, called a Prebate that is a monthly tax rebate based on family size. The Prebate helps most the impoverished and lower income and decreases in value as income and wealth increase. The Prebate makes the FAIRtax a progressive tax plan and puts you in control of the amount of tax and tax rate you pay. The FAIRtax promises real long term growth for jobs and the economy. The 16th Amendment would be repealed with companion legislation. Learn more, join the grassroots cause for real/true tax reform and contribute at bigsolution.org, FAIRtax.org #FAIRtac and #MTFA. Submitted by Paul Livingston FAIRtax volunteer
May 11th, 2017
Someone from Plymouth, MA writes:
If you're tired of corruption in DC, and sick of underground industries not paying income taxes...Pass the FairTax!
May 11th, 2017
Someone from New York, NY writes:
May 11th, 2017
Kenneth S. from Knoxville, TN signed.
May 11th, 2017
Terry B. from Benton Harbor, MI writes:
I have waited a long time for change I hope everyone checks into the FAIR TAX like I have it will work
May 10th, 2017
Jeff G. from Simi Valley, CA writes:
The current system is just another form of slavery. Show that your still the party of Lincoln and end the slavery
May 10th, 2017
Larry B. from Skiatook, OK signed.
May 10th, 2017
Larry B. from Skiatook, OK signed.
May 10th, 2017
David G. from Youngstown, FL signed.
May 10th, 2017
Someone from Chatsworth, GA writes:
Need more detailed information on the proposal bill. What voucher are in bill for low income or no income persons. What happens to allocation to states and how is it preporsoned? What dept will manage system and how paid for by whom? At what rate and it equally applied to all purchases. Groceries. Medicine and etc. what other fees attached to this? Absolutely NO VAT!!!!!!!