Tell Congress: Pass the Fair Tax Act of 2019!
Messages Sent So Far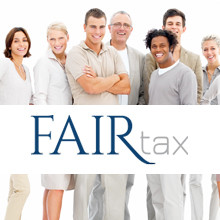 The current federal income tax system is clearly broken — unfair, overly complex, and almost impossible for most Americans to understand.
But there is a reasonable, nonpartisan alternative before Congress that is both fair and easy to understand. A system that allows you to keep your whole paycheck and only pay taxes on what you spend.
It's called the FairTax. Introduced in the U.S. House and Senate as H.R. 25 and S. 18, respectively, The FairTax is a national sales tax that treats every person equally and allows American businesses to thrive, while generating the same tax revenue as the current four-million-word-plus tax code... and without the I.R.S.
The Fair Tax Act of 2019 is the only tax replacement plan before the U.S. Congress that:

Eliminates all federal income and payroll taxes including personal, gift, estate, capital gains, alternative minimum, Social Security/Medicare, self-employment and corporate.
Eliminates the need for businesses and individuals to file federal income tax returns.
Eliminates over 74,000 pages of Internal Revenue Code and the estimated $350 billion in annual compliance costs.
Defunds, disbands and eliminates the Internal Revenue Service.
Favors American businesses and workers over foreign corporation, and dramatically increases the rate of economic growth and job creation.
Brings American jobs back to America and generates employment opportunities for the hundreds of thousands of chronically unemployed.
Repeals the 16th Amendment and direct taxation through companion legislation.
Take action and tell your U.S. Representative and Senators to co-sponsor the Fair Tax Act of 2019. Add your name in the fields below to proceed to send your no-cost letters.
Be a part of the FAIRtax movement and help make make April 15 just another spring day. Visit FAIRtax.org.
Public Comments
Jun 3rd, 2019
Bret B. from Waverly Hall, GA signed.
Jun 2nd, 2019
christine p. from Flowery Branch, GA writes:
I strongly support the fair tax
May 20th, 2019
Someone from Boston, MA writes:
It makes too much sense to be adopted by our government.
Apr 15th, 2019
Someone from Gainesville, GA writes:
I am convinced that this is the solution to tax reform! All will benefit from this tax system!
Apr 14th, 2019
Claude M. from Decorah, IA writes:
I strongly support the FairTax.
Apr 11th, 2019
Someone from Alpharetta, GA writes:
It's an over burdensome tax code. This would tremendously drive more progress for the regular person. This is truly the best way forward, be part of it.
Apr 10th, 2019
John P. from Bowling Green, KY signed.
Apr 10th, 2019
John P. from Bowling Green, KY signed.
Apr 8th, 2019
Lance S. from Minneapolis, MN writes:
Great common sense approach to fund the Government
Apr 6th, 2019
Someone from Rockton, IL signed.
Apr 5th, 2019
Walter T. from Chesapeake, VA signed.
Mar 27th, 2019
Robert B K. from Shelley, ID signed.
Mar 21st, 2019
Brandon V. from North Highlands, CA signed.
Mar 13th, 2019
calvin d. from Muldrow, OK writes:
this is long overdue pass now
Mar 13th, 2019
Danny C. from Columbus, OH writes:
Simplify taxes for pete's sake!
Mar 10th, 2019
Duane M. from Williamsburg, VA writes:
Mar 10th, 2019
Victor D. from Saint Clair Shores, MI writes:
This is the fair way to pay tax
Mar 9th, 2019
Donald S. from Tomball, TX signed.
Mar 4th, 2019
Jeremy B. from Mcpherson, KS signed.
Mar 4th, 2019
Someone from Summerville, GA writes:
God if only, ABSOLUTELY NO LOGICAL PURPOSE FOR IRS
Feb 28th, 2019
erick d. from Olympia, WA writes:
Please make our tax simple, fair, and thus great, Erick
Feb 26th, 2019
Johnnie P. from Benton, AR signed.
Feb 13th, 2019
Beverly O. from Fairborn, OH writes:
Fair taxes for everyone... PASS THIS NOW
Feb 11th, 2019
Jannice B. from Sevierville, TN writes:
FAIRtax will save our economy. Get on board or explain why you want to keep the bloated, inefficient IRS. Loopholes benefit the rich - is that you? Don't be a stumbling block to real reforms that will benefit this nation.
Feb 7th, 2019
Someone from Apopka, FL writes:
It's time to keep the money that we work hard for. We should not have to work 4 month out the year just to pay federal taxes.
Feb 5th, 2019
Francine F. from Ocala, FL writes:
Feb 5th, 2019
Greg G. from Daytona Beach, FL writes:
Vote yes for this ASAP, I spend money quicker than I make it all the time so Uncle Sam will be taking in more this way than he does now:)
Feb 1st, 2019
Someone from Collierville, TN writes:
This is a common sense solution to many of this countries current and future problems. Vote for this!
Feb 1st, 2019
Someone from Memphis, TN writes:
Do something for the American workers/taxpayers for a change. Do the job for Americans that you vowed to do when you took the oath of office.
Jan 31st, 2019
Douglas V. from Peoria, AZ writes:
I support this plan. Please vote for the bill.
Jan 31st, 2019
Danny N. from Thorsby, AL writes:
Please, please, please, do what is necessary to pass this bill. We need this to become law. This will make life for ALL Americans better, and will allow us to tax everyone in this country fairly. We should not be taxed for earning money. We as people should only be taxed when we spend money.
Jan 24th, 2019
Jeremy M. from Westminster, CO writes:
I support this plan. Why waste money to employ an IRS to create an awful system which confuses and disenfranchises too many? We need plenty of reform.
Jan 23rd, 2019
Brian S. from Monticello, UT writes:
Save your constituents from wasteful expenses. They will love you for it.
Jan 19th, 2019
Someone from Melville, NY writes:
Jan 16th, 2019
Joseph K. from Bath, PA writes:
It is time for those that don't pay to not be rewarded, those that do pay be allowed to get something in return for what they are paying for. For too long income tax has gone to pay the interest on the deficit. It's time to end both the illegal FED and IRS. They are not government entities and are not 'by the people, of the people, or for the people.'
Jan 15th, 2019
Michael S. from Savannah, GA signed.
Jan 13th, 2019
Someone from Sandy, UT signed.
Jan 9th, 2019
John M. from Jacksonville, FL writes:
The federal income tax is and has always been unconstitutional! Let's get rid of it and the Federal Reserve, the biggest scam of the 20th and 21st Centuries!
Jan 8th, 2019
John W. from La Center, KY writes:
Better than tax scams, tax "cuts", and other redistribution methods, and makes the government honest.
Dec 30th, 2018
David Z. from Lincoln, NE writes:
Please vote for the bill!