Tell Congress: Pass the Fair Tax Act of 2019!
Messages Sent So Far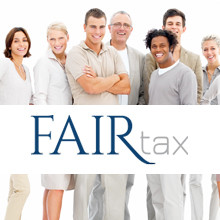 The current federal income tax system is clearly broken — unfair, overly complex, and almost impossible for most Americans to understand.
But there is a reasonable, nonpartisan alternative before Congress that is both fair and easy to understand. A system that allows you to keep your whole paycheck and only pay taxes on what you spend.
It's called the FairTax. Introduced in the U.S. House and Senate as H.R. 25 and S. 18, respectively, The FairTax is a national sales tax that treats every person equally and allows American businesses to thrive, while generating the same tax revenue as the current four-million-word-plus tax code... and without the I.R.S.
The Fair Tax Act of 2019 is the only tax replacement plan before the U.S. Congress that:

Eliminates all federal income and payroll taxes including personal, gift, estate, capital gains, alternative minimum, Social Security/Medicare, self-employment and corporate.
Eliminates the need for businesses and individuals to file federal income tax returns.
Eliminates over 74,000 pages of Internal Revenue Code and the estimated $350 billion in annual compliance costs.
Defunds, disbands and eliminates the Internal Revenue Service.
Favors American businesses and workers over foreign corporation, and dramatically increases the rate of economic growth and job creation.
Brings American jobs back to America and generates employment opportunities for the hundreds of thousands of chronically unemployed.
Repeals the 16th Amendment and direct taxation through companion legislation.
Take action and tell your U.S. Representative and Senators to co-sponsor the Fair Tax Act of 2019. Add your name in the fields below to proceed to send your no-cost letters.
Be a part of the FAIRtax movement and help make make April 15 just another spring day. Visit FAIRtax.org.
Public Comments
Oct 7th, 2020
Robert M. from Orange Park, FL writes:
FAIRtax will put more money in our wallets and more money in my bosses pocket while at the same time, it will get rid of the enormous bureaucracy of the current tax code.
Oct 7th, 2020
Paul S. from Monrovia, CA writes:
FAIRtax is tax freedom and would be the best law for our economy.
Oct 6th, 2020
Jeff H. from Portland, OR writes:
The FairTax is exactly that. I would be very interested in any cogent argument against this tax proposal, as opposed to the usual "I have not had a chance to study ths ...", as the FairTax bill has been around for quite some time. Any member of Congress who claims an interest in "fair taxation", yet hasn't taken any interest in this proposal is disingenuous at best.
Oct 5th, 2020
Raleigh B. from Canton, GA signed.
Sep 11th, 2020
Terry C. from Jacksonville, FL signed.
Aug 31st, 2020
Zachary S. from Winter Park, FL writes:
Taxes are a nightmare, even if you do them perfectly. Costly accounting, accountants and costly tax mistakes would be eliminated. The field would be leveled between those who can afford complicated entity and trust structures and expensive tac attorneys/COS's and thos that cannot afford such expensive tax havens. I support fair tax act.
Aug 31st, 2020
Kassie S. from Winter Park, FL writes:
I support the Fair Tax Act!
Aug 26th, 2020
Sean P. from North Las Vegas, NV writes:
This well-researched plan is ideal for all Americans. And the CARES Act has shown that we are already capable of managing the prebate payments. There's nothing stopping us at this point, so please introduce and support the FAIRTax Act!
Aug 15th, 2020
Daniel W. from Cohutta, GA signed.
Aug 15th, 2020
Donna G. from Barbourville, KY writes:
IRS is a failed corrupt system. Do the right thing. Switch to the FairTax and get rid of the IRS.
Aug 14th, 2020
Lori M. from Spruce Pine, NC writes:
Tjis is a GREAT idea and should be implemented ASAP!!
Aug 13th, 2020
Gene L. from Avondale Estates, GA writes:
The FairTax is the one and ONLY solution to dig out of the hole that has been created by years of government overspending and the recent pandemic. PLEASE Make this a reality finally
Aug 13th, 2020
Harold K. from Cool, CA writes:
Do the right thing, PASS IT!!!!!
Aug 12th, 2020
Bill M. from Austin, TX signed.
Aug 12th, 2020
Jason L. from Sahuarita, AZ writes:
Dear Congress, Stop kicking the can down the road and using the tax code for political agendas. Get it done now and that will be the lasting legacy you leave!
Aug 12th, 2020
Jeremy M. from Dawsonville, GA signed.
Aug 12th, 2020
Will T. from Wetumpka, AL signed.
Aug 12th, 2020
Jeff S. from Oceanside, CA writes:
FIX OUR BROKEN COUNTRY. GET RID OF TRUMP AND THE IRS!!!
Aug 12th, 2020
jeff s. from Oceanside, CA writes:
The only thing that's going to save the economy now. It should have been passed years ago.
Aug 12th, 2020
Josh L. from Rock Spring, GA signed.
Aug 12th, 2020
Heather A. from Parker, CO signed.
Aug 11th, 2020
Dakota S. from Spring Lake, NC signed.
Aug 10th, 2020
Allison L. from Centerville, GA signed.
Aug 10th, 2020
Zachary F. from Grayson, GA signed.
Aug 4th, 2020
Douglas V. from Appleton, WI writes:
Root out corruption in politics. We need Fair tax and term limits. Enough Said.
Aug 1st, 2020
Dr. L. from Sycamore, IL writes:
The primary reason Congress won't act on this bill is because they and their wealthy friends will have to pay taxes like the rest of us. As a small business owner, I could and would immediately raise wages and hire more people with the passage of the Fair Tax. What really have you got to lose by trying something that would require moral fiber and possibly working together? your approval ratings really can't go that much lower.
Jul 29th, 2020
Katherine N. from Pittsburgh, PA writes:
It is essential to initate the FairTax Act in order to truly provide equity to ALL taxpayers in our country. It's time to eliminate the wasteful spending by the political elite and put that money back where it belongs - not in the hands of the greedy top few, but into our country and its' citizens.
Jul 26th, 2020
Trey M. from Arrington, TN writes:
Please pass the Fair Tax now. It makes it easy for citizens to get their full paychecks should something like a pandemic take place without having to struggle and bicker about giving the citizens their money back. It eliminates the possibility of a government organization from breaking the law against innocent citizens. It will quickly help recovery in down markets.
Jul 17th, 2020
MCLAIN O. from Macon, GA writes:
I demand Congress pass the FairTax. Failure to comply will result in negative consequences at the ballot box. Abolish Payroll Withholding. Encourage entrepreneurs and domestic employment.
Jul 11th, 2020
Someone from Springfield, MO signed.
Jul 7th, 2020
Christopher P. from Sapulpa, OK writes:
Pass the Fair Tax Act Now...PLEASE!
Jun 9th, 2020
Nancy P. from Tulsa, OK writes:
If you really consider our present system along side of the Fairtax system, there is no question as to which one make more sense. It is an easier, less costly and more efficient way for all Americans to share the burden fairly of operating our country, NO ONE GETS AN OUT AND NO ONE IS UNNECESSARILY BURDENED BY TAXES. Everything bought is taxed and if you do not spend money, you do not pay large taxes. That is a very simple way to put it but at least it is a start. Please, please, please read the Fairtax Bill and do not allow big government lobbyists influence your decisions. There will be enough to go around for everyone and everything needed to run our government fairly and without graft!
Jun 6th, 2020
Trevor E. from Vancouver, WA signed.
Jun 2nd, 2020
Louis P. from Las Vegas, NV writes:
THE LARGEST SINGLE BARRIER TO FULL EMPLOYMENT OF OUR MANPOWER.... AND TO A HIGHER RATE OF ECONOMIC GROWTH IS - FEDERAL INCOME TAXES! PRESIDENT JOHN FITZGERALD KENNEDY
May 29th, 2020
Someone from Rolla, MO signed.
May 4th, 2020
Timothy D. from Presque Isle, ME writes:
The tax system in the US is unfair and is what is keeping many of Americans either in Poverty or barely making it. FairTax could be the game changer we need in this country; regardless of if you're a liberal or conservative. Keeping more of what you earn is truly nonpartisan.
Apr 23rd, 2020
Thomas M. from Wimberley, TX writes:
Regular folks are paying the freight on taxes. Fairtax will correct that.
Apr 19th, 2020
Richard B. from Cleveland, TN signed.
Apr 15th, 2020
James B. from Summit, NJ writes:
The FAIRtax is the only tax, existing or proposed, that stops taxing the product of labor and capital and unleashes the full potential of the economy.
Apr 13th, 2020
PAUL L. from Jacksonville, FL writes:
$2.2 trillion CARES Act Pay it off with the Fair Tax stimulus The $2.2 trillion bail out is passed. Add it to the national debit. To pay it off production needs to exceed consumption, but the federal income/payroll tax system taxes production. It is time to end this sniffling "direct taxation" code on production and jobs. Unleash our financial freedom as protected by the U.S. Constitution before the 16th Amendment. Taxes do change behavior as shown by a stimulated economy caused by the Tax Cuts & Jobs Act with tax cuts for eight years. Imagine no I.R.S, income tax, payroll taxes and tax withholding. Start a national sales/consumption tax at a rate to replace the old system revenues and a monthly tax refund that helps most the impoverished. This plan is called the FAIRtax, bill HR 25 now in the Ways and Means Committee. It is a simple, efficient and visible tax plan. The FAIRtax would re-energize the economy, make America a tax free business haven, increase individual disposable income and renew the America Dream of free market capitalism. Tax revenues would quickly increase to pay off the $2.2 trillion debt plus more…unless the politicians spend the new found money. Learn more and view the videos at fairtax.org