RIGHTMARCH: Tell Congress to REJECT the 'Map 21' Bill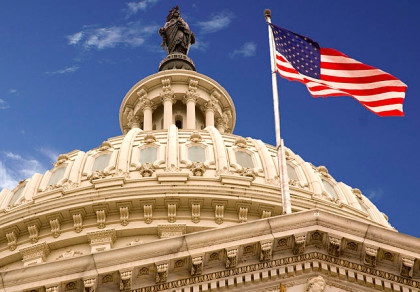 ALERT: A new bill that Congress is ready to pass has several hidden provisions in it -- including provisions that could give the Internal Revenue Service (IRS) the authority to TAKE AWAY the Second Amendment RIGHT to bear arms from anyone they simply ACCUSE of being delinquent on their taxes!

BOTH Houses of Congress are preparing to PASS this OUTRAGEOUS bill -- We MUST move FAST to stop it!

Congress is trying to SNEAK this new IRS power through... by sticking it in a HUGE bill that is supposed to be "to reauthorize Federal-aid highway and highway safety construction programs, and for other purposes."

WHAT THE HECK DOES A HIGHWAY BILL HAVE TO DO WITH GIVING THE IRS THE POWER TO TAKE AWAY OUR RIGHT TO BEAR ARMS?

Officially called the "Moving Ahead for Progress in the 21st Century Act," or "MAP-21," this bill goes WAY BEYOND anything to do with highway safety. If it passes, it could give the IRS the power to:

1) Accuse Americans of delinquency of tax payment without due process
2) Revoke their passports and travel rights
3) Place the accused in a centralize database
4) Authorize the removal of their right to own a firearm

As former Congressman Tom Tancredo notes, "No formal charges are required. Simply the accusation from the IRS is sufficed to strip American citizens of their Constitutional rights."

YOU READ THAT RIGHT: Without ANY right to due process, all that the IRS has to do is simply CLAIM that a citizen owes $50,000 or more in taxes. This accusation ALONE will give the IRS the authority to REVOKE any American's travel rights -- and then remove the right to own a firearm.

THIS IS OUTRAGEOUS! CONGRESS IS READY TO PASS THIS BILL GIVING THE IRS THE POWER TO VIOLATE OUR CONSTITUTIONAL RIGHTS!

It's up to YOU AND ME to STOP THIS BILL NOW! Take Action with RIGHTMARCH below: Sign the Peititon and Send free Messages to your Lawmakers below!
Public Comments
Jun 23rd, 2014
DON M. from Hastings, MN signed.
Jun 20th, 2014
Someone from Rochester, NY signed.
Feb 22nd, 2014
Craig f. from Kirkland, WA signed.
Jan 23rd, 2014
Robert L. from Old Hickory, TN signed.
Oct 18th, 2013
Someone from Rochester, NY signed.
Sep 8th, 2013
Corinne B. from Oakland, OR signed.
Feb 28th, 2013
Someone from Philadelphia, PA writes:
do not pass this bill it violates our constitutional rights
Feb 12th, 2013
William C. from Moose Pass, AK signed.
Dec 3rd, 2012
JAMES D. from Elverta, CA signed.
Dec 2nd, 2012
Paula D. from Roanoke, VA signed.
Dec 1st, 2012
Karamjit S. from Cherry Hill, NJ signed.
Nov 29th, 2012
francisca g. from Deering, ND signed.
Nov 17th, 2012
Christopher B. from Largo, FL signed.
Nov 5th, 2012
linda s. from Oklahoma City, OK signed.
Oct 30th, 2012
Samuel andElizabeth W. from Yorktown, VA signed.
Oct 26th, 2012
Someone from Round Rock, TX writes:
Outrageous and Very Disturbing. This does Not just strip people of their 2nd amendment right, but air travel, passports- added to terrorists lists. Unacceptable.
Oct 20th, 2012
Davonna S. from Fayetteville, NC signed.
Oct 19th, 2012
William C. from Mountain Home, ID signed.
Oct 15th, 2012
Stephen R. from Columbia, PA writes:
Due process, another of those inconvenient rights.
Oct 1st, 2012
francisca g. from Deering, ND signed.
Sep 28th, 2012
Someone from Gainesville, VA signed.
Sep 26th, 2012
John L. from Tuckerton, NJ signed.
Sep 12th, 2012
Vicky B. from Bull Shoals, AR writes:
I would hope our elective officials read & reject any shady bill or the next election they won't be voted in!!!! CHANGE is coming and it's not from our current President ~ It's from the PEOPLE by the PEOPLE for the PEOPLE!!
Sep 7th, 2012
Gordon K. from Round Lake, IL writes:
This is a violation of the constitution. Do not allow this un-American bill to pass. What does the IRS have to do with a Highway bill, Nothing so get the IRS clauses out or do not pass.
Aug 14th, 2012
Someone from Arlington, TX signed.
Aug 12th, 2012
David P. from Efland, NC signed.
Aug 10th, 2012
Thomas P. from Waunakee, WI signed.
Aug 8th, 2012
Elise B. from Newberg, OR signed.
Aug 2nd, 2012
Matt J. from Salt Lake City, UT signed.
Aug 1st, 2012
chase L. from Glendale, AZ signed.
Jul 30th, 2012
Nicholas M. from Johnson City, NY signed.
Jul 28th, 2012
jAMES,lINDA G. from Edinburg, TX writes:
Members of Congress ,Senators ,NO POWERS TO THE IRS TO VIOLATE OUR CONSTITUTION of THESE UNITED STATES of AMERICA ! NOW OR EVER !!!STOP THIS MADNESS NOW !!! THANK YOU
Jul 26th, 2012
Someone from Northampton, MA signed.
Jul 22nd, 2012
sandra g. from Pittsburgh, PA writes:
PLEASE DO NOT SIGN THE MAP 21 BILL. YOU HAVE TO KNOW THAT A HIGHWAY BILL THAT INCLUDED INTERFERING WITH THE 2ND AMENDMENT CAN NOT BE AN HONESTLY GOOD BILL. SOMEONE MUST THINK YOU ARE STUPID OR INEPT. PLEASE BE CAREFUL OF WHAT YOU SIGN----THINK OF YOUR PEOPLE AND THE COUNTRYS FUTURE.
Jul 19th, 2012
Thomas P. from Waunakee, WI signed.
Jul 18th, 2012
Carolyn C. from Fairfield, NJ signed.
Jul 11th, 2012
Someone from Cape Coral, FL signed.
Jul 9th, 2012
Mark F. from Waukee, IA signed.
Jul 8th, 2012
Daniel O. from Jackson, MI signed.
Jul 6th, 2012
Someone from O Fallon, MO signed.