America First: Tell Congress to WITHDRAW the United States from the United Nations!
Messages Sent So Far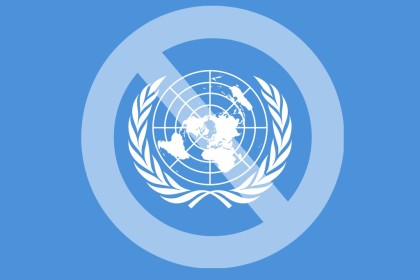 Take action now and urge your U.S. Representative and Senators to end the United States' membership in the United Nations by supporting and passing the American Sovereignty Restoration Act.
Specifically, this legislation would:
REPEAL the United Nations Participation Act of 1945.
REPEAL the United Nations Headquarter Agreement Act.
TERMINATE financial contributions to the United Nations from the United States.
WITHDRAW United Nations presence in United States government facilities and repeal diplomatic immunity.
REPEAL United States membership and participation in the United Nations educational, scientific, and cultural organizations.
REPEAL the United Nation Environment Program Participation Act of 1973.
REPEAL United States participation in the World Health Organization.
REPEAL involvement in United Nations conventions and agreements.
President Donald Trump has made it very clear that he is determined to serve "America First." That's why it's crucial that citizens demand members of the House and Senate to pass the American Sovereignty Restoration Act and place it on the President's desk.
*Read the American Sovereignty Restoration Act and review co-sponsors here.
First, Enter Your Zip Code