Tell Congress: Abolish the U.S. Department of Education
Messages Sent So Far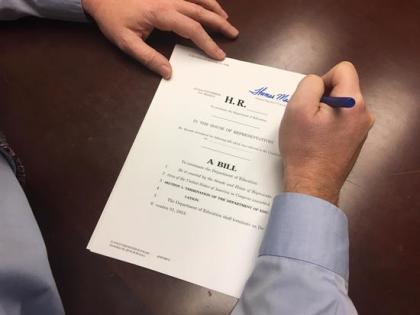 Members of Congress need to abolish the Department of Education and get the federal government out of our schools.
Sign the petition and tell your U.S. Representative and Senators to support and pass H.R. 899, a bill that includes a single sentence that states, "The Department of Education shall terminate on December 31, 2018."
Education is not the responsibility of the federal government, but the responsibility of parents first and communities second. The absolute highest level of civil authority over education permitted under the Constitution is State government.
Public Comments
Feb 9th, 2017
Jason M. from Allendale, MI signed.
Feb 9th, 2017
Leland W. from Bradenton, FL writes:
It's time to end "brainwashing for political correctness" and start teaching the "3 R's" again.
Feb 9th, 2017
Donald M. from Hayes, VA writes:
The organization remains as it was founded, a payoff to the teachers unions. It provides no actual education, but eliminates American and western history and culture from education at every turn It seeks to control curriculum, indoctrinate students to abandon patriotism and destroy the values of their families while forcing those same families to pay for these destructive activities.
Feb 9th, 2017
Someone from Las Vegas, NV writes:
I TAUGHT SCHOOL FOR 33 YEARS AND DURING THAT TIME THE FEDERAL GOVERNMENT GAINED ITS PRESENTS IN EDUCATION, THUS WE HAVE A PUBLIC EDUCATION SYSTEM WHICH IS A VERY EXPENSIVE BABBY SITTING DEPARTMENT., ALMOST VOID TEACHING THE TREE "R". IT'S TIME TO ELIMINATE THE ENTIRE FEDERAL DEPARTMENT OF EDUCATION.
Feb 9th, 2017
christopher l. from Dubuque, IA writes:
Please repeal this dept as soon as possible. It is not right for this monopoly to be continually upheld by loud minorities and connected representatives. I am counting on mature and responsible citizen representatives to slay this evil dragon. This must be the first of many acts needed to set this country aright. The marketplace can determine which schools and which teachers are good, just as the marketplace has determined that you are needful, at this time. We don't know if we will have liberty in a decade or so unless we act now. I am counting on you.
Feb 9th, 2017
Thaddeus H. from Spokane, WA writes:
I attended two high schools - one in rural Maryland & one in the city Milwaukee. I got a fine education and I was well prepared for university. There was no Dept of Education in Washington. We didn't need one.
Feb 9th, 2017
mike p. from La Plata, MD writes:
The Federal Government has no place in education! That State and local responsibility where as the parents, family, and friends are involved in it.
Feb 9th, 2017
Joe H. from Hamilton, OH signed.
Feb 9th, 2017
W. M. S. from Gainesville, FL writes:
Where in the Constitution does it say that the federal government may engage in education. Isn't that solely the responsibility of the states?
Feb 9th, 2017
William H. W. from Sharpsburg, GA writes:
Education rightfully belongs to the state and the parents, local control is the way to go!
Feb 9th, 2017
Joseph B. from Bristol, RI signed.
Feb 9th, 2017
Someone from Anchorage, AK signed.
Feb 9th, 2017
John D. from Medford, OR writes:
Over the years the education bureaucracy and the teacher unions have used government to gain a corrupt influence over education in the US to the benefit of the bureaucracy and primarily union leadership at the expense of parents and children. Education is the great equalizer in America - time to return that power to the families of America.
Feb 9th, 2017
Thomas J. from Ashland, MS writes:
President Reagan promised to abolish the Dept. of Education, one promise he unfortunately did not follow through on. Please lend your support to correct his error and abolish this unnecessary federal Dept. and put education back in the control of state and local authorities where it belongs.
Feb 9th, 2017
sam a. from Elgin, TX writes:
Let our states manage our education for our children, government screws everything up once they get their corrupt hands on it. We the people know what's best for our children. Our schools now have stop teaching our children cursive, hell just last week on an Austin, TX. news station, one of the reporters in his late 20's couldn't even write his name in cursive. Sad...
Feb 9th, 2017
arnold s. from Cleveland, TX writes:
keep government out of our school system, it should be a local issue
Feb 9th, 2017
Someone from Ridley Park, PA writes:
It is time to return the control of education to the states where it rightly belongs. The federal government has no business being in control of education. Should this occur, we can begin to educate our children in the things that made us a great nation, not in the biased view of the left. The current display of anti-American, criminal behavior on nightly TV is certainly in part to the years of "fake education" we have been delivering to our children.
Feb 9th, 2017
Donna B. from Chehalis, WA writes:
The only thing that this department has done well, is wasting taxpayer money - get rid of it! It won't be missed.
Feb 9th, 2017
Wilbur B. from Canton, OH writes:
They have done enough damage to our kids.
Feb 9th, 2017
John S. from Hudson, NH writes:
We do not need the department of education, let the states handle education stop wasting money on bureaucracy...
Feb 9th, 2017
Someone from Las Vegas, NV writes:
History is rife with examples of statesmen who did not require Federal assistance to become truly great - most notably our 16th president, Abraham Lincoln who found many excellent mentors - including his own step-mother - and did not require Federal oversight to ensure his educational direction. What we need is to hold families and communities accountable for basic literacy and then provide pathways for motivated students to seek out mentors. None of these can be effectively accomplished at the Federal level.
Feb 9th, 2017
Charles K. from Naperville, IL signed.
Feb 9th, 2017
John K. from San Antonio, TX signed.
Feb 9th, 2017
Richard M. from Mabelvale, AR writes:
We don't need big government in or schools. We have enough problems with the State Board of Education!
Feb 9th, 2017
Michael K. from Williamston, SC writes:
I think this is a great first step toward restoring our educational system to it's rightful position - local control. The Federal government has no business in this area as it is a state concern covered by the 10th amendment. Also go a long way towards shring the Federal government.
Feb 9th, 2017
Richard P. from Longmont, CO writes:
The Department of Education does not provide value in the classroom. We are far behind other countries in math and science. Funding the Department of Education is simply a waste of tax dollars.
Feb 9th, 2017
Russell R. from Houston, TX writes:
The public schools have failed across the nation, to educate our kids. The public school system is corrupt and is not accountable to the local communities. It is time for a total makeover. It is time to "drain the swamp!"
Feb 9th, 2017
Clifford M. from Perryville, MO writes:
This is the time to remove the Federal government from Education! Our education in this countlry in it's beginning was Godly (Christian). Hopefully, each State can hear the people when the authority is given back to decide learning from the Government or learning about God's will to bring up a child.
Feb 9th, 2017
Frederick M. from Lake Saint Louis, MO writes:
The Dept. of Education has been a flop since it's inception.
Feb 9th, 2017
Frank R. from Swedesboro, NJ writes:
The feds have no power, authority or business being involved in education. It is a local issue.
Feb 9th, 2017
Wayne F. from Feasterville Trevose, PA writes:
The right to educate and raise our children belongs to the parents and aided by LOCAL governments and elected school boards...........not the bloated and ineffectual Federal Government. Having schools directed by a centralized government and run by a labor union that is only interested in its own survival and in grabbing bigger and bigger chunks of taxpayer money is obscene!
Feb 9th, 2017
L. S. from SCOTTSDALE, AZ signed.
Feb 9th, 2017
Someone from Dana Point, CA signed.
Feb 9th, 2017
Joseph S. from Osprey, FL signed.
Feb 9th, 2017
Charles L. from Mineral, WA writes:
We have no need of Federal government in our educational systems. The individual State governments are more than adequate for these purposes.
Feb 9th, 2017
mark c. from Versailles, KY writes:
This should have been done twenty years ago and maybe we wouldn't have to view people destroying property in riots nightly on tv. It's so easy to hear in their voices that they only started paying attention yesterday. PLEASE PASS H.R. 899, thank you
Feb 9th, 2017
John M. from GRAHAM, TX writes:
Free the people from this money burning evil!!
Feb 9th, 2017
Patrick B. from Richland, WA writes:
It's about time that we get the federal government out of the education business.
Feb 9th, 2017
Patrick B. from Richland, WA writes:
It's about time that we get the federal government out of the education business.
Feb 9th, 2017
Larry R. from VALLEJO, CA writes:
public school has been a disaster for the true human spirit, programing children like a computers to believe in falseness, untrues, and lies put out by lefty Democrap Democrats.