Tell Congress: Abolish the U.S. Department of Education
Messages Sent So Far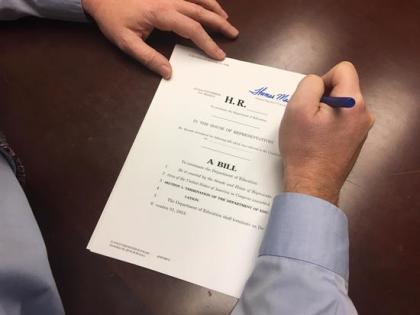 Members of Congress need to abolish the Department of Education and get the federal government out of our schools.
Sign the petition and tell your U.S. Representative and Senators to support and pass H.R. 899, a bill that includes a single sentence that states, "The Department of Education shall terminate on December 31, 2018."
Education is not the responsibility of the federal government, but the responsibility of parents first and communities second. The absolute highest level of civil authority over education permitted under the Constitution is State government.
Public Comments
Feb 8th, 2017
Jim C. from Spring, TX writes:
The States can better spend their own money on local programs built to achieve and exceed National Standards. Keep the money in the states and only send a small portion to the Central Standards Agency in Washington or the present operating location. (It could be so equipped as to move about the country in such a way that no "roots" would grow flavoring the standards to the bureaucratic bent). Return this Constitutional right to the States, where it belongs.
Feb 7th, 2017
Someone from Triadelphia, WV signed.
Feb 7th, 2017
Clarissa H. from Houston, TX signed.
Feb 7th, 2017
Someone from Oklahoma City, OK signed.
Feb 7th, 2017
Susan A. from Oklahoma City, OK signed.
Feb 7th, 2017
Bonnie A. from Chaska, MN signed.