Tell Congress: Abolish the U.S. Department of Education
Messages Sent So Far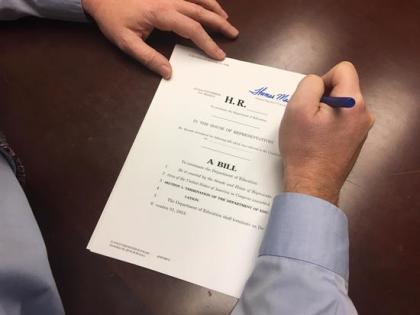 Members of Congress need to abolish the Department of Education and get the federal government out of our schools.
Sign the petition and tell your U.S. Representative and Senators to support and pass H.R. 899, a bill that includes a single sentence that states, "The Department of Education shall terminate on December 31, 2018."
Education is not the responsibility of the federal government, but the responsibility of parents first and communities second. The absolute highest level of civil authority over education permitted under the Constitution is State government.
Public Comments
Feb 15th, 2017
Dennis K. from Sedalia, MO signed.
Feb 15th, 2017
Sheila B. from Tulsa, OK writes:
I totally support this - agree with it 100%!! Be done with this money sucking department that conducts surveys, doesn't implement necessary actions to improve this nation's education. This department has too much power and they make too much money with ZERO return on the American tax payer's investment! Do away with this federal bureaucracy! PLEASE.
Feb 15th, 2017
Mickey B. from Portland, OR writes:
Control of Education does not belong in Washington DC. It has been proved: DC does not have the intelligence to do it correctly.
Feb 15th, 2017
Ted K. from Erie, PA signed.
Feb 15th, 2017
Randy F. from Bodfish, CA writes:
IT is time for this department to go!!
Feb 15th, 2017
Roy M. from Huntsville, AL signed.
Feb 15th, 2017
L. S. from SCOTTSDALE, AZ signed.
Feb 15th, 2017
Stanley S. from QUITMAN, TX writes:
Historically, the United States Department of Education has succeeded only in spending money, not in enhancing the education of our children. By every measurable means, including its own test scores, the Department of Education has failed to live up to its mandate. It is now time to abolish this federal bureaucracy and allow parents to address their children's education on the local level.
Feb 15th, 2017
Someone from Pueblo West, CO writes:
Feb 14th, 2017
chet b. from bellevue, NE writes:
They have entirely too much power, its time to reign them in and they spend to much money on high salaries, and the kids are not learning anything but liberal political correctness!! Hell when they graduate they cant even balance there check books let alone know anything about history! and if they do its been skewed by the political correctness nazis!!
Feb 14th, 2017
Paul M. from TEMECULA, CA writes:
You all are nuts. You do not speak for most Americans. All you are trying to do is destroy our country. What I say to you is "Get Lost". You are not needed.
Feb 14th, 2017
Robert L. from Coeur d Alene, ID signed.
Feb 14th, 2017
Someone from Cave Creek, AZ signed.
Feb 14th, 2017
Rev. Richard B. from Bradford, OH signed.
Feb 13th, 2017
Aaron C. from Atlanta, GA writes:
This job is extremely important!! We need someone better qualified! Thank you!
Feb 13th, 2017
Melodie H. from Columbus, OH signed.
Feb 13th, 2017
H J H. from Columbus, NC writes:
Would you multi-term Republicans -PLEASE get with the program. Millions of us are Still depending on you to always help with the 52 votes or the Nuclear Rep. Vote. Some of you (you know who you are) are acting like allegaters even thou we have worked so hard to get HERE and donated to your re-election campaigns. We're all watching how you vote. Don't even think about helping the objectionists. That would be down and out crazy ! Support OUR President now !
Feb 12th, 2017
Virginia S. from Albuquerque, NM writes:
We have arguably the worst public schools in the country----thanks AFT! People from all walks of life should be able to choose the best school choices for their children----and these decisions should be decided at the local level, not from some bean counters in Washington! Let's pink-slip a bunch of bureaucrats and let them try to find meaningful work away from the swamp, if they have the ability to do so. Enough mediocrity, already! Stop top-down education choices!
Feb 12th, 2017
Michael B. from Texarkana, TX signed.
Feb 12th, 2017
Jodi M. from New Milford, PA writes:
It's past time to start lopping off federal controls to every aspect of our lives. Because of misguided emotions, our country is in deep financial trouble. Because of a corrupt bureaucratic system of a very large and vocal group of people we citizens are being bled financially. People who are on fixed incomes are losing homes under the protection of our own government by ways of over taxation. Money from our federal tax dollars does nothing to appease these people and nothing that our tax dollars are paying for will curb their insatiable desire for money. Give control back to the communities. Stop having our citizens paying extortion at both ends, federal & local.
Feb 12th, 2017
Peter P. from Washington, TX signed.
Feb 12th, 2017
Susan P. from San Anselmo, CA signed.
Feb 12th, 2017
R. M. from Tyler, TX signed.
Feb 12th, 2017
Someone from Medina, OH writes:
Local schools know local families. Leave the education to them.
Feb 12th, 2017
Kenneth M. from Rosedale, NY signed.
Feb 12th, 2017
Dan N. from Fountain Green, UT signed.
Feb 12th, 2017
Sonja B. from Collins, MO writes:
Only Liberalism and Hate is being taught in Public Schools We need the Golden Rules to be taught there. Common Core is just another tool to leave the slower learning children behind. Such Uncaring, self promoting Liberal "Devils"; like Jimmy Carter and the corrupt Clinton's have no experience with the less fortunate. They abuse their position in life to make them rich and powerful. They should be put in jail for breaking Constitutional Laws! They should be charged with derelict of duty and for fraud against the Middle Class. Liberalism is deceitful and Must Be Stopped. Abolish the Department of Education, it is teaching our children to Hate the USA and robbing them of being thankful and respectful of their freedoms. We the People are being robbed and lied to by our Teachers and their Greedy Unions, who have been instructed by the Jimmy Carters, the Hillary Clintons, the Obamas and Chuck Sumer to Lie, cheat and steal from We the Middle Class. Very Corrupt Groups within our Government are infiltrating and destroying our USA with their teaching of Fascism, Communistic beliefs in ou Public Schools. Our Government is failing our children through The Department of Education.
Feb 12th, 2017
Tim S. from Dover, DE writes:
Less government and less taxes.
Feb 12th, 2017
Barry W. from Wharton, TX writes:
I look at the result of all these billions of tax dollars allocated to this Department and simply ask myself, "Are the children smarter? Are they better educated?" The answer is no. So why keep throwing money away on a dept that hasn't justified its self? SAT scores aren't higher. Literacy isn't higher. It's time to end Jimmy Carter's grand experiment. It has failed us.
Feb 11th, 2017
Gwen B. from Tow, TX signed.
Feb 11th, 2017
Richard O. from Omaha, NE writes:
Less government equals more liberty.
Feb 11th, 2017
Someone from Estes Park, CO signed.
Feb 11th, 2017
Ginger P. from Mooresville, NC writes:
Federal bureaucrats need to be out of education. Our nation's schools need localized control and accountability. Not to mention, we need to reduce national spending. Cutting unnecessary programs and departments is the logical thing to do.
Feb 11th, 2017
Marcia M. from Douglasville, GA signed.
Feb 11th, 2017
Stephanie P. from Fort Rucker, AL writes:
Feb 11th, 2017
James J. from Palm Desert, CA writes:
Education was never a delegated power given to Big Bro. by the States at the Constitutional Convention. So, "Give it up Tuff you've had it long enough..."
Feb 11th, 2017
Paul P. from Frisco, TX writes:
Please dismantle the lefts favorite propaganda, manipulation, and funding playground. America has never needed political big brother to micro manage the education of our children. Local governments can better respond to the will of the people.
Feb 11th, 2017
Marcos C. from Chevy Chase, MD signed.
Feb 11th, 2017
Linda W. from Potomac, MD signed.
Feb 11th, 2017
Nancy C. from Millville, NJ signed.