Tell U.S. Senators to CONFIRM Judge Neil Gorsuch to the Supreme Court
Messages Sent So Far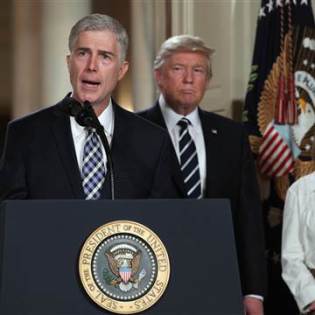 The United States Senate must confirm Judge Neil Gorsuch to the Supreme Court of the United States.
Judge Gorsuch has a track record of standing with the Constitution and is the best replacement for the late Justice Antonin Scalia on the bench.
Gorsuch is a strict originalist who believes that the Constitution's meaning is fixed -- that it's what the founder's wrote it to be -- not a "living, breathing document" as judicial activists regularly assert whenever they wish to steamroll the Supreme Law.
Constitutional Judge Andrew P. Napolitano strongly supports Gorsuch's nomination, saying he would bring a "Scalia-like dose of skepticism about the government" to the Highest Court in the land.
With key cases headed to the Supreme Court in the coming days -- on healthcare, the Second Amendment, transgendered school bathrooms, etc. -- it's crucial that the United States Senate confirms Judge Neil Gorsuch now.
Take action and sign the petition demanding both of your U.S. Senators to vote in favor of Judge Neil Gorsuch to the United States Supreme Court!
Post Public Comments
Public Comments (17,200)
Aug 5th, 2017
ireneI M. from Rancho Palos Verdes, CA writes:
Gorsuch is the perfect selection President Trump could've made!
Apr 8th, 2017
AK H. from Fort Worth, TX signed.
Apr 7th, 2017
THOMAS B. from Marietta, GA signed.
Apr 6th, 2017
Nancy M. from Easley, SC writes:
Let's declare the nuclear option. I can't believe the Dem's can be so hateful and spiteful.
Apr 6th, 2017
George G. from Grand Junction, CO signed.
Apr 5th, 2017
Beverly J. from Castle Rock, CO signed.
Apr 5th, 2017
Benny T. from Springfield, IL writes:
j These Democratic objections sound so childish and without merit.
Apr 5th, 2017
Danny E. from Mccall, ID signed.
Apr 5th, 2017
Katherine W. from Pine Grove, CA signed.
Apr 5th, 2017
Terry L. from Mesquite, NV writes:
Judge Neil Gorsuch should be confirmed as he makes decisions based on the law, follows the constitution and does not let emotional feelings get in the way of his decisions