Tell U.S. Senators to CONFIRM Judge Neil Gorsuch to the Supreme Court
Messages Sent So Far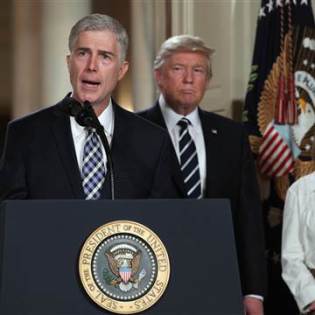 The United States Senate must confirm Judge Neil Gorsuch to the Supreme Court of the United States.
Judge Gorsuch has a track record of standing with the Constitution and is the best replacement for the late Justice Antonin Scalia on the bench.
Gorsuch is a strict originalist who believes that the Constitution's meaning is fixed -- that it's what the founder's wrote it to be -- not a "living, breathing document" as judicial activists regularly assert whenever they wish to steamroll the Supreme Law.
Constitutional Judge Andrew P. Napolitano strongly supports Gorsuch's nomination, saying he would bring a "Scalia-like dose of skepticism about the government" to the Highest Court in the land.
With key cases headed to the Supreme Court in the coming days -- on healthcare, the Second Amendment, transgendered school bathrooms, etc. -- it's crucial that the United States Senate confirms Judge Neil Gorsuch now.
Take action and sign the petition demanding both of your U.S. Senators to vote in favor of Judge Neil Gorsuch to the United States Supreme Court!
First, Enter Your Zip Code