Tell Congress: Support HR 3785
To Repeal Section 1021 of the National Defense Authorization Act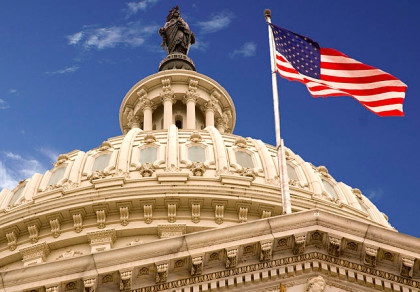 Conservative Action Alerts had reported the dangers relating to the National Defense Authorization Act for Fiscal Year 2012 in the last months of 2011 before it was signed into law by Barack Obama on New Years Eve.
Section 1021 of the NDAA contains language that endangers American citizens by nullifying essential liberties guaranteed by the Constitution -- rights to privacy and a fair trial.

HR 3785 -- which repeals section 1021 -- was introduced by Representative Ron Paul (R-TX) on January 18, 2012. A portion of Rep. Paul's statement is as follows:
"Section 1021 essentially codifies into law the very dubious claim of presidential authority under the 2001 Authorization for the Use of Military Force to indefinitely detain American citizens without access to legal representation or due process of law. Section 1021 provides for the possibility of the US military acting as a kind of police force on US soil, apprehending terror suspects – including Americans — and whisking them off to an undisclosed location indefinitely. No right to attorney, no right to trial, no day in court."
HR 3785 reads simply: "Section 1021 of the National Defense Authorization Act for Fiscal Year 2012 (Public Law 112–81) is hereby repealed."
PLEASE STAND WITH CONSERVATIVE ACTION ALERTS, YOUR FELLOW AMERICANS, AND THE CONSTITUTION AND SIGN THIS PETITION AND SEND YOUR MESSAGES TO CONGRESS DEMANDING THEY PASS THIS BILL!
Post Public Comments
Public Comments (5,616)
Oct 27th, 2014
DON M. from Hastings, MN signed.
Jul 9th, 2014
joseph M. from Englewood, CO signed.
Jun 8th, 2014
Helen P. from Phoenix, AZ signed.
Jan 1st, 2014
David M. from Eastlake, OH signed.
Dec 30th, 2013
Harold E. from Mountain View, CA signed.
Dec 30th, 2013
Robin M. from Takoma Park, MD signed.
Dec 30th, 2013
Cris R. from Lucerne Valley, CA writes:
I am outraged that we would allow this to happen to the men and women that serve and protect our country. Take the presidents, congress and senate 6 figure salaries and see how that goes. They aren't protecting our country in anyway. They aren't worth the money we pay them. Give to the men and women that actually deserve it
Dec 30th, 2013
Donald M. from Jonesboro, AR signed.
Dec 30th, 2013
Melinda B. from Macon, GA signed.
Dec 30th, 2013
Someone from Layton, UT writes:
My son is deploying on Jan. 7 to Afghanistan. He is leaving his family and friends to fight for our Country. This is ridiculous that he will no get paid what he is OWED for his sacrifices!