Tell Congress: Pass H. Con. Res. 107, Bring Impeachment Charges Against Obama's Unauthorized Military Actions
YES, I want to help STOP Barack Hussein Obama from VIOLATING the U.S. Constitution's clear wording in Article I, Section 8, that ONLY CONGRESS can initiate offensive military action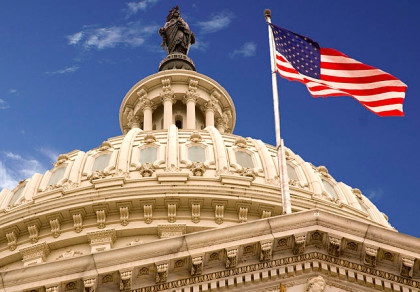 YES, I want to help STOP Barack Hussein Obama from VIOLATING the U.S. Constitution's clear wording in Article I, Section 8, that ONLY CONGRESS can initiate offensive military action -- NOT the President!

Believe it or not, Barack Hussein Obama's Defense Secretary has told Congress that they would seek "international permission" before engaging in war in Syria or elsewhere -- NOT the Constitutionally-required declaration of war!
YOU READ THAT RIGHT: the Obama regime would ask for "international permission" instead of Congressional permission before intervening militarily in a country like Syria's civil war -- and according to the Defense Secretary, "whether or not we would want to get permission from the Congress" is something they would "discuss as we decide what to do" about sending American troops to war!

THIS IS A BLATANT DISREGARD OF THE U.S. CONSTITUTION -- AND QUALIFIES AS AN IMPEACHABLE OFFENSE! WE MUST FORCE OBAMA TO OBEY THE CONSTITUTION'S REQUIREMENTS!
We need to mobilize folks to take action right away to STOP the Obama regime from violating the Constitution by asking the U.N.'s permission to send in troops, instead of asking Congress' permission... So we've set up an easy way for you to make your voice heard LOUD AND CLEAR -- you can send a free, customized message to your U.S. Representative and Senators AT ONCE, urging that they pass H. Con. Res. 107 which would declare Obama's rejection of the Constitution to be an IMPEACHABLE offense.
Post Public Comments
Public Comments (711)
Nov 19th, 2014
Robert B. from Springfield, VA signed.
Nov 16th, 2014
Lucinda M. from Fort Smith, AR signed.
Nov 11th, 2014
cody t. from Spring Hill, FL signed.
Nov 5th, 2014
Edison S. from Windsor, NY writes:
Oct 1st, 2014
Someone from Crowley, TX signed.
Sep 15th, 2014
debra h. from Flint, TX signed.
Sep 15th, 2014
debra h. from Flint, TX signed.
Aug 3rd, 2014
Adolph H. from Washington, DC writes:
Jul 17th, 2014
Elizabeth M. from Cumberland, MD signed.
Jul 7th, 2014
david s. from Teaneck, NJ signed.