Tell Congress: Pass the AMMO Act, Stop DHS Stockpiling!
Congress must CURB the Department of Homeland Security's Excessive Ammunition Stockpile!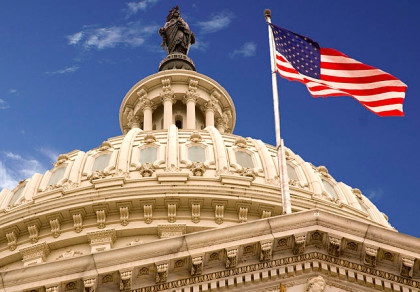 Congress must CURB the Department of Homeland Security's Excessive Ammunition Stockpile!
On April 26, U.S. Sen. Jim Inhofe (R-Okla.) and Congressman Frank Lucas (R-OK-3) introduced the Ammunition Management for More Obtainability Act of 2013 – or, AMMO Act – in order to curb the Department of Homeland Security's ongoing, excessive ammunition purchases.
Sen. Inhofe says, "President Obama has been adamant about curbing law-abiding Americans' access and opportunities to exercise their Second Amendment rights. One way the Obama Administration is able to do this is by limiting what's available in the market with federal agencies purchasing unnecessary stockpiles of ammunition." The Oklahoma Senator continues, "As the public learned in a House committee … the Department of Homeland Security has two years worth of ammo on hand and allots nearly 1,000 more rounds of ammunition for DHS officers than is used on average by our Army officers. The AMMO Act of 2013 will enforce transparency and accountability of federal agencies' ammunition supply while also protecting law-abiding citizens' access to these resources."
"After hearing from my constituents about the shortage of ammunition in Oklahoma and the Department of Homeland Security's profligate purchases of ammunition," said Rep. Lucas. "[Sen. Inhofe and I] have introduced the AMMO Act of 2013 to curtail these purchases so Americans can exercise their Second Amendment rights without being encumbered by the federal government. I was surprised to find out the DHS has the right to buy up to 750 million rounds of ammunition over the next five years, while it already has two years worth of ammo already. This is an issue that must be addressed, and I am pleased this legislation provides us the opportunity to do so."
As Lucas noted, it is an alarming fact that the Department of Homeland Security has a so-called "right" to buy nearly one billion rounds of ammunition over the next few years… while American gun owners are waiting in lines and prevented from buying more than a few hundred rounds of ammunition at many gun stores.
It is not in the DHS' job description to purchase the majority of purchasable rounds of ammunition on the market and "dry up" the supply of ammunition, preventing Americans from exercising their individual rights to self-defense and own property of their choosing.
It's time for Congress to take action and pass the AMMO Act to prevent the DHS' extravagant bullet purchases!
Take Action with Conservative Action Alerts and DEMAND Congress to PASS the AMMO ACT of 2013! Sign the petition below and send your free messages to your Representative and Senators!
Post Public Comments
Public Comments (529)
Feb 9th, 2017
Jonathan S. from Wilmington, NC writes:
The Department of Homeland Security should be made to publicly publish all ammunition purchases. 1.6 Billion rounds of hollow point bullets are too much! That is enough bullets to wage a war against the American people for 20 years! Right now, a DHS employee is allowed to carry 1,000 bullets more than an average military soldier. There should be laws put in place to limit the number of bullets DHS can purchase, and the number of bullets a DHS employee can carry.
Sep 30th, 2016
Someone from Sioux Falls, SD writes:
They don't need this kind of Ammunition. The new stuff coming out is not cased and is created by 3D printers. There is no ejector for casings.
Sep 29th, 2016
Garrett F. from Gold Hill, NC signed.
Aug 29th, 2016
Someone from Dickinson, ND signed.
Apr 30th, 2016
Gregg W. from De Kalb Junction, NY signed.
Mar 10th, 2016
Marc Y. from Cortez, CO signed.
Feb 3rd, 2016
Berenice B. from Glen Ellyn, IL signed.
Oct 2nd, 2014
Someone from Portland, OR writes:
No more police states, no more takeing your constitional rights away. our founding father & Ancestors fought long and hard to insure our freedoms and liberty. Impeace all who have not protected our rights as they take an oth to defend it not to make it invaild
Aug 24th, 2014
Wayne N. from Carson City, NV signed.
Jun 23rd, 2014
Someone from Deer Lodge, MT writes:
I am fed up! My husband and I can not find Gun powder so we can practice to do competition shooting. Reloading our ammo is only way to make this an affordable sport. Very frustrated that our government is buying up all this so with our tax dollars so Americans can not have access. Our senate and congressman need to go against our current governments practice and protect our rights to keep and bear arms, and to keep the shooting sports alive.