Tell Congress: No Energy Subsidies, No Picking Winners and Losers
H.R. 3308 and S. 2064 remove ALL energy handouts to oil, gas, wind, solar and biofuels, then LOWERS the corporate tax rate so that no company is suddenly paying more in taxes. Taxpayers save BILLIONS per year, and the companies are all on an even pla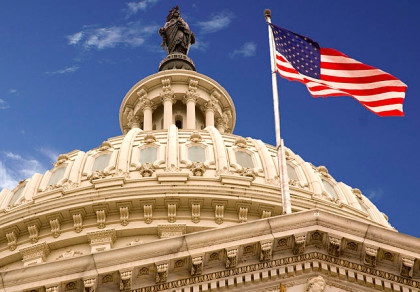 Does the federal government know better than you?
President Barack Obama and his liberal cronies are trying to turn America into communist China – where the only way to get rich is to have connections to those in power.
And they're no longer trying to hide it.
Until recently, politicians used any number of phrases to mask the fact that they are deciding which industries (and which companies in those industries) succeed and which fail. Phrases like "investing" are thrown around to hide expanded spending.
But now the truth is coming out. Big-government supporter Senator Jerry Moran (R-KS) admitted as much on the floor of the U.S. Senate:
"There are members of Congress who feel we ought not to pick winners and losers, to let the markets decide. I believe it's better to get this industry up and running, then let the country decide… rather than pull the rug out overnight."
And Rob Atkinson, president of the liberal Information Technology and Innovation Foundation followed suit with a similar response:
"Absolutely we should be picking winners and losers. The notion that we shouldn't is pure ideology, and not based on any evidence."
No evidence? What about Solyndra, Beacon, Evergreen Solar, Abound, Ener1 and all the others? Have these two men not seen the failure of the alternative energy sector, which, other than natural gas and nuclear power, can't survive without government assistance? These companies only received subsidies because they raised money for Barack Obama. Their companies failed, but they lost nothing because you, the taxpayer, funded them.
This is exactly why the government needs to stop picking winners and losers. When a select few - like Obama - think they know better than everyone else, you get nanny-state politics, centralized-planning and crony capitalism (which is really just a euphemism for fascism).
If we want alternative energies to succeed, the best thing to do is to get the government out of the market. Private companies make far better venture capitalists than the government, and they tend not to give money to companies that will fail. By allowing those who do know best (which is not the government) to invest in companies that will actually succeed; we all win.
Congressman Mike Pompeo (R-KS) has introduced legislation that will do just that. H.R.3308, the Energy Freedom and Economic Prosperity Act (EFEPA), removes all energy subsidies and levels the playing field. Senator Jim DeMint (R-SC), has introduced the bill in the Senate, S.2064.
Please sign the petition and send your messages to lawmaker NOW! Tell Congress that they should COSPONSOR and SUPPORT H.R. 3308 and S.2064, the Energy Freedom and Economic Prosperity Act (EFEPA). The EFEPA removes ALL energy handouts to oil, gas, wind, solar and biofuels, then LOWERS the corporate tax rate so that no company is suddenly paying more in taxes. Taxpayers save BILLIONS per year, and the companies are all on an even playing field. Everybody wins.
Post Public Comments
Public Comments (474)
Jul 18th, 2014
John G. from Nashville, TN signed.
Jun 23rd, 2014
Someone from Hastings, MN signed.
Aug 14th, 2013
Someone from Old Hickory, TN signed.
Jul 18th, 2013
Robert L. from Old Hickory, TN signed.
Jun 6th, 2013
Robert L. from Old Hickory, TN signed.
Apr 4th, 2013
Richard L. from Nixa, MO signed.
Feb 27th, 2013
Someone from Fairfax Station, VA signed.
Jan 18th, 2013
sarah c. from Panama City, FL signed.
Jan 18th, 2013
sarah c. from Panama City, FL signed.
Dec 3rd, 2012
JAMES D. from Elverta, CA signed.