Tell Congress: Abolish the U.S. Department of Education
It's time to kick federal bureaucrats OUT of public classrooms...
Messages Sent So Far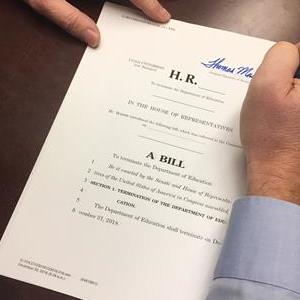 Members of Congress need to abolish the Department of Education and get the federal government out of our schools.
Sign the petition and tell your U.S. Representative and Senators to support and pass H.R. 899, a bill that includes a single sentence that states, "The Department of Education shall terminate on December 31, 2018."
Education is not the responsibility of the federal government, but the responsibility of parents first and communities second. The absolute highest level of civil authority over education permitted under the Constitution is State government.
Sincerely, YOUR NAME AND ADDRESS