RIGHTMARCH: Tell Congress to IMPEACH and REMOVE President Barack Hussein Obama from Office!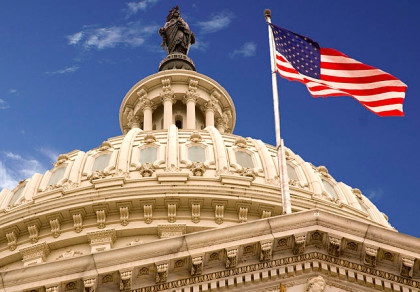 YES, I want to help DEMAND that Congress finally take action against this man who has repeatedly and deliberately violated the U.S. Constitution!

Barack Hussein Obama and his minions are trying to SHRED our most basic law -- the U.S. Constitution! We need to mobilize folks to take action right away to save the Constitution -- AND AMERICA -- from Obama's actions... So we've set up an easy way for you to make your voice heard LOUD AND CLEAR -- you can send a free message to your U.S. Representative and Senators AT ONCE, urging that they IMPEACH and REMOVE Barack Obama for his High Crimes and Misdemeanors against the Constitution!
Take Action! Sign the Petition and Send Free Letters below!


Post Public Comments
Public Comments (29,599)
Nov 6th, 2015
Clinton S. from Glendive, MT signed.
May 22nd, 2015
Helen T. from Kennesaw, GA writes:
obama is nothing but a psychopath criminal who is sitting in the WH ILLEGALLY AND MUST BE TERMINATED IMMEDIATELY. And Congress has been complacent about any action against this ILLEGAL ALIEN so consequently, he has managed to DESTROY AMERICA. So come on Congress, how about showing the LEADERSHIP YOU HAVE BEEN ELECTED TO FOLLOW THROUGH BY SUPPORTING YOUR OATHS OF OFFICE! This country is in DIRE NEED OF TRUE LEADERSHIP FROM PEOPLE TO TAKE A STAND FOR BASIC PRINCIPLES, NOT FROM BRAIN DEAD LIBERALS!
Feb 28th, 2015
Someone from Boyd, TX writes:
Impeach the Islamic terrorist ASAP.
Feb 9th, 2015
Helen T. from Kennesaw, GA writes:
Take this criminal out of the Oval Office posing as president. He is our Nation's #1 ENEMY AS RATHER OBVIOUS HE IS SUPPORTING OUR OTHER ENEMY, THE ISIS. Why does he not even have the COURAGE TO SAY WHO WE ARE ACTUALLY FIGHTING IF HE IS NOT COVERING UP, AGAIN. We ALL KNOW HE IS A MUSLIM AND JARRETT IS AN IRANIAN BORN ISAMIST, WHO IS PULLING HIS STRINGS. He has COMMITTED MORE CRIMES THAN ANY OTHER INDIVIDUAL ON THE PLANET AND LOOK WHERE HE IS AND WHAT IS BEING DONE TO PROTECT OUR NATION FROM "OUR ENEMIES" WITHIN?? Words ALONE DOES NOT REPLACE ACTION, ONLY ACTION IS PRODUCTIVE IS ACTED UPON.
Dec 21st, 2014
Someone from South Beloit, IL signed.
Dec 20th, 2014
Lee F. from Torrington, CT signed.
Dec 20th, 2014
Virginia B. from College Station, TX signed.
Dec 20th, 2014
Someone from Edmond, OK writes:
The whole bunch in his regime should be punished for the involvement in the conspiracy.
Dec 19th, 2014
Steven F. from Fullerton, CA signed.
Dec 19th, 2014
Diane A. from Sandy, OR signed.