---
Urge Elizabeth 'Pocahontas' Warren to take a DNA Test - Sign the Petition!
---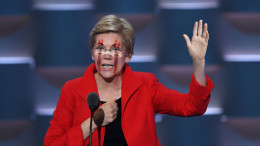 Lying Elizabeth Warren claims to be part Native American...
She used this "ancestry" to improve her chances of landing teaching jobs at two of the country's most prestigious law schools: the University of Pennsylvania and Harvard. She then parlayed those positions and a bureaucratic appointment in the Barack Obama administration into a successful U.S. Senate bid. Now, it's widely expected that she'll launch a run of the Presidency of the United States.
But lying Elizabeth Warren -- despite her claims -- has no evidence other than family stories to back up her ancestral claims. In fact, she even openly admitted that she is not on any tribal rolls and that none of her family members are on any tribal rolls either.
TAKE ACTION NOW! SIGN THE PETITION DEMANDING ELIZABETH WARREN TO TAKE A DNA TEST AND PROVE HER ANCESTRY! THE PUBLIC DESERVES THE TRUTH!
---