Tell Congress: Pass the Fair Tax Act of 2017!
Messages Sent So Far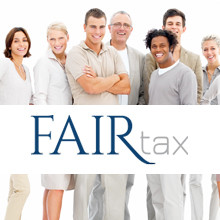 The current federal income tax system is clearly broken — unfair, overly complex, and almost impossible for most Americans to understand.
But there is a reasonable, nonpartisan alternative before Congress that is both fair and easy to understand. A system that allows you to keep your whole paycheck and only pay taxes on what you spend.
It's called the FairTax. Introduced in the U.S. House and Senate as H.R. 25 and S. 18, respectively, The FairTax is a national sales tax that treats every person equally and allows American businesses to thrive, while generating the same tax revenue as the current four-million-word-plus tax code... and without the I.R.S.
The Fair Tax Act of 2017 is the only tax replacement plan before the U.S. Congress that:

Eliminates all federal income and payroll taxes including personal, gift, estate, capital gains, alternative minimum, Social Security/Medicare, self-employment and corporate.
Eliminates the need for businesses and individuals to file federal income tax returns.
Eliminates over 74,000 pages of Internal Revenue Code and the estimated $350 billion in annual compliance costs.
Defunds, disbands and eliminates the Internal Revenue Service.
Favors American businesses and workers over foreign corporation, and dramatically increases the rate of economic growth and job creation.
Brings American jobs back to America and generates employment opportunities for the hundreds of thousands of chronically unemployed.
Repeals the 16th Amendment and direct taxation through companion legislation.
Take action and tell your U.S. Representative and Senators to co-sponsor the Fair Tax Act of 2017. Add your name in the fields below to proceed to send your no-cost letters.
Be a part of the FAIRtax movement and help make make April 15 just another spring day. Visit FAIRtax.org.
Public Comments
Mar 26th, 2015
Joan V. from Carmel, CA signed.
Mar 26th, 2015
James B. from Lakeview, OR writes:
Eliminate the IRS now and replace with a fair tax that will allow for a balancer budget! Make it so!
Mar 26th, 2015
Jon P. from Riverdale, GA writes:
No more loopholes, please. Everyone needs to pay their share of taxes and Fair Tax is a viable solution.
Mar 26th, 2015
Someone from Dayton, OH signed.
Mar 26th, 2015
Steve H. from Bethlehem, GA signed.
Mar 26th, 2015
Walter L. from Portsmouth, NH signed.
Mar 26th, 2015
James G. from Bend, OR writes:
I called the Senate Finance office and recommended the FairTax!
Mar 26th, 2015
Michael R. from Waretown, NJ writes:
End the loopholes, level the playing field for everyone, support the Fairtax
Mar 26th, 2015
David B. from Pleasanton, CA writes:
Tax consumption, not production. And give me several weekends a year back from tedious tax record keeping and reporting.
Mar 26th, 2015
william e. from Mahwah, NJ signed.
Mar 26th, 2015
Someone from Durham, NC writes:
Our current tax system discourages working and gives politicians to much power over individuals. The last few years has been ripe with news of politicians using the IRS against citizens.
Mar 26th, 2015
Brandon W. from Virginia Beach, VA writes:
Please, for the love of country, stand up for this!
Mar 26th, 2015
David B. from Milton, FL signed.
Mar 26th, 2015
Marlin M. from Baytown, TX writes:
FairTax will ensure everybody pays taxes not just some.
Mar 26th, 2015
Dale W. from Orange Beach, AL writes:
The Fair Tax is the only viable alternative to the horrible income tax system we have in place today.
Mar 26th, 2015
ken r. from Xenia, OH signed.
Mar 26th, 2015
Robert D. from Naples, FL writes:
We need the FairTax now, more than ever!
Mar 26th, 2015
Jason S. from Phoenix, AZ signed.
Mar 26th, 2015
Corey M. from Mission, KS writes:
Listen to the people -- this will take care of all the individuals who don't pay taxes and finally bring a just system to the masses
Mar 26th, 2015
Stephen D. from Hershey, PA writes:
Imagine the influx of foreign manufacturers once the FairTax is in place: imagine in-sourcing for a change! Imagine too the benefit of not having the IRS being privy to how much we earn, where we spend it, and what we save--also, its being denied the power to prosecute people and organizations whose politics disagree with the administration's. Because with the FairTax, hallelujah, there is no IRS!
Mar 26th, 2015
Wayne R. from Science Hill, KY writes:
With the IRS out of control and very costly to maintain, this is the time to replace it with the 'FAIR TAX'. Our country will prosper like never before and the power of the purse will be put back in the hands of the people. We don't need the IRS running our lives, nor the politicians controlling the economy. VOTE FAIR TAX!!!!!
Mar 26th, 2015
Peter L. from Gilroy, CA writes:
We need a Tax Change ASAP
Mar 26th, 2015
Someone from Wayland, MI writes:
Mar 26th, 2015
Philip R. from Yellville, AR writes:
I like the fact that drug dealers, gamblers, prostitutes, people who cheat by working under the table, illegal aliens (foreign invaders) as well as tourists, foreign diplomats, etc. will all be paying their FAIR share for all the freedom, benefits and opportunities that this great country has to offer.
Mar 26th, 2015
Someone from Juneau, AK writes:
I believe that the IRS needs to be abolished because it is now used as a political wing of Washington DC. It is complicated and complex and fair tax is the way to go
Mar 26th, 2015
Someone from Columbus, OH writes:
It's time to make the tax codes simple and reduce the egregious expense and over reach of the government!
Mar 26th, 2015
frank F. from Charlotte, NC writes:
The TAX CODE in this country is a mess. Fair Tax Act would correct this. We waste too much money and grant too much power to the IRS.
Mar 26th, 2015
charles s. from Minneapolis, MN signed.
Mar 26th, 2015
Bryan M. from Fredericksburg, VA writes:
Get rid of the IRS and pass the FairTax Act 2015! Listen to the people!
Mar 26th, 2015
Sean G. from Franklinton, NC signed.
Mar 26th, 2015
Jeffery C. from Tustin, CA writes:
Please listen to what your constituents have to say....
Mar 26th, 2015
Robert B. from Norfolk, VA writes:
The Fair Tax Plan takes us in the right direction. The current system is overly complex and complicated. The IRS over steps its authority and is a political machine.
Mar 26th, 2015
Ted M. from Ontario, CA writes:
Let's simplify the tax code and pass this overdue tax proposal now.
Mar 26th, 2015
Todd F. from Heber City, UT writes:
The current tax code is the lever-arm used against us as business owners and citizens (voters). It has become THE way to reward party loyalty and to punish the converse. It will take true loyalty to the founding principals of the United States to pass it...which is to say very few politicians, who use that same lever-arm daily, will have the fortitude required to free us from this (un)veiled servitude. Combining the Fair Tax with real transparency in spending would be a revolution in our country and our economy. The 13th Amendment states: "Neither slavery nor involuntary servitude...shall exist within the United States..." Since it is not reasonable to suggest that we are not "required" to work in our lifetimes, and since our kids are already burdened with tens if not hundreds of thousands of dollars of tax debt at birth, and hence the first 10 years of their work essentially goes to pay those taxes back, our children are, in my opinion, indentured servants to the State! This is immoral at best and evil at worst. Politicians with guts: free us from this insane form of slavery.
Mar 26th, 2015
Someone from Salt Lake City, UT signed.
Mar 26th, 2015
Dan H. from Fort Wayne, IN writes:
Mar 26th, 2015
Dr. Paul C. from Springfield, MO writes:
This seems to be the most viable, active, effort me made to solve the tax issues in America.
Mar 26th, 2015
Jeffrey K. from Wabeno, WI signed.
Mar 26th, 2015
Brad W. from Jacksonville, FL writes:
Please support the Fair Tax.
Mar 26th, 2015
Timothy R. from Canton, GA signed.