Tell Congress to PASS "The ObamaCare Repeal Act" to FULLY REPEAL Obama's federal healthcare law!
Messages Sent So Far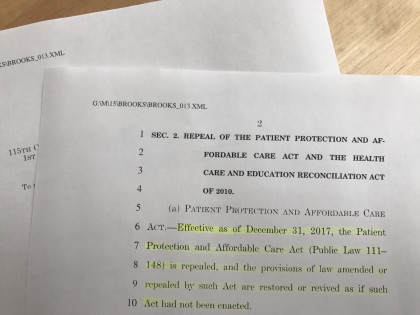 "We should repeal Obamacare, but partial repeal will only accelerate the current chaos and may eventually lead to calls for a taxpayer bailout of insurance companies." – Sen. Rand Paul
"If the American people want to repeal Obamacare, ["The ObamaCare Repeal Act"] is their last, best chance during the 115th Congress." – Rep. Mo Brooks
The federal healthcare law established by "the Patient Protection and Affordable Care Act" – or, Obamacare – is unconstitutional and must be repealed.
While Big Government politicians under Obama's watch succeeded in funding the healthcare law, we believe that Obamacare's days are numbered...
But while Congressional conservatives and the Trump Administration look to erase Obamacare's worst elements, we must demand that they not stop short.
It's time to urge members of the House and Senate to fully dismantle the healthcare law -- that every last word of Obama's signature legislation be erased from the books.
Right now, we must urge legislators to support and pass the two-page "ObamaCare Repeal Act" which fully repeals Obamacare and replaces it with nothing.
Take Action! Sign the petition and tell legislators to FULLY REPEAL Obamacare by passing The ObamaCare Repeal Act in 2017!
Read The ObamaCare Repeal Act here.
Public Comments
May 4th, 2017
Someone from Covington, KY writes:
It is as illegal as obama the terrorist. Its extortion so get rid of it and the impostor
May 4th, 2017
Someone from North Royalton, OH signed.
May 4th, 2017
Howard L. from Struthers, OH writes:
May 4th, 2017
SAMANTHA G. from Mechanicsburg, PA signed.
May 4th, 2017
Daniel W. from Tewksbury, MA signed.
May 4th, 2017
Laura G. from Conway, AR writes:
@Potus has said pre-existing is in new draft. Across state lines also issue. Is that in new draft? All the masses can't be made happy. Past this bill
May 4th, 2017
Reyes G. from San Marcos, TX writes:
May 4th, 2017
Terry T. from San Leandro, CA writes:
Please listen to the people for a change and do what is right for the country. We're not as dumb as you think!
May 4th, 2017
Wayne W. from Round Pond, ME writes:
this is the Republicans only chance to keep my support, get behind our President of no support!!!!!!! This means you Collins
May 4th, 2017
Frederick R. from Painesville, OH writes:
Show the American citizens WHY you were voted into office!
May 4th, 2017
Mary H. from Delaplane, VA writes:
Repeal..that was the promise Republicans! Remember you won...act like it.
May 4th, 2017
John E. from Norman, OK signed.
May 4th, 2017
Stephen G. from Murfreesboro, TN writes:
May 4th, 2017
Dennis D. from Virginia Beach, VA writes:
You watched constitutionalist candidates replace many long-term, embedded politicians in DC this past year. Get the message! The American people, YOUR BOSSES, are tired of Washington "Business as usual" Politics. They are actually starting to read The Constitution again, perhaps you should too!
May 4th, 2017
Larry S. from Centennial, CO writes:
Full repeal is only the start to keeping the promises made during the campaign!
May 4th, 2017
Otho L. from Knoxville, TN writes:
We the people voted in you Republicans because we believed you to be conservative and to repeal or replace ACA with something better and economical. We elected you to decrease the Federal government, stop the waste, aid the economy, strengthen the military and reduce taxes or implement a fair tax and reign in all the bureaucracy or weed out those who are doing harm to our nation politically. Do what you were elected to do, no more excuses!
May 4th, 2017
larry t. from Mandan, ND writes:
May 4th, 2017
larry t. from Mandan, ND signed.
May 4th, 2017
R. Stephen W. from Lake Pleasant, NY writes:
Amazing how when one party takes majority, all wisdom (and effectiveness) is instantly replaced by petty bickering and inaction. Republican party is now the laughing stock of DC. Wake up, you fools!
May 4th, 2017
R. Stephen W. from Lake Pleasant, NY writes:
Repeal Obamacare in it's ENTIRETY! You were sent to Congress by ME to GET this done....do NOT be so foolish as to hold out for your perfect replacement bill...you MUST eliminate this anchor around the neck of hard working, middle class people and REPLACE it with the BEST option available....to be so stupid as to wait until you have the "perfect" replacement will simply guarantee inaction by this trouble Republican leadership, and further guarantee that NOTHING will change. You are rendering yourselves completely useless by bickering and arguing among your own party, and it HAS TO STOP! We the people FAR PREFER an imperfect replacement to Obamacare, then for you fools to argue among yourselves, fail to allow any compromises, and fail to come to any agreements because of your petty bickering, and thus allowing the AFA to continue in place! Please agree to 80% of what you want to achieve in the new health care law, agree to work to fix the other 20% AFTER you have voted in the new bill, and let's move on to fixing 80% of what is wrong with our tax system! If you do not get this done; if you prove unable to reach a compromise to at LEAST pass the repeal of Obamacare, I PROMISE you will be replaced in that office at our earliest opportunity. GET SOMETHING DONE, or get out of the way so we can get someone else in that office who will! You are all destroying the Republican Party by your ridiculous bickering....that is why the Democrats are so powerful despite their minority....they have UNITY! Are you all so blind and stupid as to not see why you are so ineffective? Wise up, agree to something LESS than your perfect replacement bill....but agree to PASS SOMETHING, as long as Obamacare gets GONE!
May 4th, 2017
Someone from Martinsville, IN writes:
FULL REPEAL of ACA FIRST!!!!
May 4th, 2017
Bruce S. from New Lenox, IL writes:
You won........start acting like it
May 4th, 2017
Mellis K. from Freeport, OH signed.
May 4th, 2017
Janice V. from Winchester, VA writes:
When will our so-called Representatives heed our advice? REPEAL OBAMACARE - NOW.
May 4th, 2017
Rachel B. from Fayetteville, GA writes:
FULLY REPEAL OBAMACARE !!! BY PASSING THE OBAMACARE REPEAL ACT IN 2017 .
May 4th, 2017
Rachel B. from Fayetteville, GA signed.
May 4th, 2017
Jim O. from Conyers, GA writes:
Not ONE (1) word from Obamacare. Repeal word for word, Lock Stock and Barrel
May 4th, 2017
Someone from Villa Rica, GA writes:
A second doctor we have used has just 'bailed' - just walked out of the practice. Disgusted with the system and mountains of regulation. Now just passed doctor to doctor because none seem to want liability for any problem. Having to see 14 different doctors in the last 3 years and still no real help. Friends having to go to the emergency room once a week because they can't get into see a doctor within 3-5 weeks and getting worse. Doctors just running the numbers daily - a routine visit takes an average of 3-4 hours (if no problems). Doctors confused or don't care anymore, frustration beyond reason.
May 4th, 2017
Someone from Westover, PA writes:
Flat out repeal this mess and get government out of the insurance business for good.
May 4th, 2017
Someone from Fruitport, MI writes:
yes they need to get off there butts and do what they say they were going to do!!! maybe we need a third party??
May 4th, 2017
Gregory K. from Littleton, CO writes:
Repeal Obamacare first - then Replace!
May 4th, 2017
Paul W. from Pittsburg, NH writes:
Don't look to the voters to bail you out come next election if you fail on the ObamaCare repeal.
May 4th, 2017
Kenneth G. from Kirbyville, TX writes:
Repeal and not replace. It is a state right per the 10th Amendment.
May 4th, 2017
Joe M. from Huntington, WV signed.
May 4th, 2017
David Z. from Newton Centre, MA writes:
If it's so good you're going to pass it, it should include all federal employees from the president on down!
May 4th, 2017
Someone from Polkton, NC writes:
If you don't do what you promised this time, you and our Country will suffer. Not just in the next elections but forever.
May 4th, 2017
david s. from Aurelia, IA signed.
May 4th, 2017
Glenda M. from Hickory, NC signed.
May 4th, 2017
Ditra G. from Buena, NJ signed.
May 4th, 2017
Don S. from Monongahela, PA signed.