Tell Congress to PASS "The ObamaCare Repeal Act" to FULLY REPEAL Obama's federal healthcare law!
Messages Sent So Far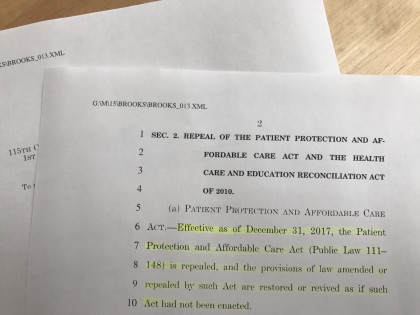 "We should repeal Obamacare, but partial repeal will only accelerate the current chaos and may eventually lead to calls for a taxpayer bailout of insurance companies." – Sen. Rand Paul
"If the American people want to repeal Obamacare, ["The ObamaCare Repeal Act"] is their last, best chance during the 115th Congress." – Rep. Mo Brooks
The federal healthcare law established by "the Patient Protection and Affordable Care Act" – or, Obamacare – is unconstitutional and must be repealed.
While Big Government politicians under Obama's watch succeeded in funding the healthcare law, we believe that Obamacare's days are numbered...
But while Congressional conservatives and the Trump Administration look to erase Obamacare's worst elements, we must demand that they not stop short.
It's time to urge members of the House and Senate to fully dismantle the healthcare law -- that every last word of Obama's signature legislation be erased from the books.
Right now, we must urge legislators to support and pass the two-page "ObamaCare Repeal Act" which fully repeals Obamacare and replaces it with nothing.
Take Action! Sign the petition and tell legislators to FULLY REPEAL Obamacare by passing The ObamaCare Repeal Act in 2017!
Read The ObamaCare Repeal Act here.
Public Comments
May 4th, 2017
Andrew G. from Owensboro, KY writes:
No excuse not to repeal! If not repealed and replaced with a free market capitalism system, I know how I won't be voting for in the future.
May 4th, 2017
Leo G. from Pompano Beach, FL signed.
May 4th, 2017
Alan W. from Saint Clairsville, OH signed.
May 4th, 2017
David B. from Littleton, CO signed.
May 4th, 2017
David B. from Littleton, CO signed.
May 4th, 2017
Norma D. from Saint Augustine, FL writes:
All those executive orders pertaining to our medical system need to be gone! They allow experimentation on patients, and allow doctors to do whatever they want without permission or even having to tell you the truth about what they do. I have been a victim 3 times and I'm tired of it! No legal recourse for things they do that are way outside of medical protocols. Like being kept on Propofol and Fentanyl for 38 days! Being refused treatment by an emergency room, when I have full medical coverage ( not Obamacare), when I went in by ambulance, unable to walk, in agony, I was told the emergency room was not for my problem. It turned out my problem was a two foot long blood clot in my leg that cut off circulation to my foot and my leg. I found out after fighting two days to get a MRI since when they finally did admit me, a doctor wanted to do a procedure to roto- route my leg for cholesterol, that I didn't have. Only the MRI showed it was blood, not the CT scan. Somebody do something!
May 4th, 2017
Joe K. from Rochester, PA writes:
The Constitution and Bill of Rights say nothing about our government involvement in health care. Keep the government out of it. It is just a means to an end of controlling the people. Hitler started this approach to control.
May 4th, 2017
Charles G. from Homestead, PA signed.
May 4th, 2017
Judi S. from Wyoming, MI writes:
May 4th, 2017
Stanley J S. from Phoenix, AZ signed.
May 4th, 2017
Judi S. from Wyoming, MI signed.
May 4th, 2017
Florina P. from Bonanza, OR writes:
May 4th, 2017
Karen S. from Bolton, MA signed.
May 4th, 2017
Karen M. from Guerneville, CA writes:
This bill will provide a lower quality of healthcare to all while providing additional healthcare to a few. There must be a better way to cover those who fall into the category of the in-insurables. Under the ACA those with less training and lower qualifications are able to provide care instead of well trained, superior Drs.
May 4th, 2017
Victor W. from Vancouver, WA writes:
These politicians fail to follow through on what they say they will do while on the campaign. This means voting on these principals regardless if you have the votes to pass it. Failing to do so completely undermines the very foundation of trust. Without that we have nothing. Maintaining your word provides our GOP base a foundation to build on.
May 4th, 2017
Fredericka I. T. from Missoula, MT writes:
You all campaigned on REPEAL ... we gave you the "keys" ... now REPEAL the damn thing!
May 4th, 2017
Thomas C. from Goodyear, AZ writes:
Quit playing political games and keep the President's promise to FULLY REPEAL Obamacare by passing The Obamacare Repeal Act in 2017!
May 4th, 2017
John R. from Estes Park, CO signed.
May 4th, 2017
Allen N. from Summit, UT signed.
May 4th, 2017
Susan B. from Delray Beach, FL writes:
Repeal and replace - that is the promise candidate Trump made to the American people and it is up to Congress to honor this pledge.
May 4th, 2017
RAY C J. from SANDY, UT writes:
MEMBER WHEN THE REP SAID WE NEED THE SENATE THEN THE HOUSE THEN PRESIDENT. WELL WE GOT EM AND WHAT AT THE REP DOING NOW???? NOTHING THEY ARE ACT'N LIKE THEY LOST AND YEA LIKE THEY ARE AFRAID OF THE LIBERALS.. FOR HELL SAKES, BUILD THE DAM FENCE, STOP FIGHTING AGAINST TRUMP. FOR 8 YEARS THESE LITTLE WEASELS DID NOTHING TO STOP OBAMA AND HILLARY. NOW THEY ARE FIGHTING AGAINST TRUMP. THAT IS SO DISGUST'N. WE VOTED FOR HIM CAUSE HE IS NOT FOR CAREER POLITICIANS. I WANT TERM LIMITS NOW. WE HAVE TOO MANY CAREER BABIES WHO PRETEND TO BE CONSERVATIVE... AS SOON AS THE ELECTION IS OVER... THEY SAY OH I REALLY AM LIBERAL.... TAKE HATCH, FROM MY STATE, MCCAIN, ETC... GRAPHAM SP. WE WON DIDN'T WE. PROVIDE THE VA WITH THE KIND OF CARE CONGRESSMAN GET HUM?? GIVE THE MILITARY 50% PAY RAISE. I AM SO TIRED TO POLITICIANS SAYING ONE THING AND VOTING THE OTHER. WE NEED A LAW THAT WILL THROW ANYONE WHO PROMISES ON TAPE TO DO ONE THINGS, AND DOES THE OTHER. TERM LIMITS FOR ALL. HATCH ESPECIALLY... DOES MCCONNELL COME TO MIND? THAT LITTLE WEASEL. I COULD GO ON FOREVER. VOTERS ARE TIRED TO PHONIES. THE CONSERVATIVE ARE PUNISHED WHEN THEY DON'T VOTED LIKE THE LIBS. LETS START CALL'N ALL THOSE WHO ARE FIGHTING AGAINST TRUMP. I WANTED CRUZ, BUT CAN ANYONE BE WORSE THAN OBAMA. START PROSECUTING HILLARY COMEY HUMA HUSBAND, ANYONE WHO LEAKED TOP SECRET INFO. JAILED TIME. BILL ALSO, AND CHELSEA. PROSECUTE CLINTON TRUST FUND AND ANYONE WHO CONTRIBUTED TO IT. I'M TIRED, GET THE IDEA??? WE ARE SICK AND LYING CHEATING DECEIVING POLITICIANS. TERM LIMITS. IF YOU THINK I AM THE ONLY WHO FEELS THIS WAY WAIT TILL THE NEXT ELECTION , GOT IT. WE SHOULD HAVE ELECTIONS EVERY YEAR TO GIVE YES OR NO FOR ALL WHO ON IN CONGRESS, ACCORDING TO THEIR PERFORMANCE. TELL MY WHY POLITICIANS ARE NOT REQUIRED TO BE ON THE SAME HEALTH CARE THEY ARE TRYING TO PASS FOR US. GET THE IDEA. YOU ARE NOT ABOVE LIVING WITH THE LAWS YOU PASS FOR US. GOT IT. ????WEASELS DOES NOT EVEN COME CLOSE. YOUR FIRED ALL OF YOU. WE WANT NEW BLOOD WHO CARE ABOUT WHAT THE VOTERS WANT, NO WHAT WILL GET YOU REELECTED. GOT IT BYE
May 4th, 2017
Charles G. from Chattanooga, TN writes:
Pass the Obamacare repeal act in 2017 and STOP right there. We do not want the Federal gov. involved in America's health insurance period!!!!!!!
May 4th, 2017
RAY C J. from SANDY, UT signed.
May 4th, 2017
Someone from Chebanse, IL writes:
May 3rd, 2017
Kenneth R. from Michigan City, IN signed.
May 3rd, 2017
John S. from Oakwood, OH writes:
Republicans, learn a lesson from the Dems. Get together and govern! Don't you know they, the Dems, are laughing at you!!
May 3rd, 2017
Someone from Dennison, OH writes:
May 3rd, 2017
Ralph P. from NEW BOSTON, TX signed.
May 3rd, 2017
Someone from Vancouver, WA signed.
May 3rd, 2017
Jason C. from Lapeer, MI signed.
May 3rd, 2017
Richard D. from Phoenix, AZ signed.
May 3rd, 2017
Jeff H. from Philadelphia, PA signed.
May 3rd, 2017
Dan M. from Tallahassee, FL signed.
May 3rd, 2017
Rafael D. from Coral Gables, FL writes:
Obamacare must be fully repealed as you all have been running you political campaign promising to do for the last 8 years. The Federal Government should not be meddling with Healthcare. Besides, you must be truthful and tell people that you are really talking about Insurance and not Healthcare. Insurance is purchased to cover a certain risk and must be priced according to the risk covered. The pre-existing conditions issue mandates the insurance company to sell you a policy to cover a risk after the fact. It is like purchasing car or home insurance to cover fire damage the day after your car of home were burnt down. You must be honest and tell the people the truth. Nothing works like the free market.
May 3rd, 2017
Rodney S. from Happy Valley, OR signed.
May 3rd, 2017
Someone from Boise, ID writes:
Get the government out of health care! Get employers out of health care! Open up the free market across state lines, so insurance companies can compete for customers like the car insurance companies do! Encourage health savings accounts. Cover the uninsured with a public fund but only for life-threatening or disabling conditions; and let taxpayers have a credit for contributions to the fund. Pre-existing conditions should be eligible for coverage, but maybe with a higher deductible, so the insurance companies don't go bankrupt and need bailouts. What branch of the Republican Party is against repealing and replacing the ACA? Vote them out!
May 3rd, 2017
Nancy G. from Davenport, IA writes:
REPEAL it ALL. Then start over with market based solutions. Americans are more than capable of choosing what is best for them.
May 3rd, 2017
Charles G. from National City, CA writes:
You haven't been listening, Congress. Total repeal. You all need the doctors advice, go ask Senator Rand Paul.
May 3rd, 2017
Connie S. from Houston, TX writes:
Get to work Congress ! Full repeal FIRST then start over with market based health insurance. Less government in our lives is what we voted for and trusted would get done quickly !
May 3rd, 2017
Someone from Northbrook, IL writes:
Chronically ill Individuals with pre-existing conditions are only 5% of the total number. Obamacare forces the other 95% to pay for the 5%, making insurance unaffordable for MOST people. It would be much better to have a "high risk pools" for the chronically ill instead of screwing up everyone else's insurance.