Tell Congress to PASS "The ObamaCare Repeal Act" to FULLY REPEAL Obama's federal healthcare law!
Messages Sent So Far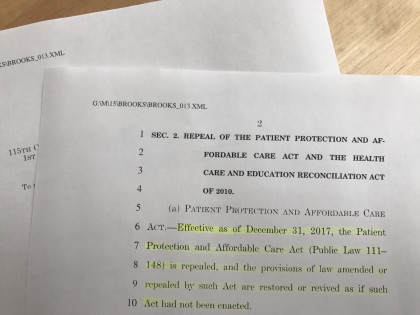 "We should repeal Obamacare, but partial repeal will only accelerate the current chaos and may eventually lead to calls for a taxpayer bailout of insurance companies." – Sen. Rand Paul
"If the American people want to repeal Obamacare, ["The ObamaCare Repeal Act"] is their last, best chance during the 115th Congress." – Rep. Mo Brooks
The federal healthcare law established by "the Patient Protection and Affordable Care Act" – or, Obamacare – is unconstitutional and must be repealed.
While Big Government politicians under Obama's watch succeeded in funding the healthcare law, we believe that Obamacare's days are numbered...
But while Congressional conservatives and the Trump Administration look to erase Obamacare's worst elements, we must demand that they not stop short.
It's time to urge members of the House and Senate to fully dismantle the healthcare law -- that every last word of Obama's signature legislation be erased from the books.
Right now, we must urge legislators to support and pass the two-page "ObamaCare Repeal Act" which fully repeals Obamacare and replaces it with nothing.
Take Action! Sign the petition and tell legislators to FULLY REPEAL Obamacare by passing The ObamaCare Repeal Act in 2017!
Read The ObamaCare Repeal Act here.
Public Comments
Mar 22nd, 2013
Charles S. from Blaine, WA writes:
Support Senator Ted Cruz and Repeal Obamacare please,
Mar 22nd, 2013
Someone from Cincinnati, OH signed.