Tell Congress: End DHS Police State Measures
The Department of Homeland Security and the Transportation Security Administration are targeting innocent American citizens and destroying our freedom!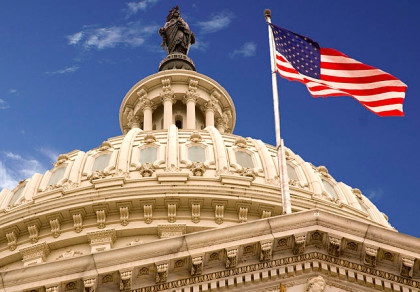 Vice President Joe Biden describes Conservatives as "acting like terrorists," and clearly the Department of Homeland Security (DHS) agrees, because their recently released terrorist-watch video "See Something, Say Something" has revealed a new terror threat: Americans!

The 10-minute video is filled with scenarios in which Americans are the real terror threats, and then advises Americans to not report on the suspicious activities of foreigners and those who speak a foreign language, but rather, to report the odd behaviors of American citizens.
The DHS video also displays newspaper clippings of Americans who have committed acts of terror, such as Ted Kaczynski the Unabomber, and Timothy McVey, one of the men involved in the bombing of the Murrah Federal Building in Oklahoma City. Yet, the video fails to show pictures of the 19 9/11 hijackers, or members of al-Qaeda, Hamas and Hezbollah, or members of other foreign terrorist organizations.

Is this simply a methodical effort by the DHS to be politically correct? Many say "no," because the DHS has gone out of its way to cast a shadow on middle-America by creating scenarios in which every suspected terrorist is an American citizen.

Unfortunately, these profiling tactics aren't new: according to documents written by the Missouri Information Analysis Center (MIAC) in 2009, if you display the Gadsden flag, or consider yourself to be Libertarian or a supporter of the liberty movement, then you just might be the biggest threat to our national security.

This is a prime example of an imposing police-state, where the government tasks citizens with the job of spying on their neighbors, instead of using the government's resources to protect patriotic Americans from the real terror threats.
TSA shakedown

Young children and grandmothers also seem to be on the Transportation and Security Administration's (TSA) radar as suspected terrorists.

A Tennessee woman was arrested by police at the Nashville International Airport for refusing to go through the TSA's airport screening machine, and for refusing to allow her daughter to be patted-down by a TSA agent.

According to a police report, the mother told TSA agents that she didn't want her daughter to be "touched inappropriately" or have her "crotch grabbed." And since she refused to allow the screening, she was arrested on a charge of disorderly conduct.

The mother was also prevented from taking a video of the incident on her mobile phone.

How much further will you allow the government to push you around before you stand up and tell every member of Congress to protect your Fourth Amendment rights?
Sign the petition and send letters to your lawmakers and demand they END the police-state measures -- even dismantle the DHS and TSA and let the free market take care of those security needs, rather than the ever-growing federal government!

Public Comments
Aug 5th, 2011
Someone from Paradise Valley, AZ signed.
Aug 5th, 2011
Mark G. from River Falls, WI signed.
Aug 5th, 2011
William & Arlene O. from Roosevelt, MN signed.
Aug 5th, 2011
Jack T. from Sierra Vista, AZ writes:
Since I haven't heard you speak out against the practices of our Police State DHS, I am assuming that you support the repeal of our 4th amendment rights.
Aug 5th, 2011
Walter C C. from Wise, VA writes:
The terrorists are running our government in D. C. Close down Homeland Security. No one is going to rap me or view my body in any airport.Those operating the X-ray machines will develop cancer within 5 years.
Aug 5th, 2011
Kenneth W D. from Trenton, GA writes:
This is the communist party working to try to take down American way of life.
Aug 5th, 2011
Timothy A. from Rancho Palos Verdes, CA writes:
By this defination the country was founded by terrorists!!!
Aug 5th, 2011
Dan W. from Saint Louis, MO signed.
Aug 5th, 2011
Ludmila R. from Los Angeles, CA writes:
If American people is your #1 enemy, whom does it make you and who your friends are ?
Aug 5th, 2011
Kyle E. from Gardena, CA writes:
End the TSA and the DHS altogether --
Aug 5th, 2011
Someone from Hyde Park, NY writes:
So now Americans are terrorists because we have a government full of terrorists who would like nothing better than to see those who don't agree with their agenda dead. Wake the hell up, America. Fire the politicians and take back your country if they continue to ignore this. A patriot
Aug 5th, 2011
Dan L. from Mahopac Falls, NY signed.
Aug 5th, 2011
Someone from Fountain Hills, AZ signed.
Aug 5th, 2011
Someone from Dunsmuir, CA writes:
think the biggest threat to the USA, is in Washington DC
Aug 5th, 2011
Carolyn W. from Panama, OK writes:
I am a Patriot, not a Terrorist!
Aug 5th, 2011
Dolores S. from Washington, MO writes:
dismantle the DHS and TSA
Aug 5th, 2011
Jane & John S. from Somerset, PA writes:
Congress & Senate must do something NOW. This is NOT a police State and those irresponsible in government should be taken to task NOW.
Aug 5th, 2011
Richard H. from Santa Clara, CA signed.
Aug 5th, 2011
francis f. from Pinellas Park, FL writes:
All stupid politicans need to resign or drop dead that can't follow the constitution. we are tired of your own greedy appitite, looking out for your selves. Concerned American
Aug 5th, 2011
David P. from Wichita, KS signed.
Aug 5th, 2011
Margaret P. from Ridgecrest, CA signed.
Aug 5th, 2011
Debbie W. from Frisco, TX writes:
I will not fly because of this indignity and the ones most likely to do this are exempt as are politicians. I am sick of them being exempt of what they require of us. There are other solutions like Israel and you people know it. This is a violation of my Constitutional rights and you have crossed the line. Anywhere else this would be sexual harrassment.
Aug 5th, 2011
Someone from Fort Lee, NJ signed.
Aug 5th, 2011
Jim B. from Lake Nebagamon, WI signed.
Aug 5th, 2011
john c. from Harvest, AL writes:
most of our legislatures are nothing but hitler clones
Aug 5th, 2011
Virginia M. from Tulsa, OK writes:
Since our big-spending gov't has no common sense in hiring and/or training people, the alternative is to STOP the so-called 'safety' watch-dogs. The airlines are getting killed with the regulations and slow-downs, and the travelers are turned into prisoners of war... No, wait, POWs would get better treatment, under Obama! If the airlines shut down, we're stuck with buses or trains, and the Gestapo 'cops' will attack them, also - all on the taxpayer's dime. This is still America! Either do your jobs right - with some common sense, or 'get away from our lives', stand away from our bodies, and we'll handle it without you.
Aug 5th, 2011
rAY C. from Doylestown, PA writes:
It is about time for congress to protect Americans. It is beginning to sound like Germany prior to WWI. I gave three years of my life for the country I love and now the govt. is trying to destroy the once great USA
Aug 5th, 2011
Regina G. from Seward, PA signed.
Aug 5th, 2011
CHRISTINA A. from Columbia, SC writes:
VOYEURISM AND GROPING HARASSMENT OF A SEXUAL NATURE ARE ILLEGAL!!!
Aug 5th, 2011
KURTISS O. from Laveen, AZ signed.
Aug 5th, 2011
Samuel Z. from Boynton Beach, FL signed.
Aug 5th, 2011
Samuel S. from Melbourne, FL signed.
Aug 5th, 2011
Someone from Saint Augustine, FL writes:
pEOPLE GET A GRIP!!! i DO NOT LIKE NON OF THE GRABBING AND XRAY MASCHINES EITHER BUT THE ONLY REASON WE HAVE THIS IS BECAUSE OF MUSLIM TERRORIST. THE GOVERNMENT IN THIS CASE IS TRYING TO PROTECT US. WHAT YOU NEED TO BITSCH AND BELLYACHE ABOUT IS THAT THE GOVERNMENT LET ANY MUSLIM INTO OUR COUNTRY!! WE DO NOT KNOW WHO IS SHEITE OR NOT! I WANT ALL THE MUSLIMS OUT OF MY COUNTRY AND I MEAN ALL OF THEM. I DO NOT SEE THE NON SHEITE MUSLIMS SPEAK UP FOR THE COUNTRY THEY MADE THEIR HOME!!!! YES I AM MADE AND YOU CAN CALL ME ANNY NAME YOU WISH!!!!
Aug 5th, 2011
David H. from Fairmont, NC signed.
Aug 5th, 2011
David B. from Simpsonville, SC signed.
Aug 5th, 2011
Someone from Granbury, TX writes:
America is struggling under a dark cloud of oppression, and hateful intentions from a few.
Aug 5th, 2011
Roger B. from New Orleans, LA writes:
Isn't it time to "LET FREEDOM RING" again??!
Aug 5th, 2011
Mary J. from Dinuba, CA signed.
Aug 5th, 2011
sherri k. from Deerfield Beach, FL signed.
Aug 5th, 2011
Martha D. from Chula Vista, CA signed.