Tell Congress: End DHS Police State Measures
The Department of Homeland Security and the Transportation Security Administration are targeting innocent American citizens and destroying our freedom!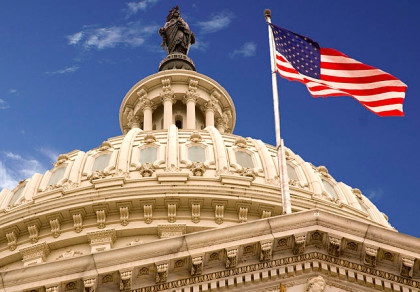 Vice President Joe Biden describes Conservatives as "acting like terrorists," and clearly the Department of Homeland Security (DHS) agrees, because their recently released terrorist-watch video "See Something, Say Something" has revealed a new terror threat: Americans!

The 10-minute video is filled with scenarios in which Americans are the real terror threats, and then advises Americans to not report on the suspicious activities of foreigners and those who speak a foreign language, but rather, to report the odd behaviors of American citizens.
The DHS video also displays newspaper clippings of Americans who have committed acts of terror, such as Ted Kaczynski the Unabomber, and Timothy McVey, one of the men involved in the bombing of the Murrah Federal Building in Oklahoma City. Yet, the video fails to show pictures of the 19 9/11 hijackers, or members of al-Qaeda, Hamas and Hezbollah, or members of other foreign terrorist organizations.

Is this simply a methodical effort by the DHS to be politically correct? Many say "no," because the DHS has gone out of its way to cast a shadow on middle-America by creating scenarios in which every suspected terrorist is an American citizen.

Unfortunately, these profiling tactics aren't new: according to documents written by the Missouri Information Analysis Center (MIAC) in 2009, if you display the Gadsden flag, or consider yourself to be Libertarian or a supporter of the liberty movement, then you just might be the biggest threat to our national security.

This is a prime example of an imposing police-state, where the government tasks citizens with the job of spying on their neighbors, instead of using the government's resources to protect patriotic Americans from the real terror threats.
TSA shakedown

Young children and grandmothers also seem to be on the Transportation and Security Administration's (TSA) radar as suspected terrorists.

A Tennessee woman was arrested by police at the Nashville International Airport for refusing to go through the TSA's airport screening machine, and for refusing to allow her daughter to be patted-down by a TSA agent.

According to a police report, the mother told TSA agents that she didn't want her daughter to be "touched inappropriately" or have her "crotch grabbed." And since she refused to allow the screening, she was arrested on a charge of disorderly conduct.

The mother was also prevented from taking a video of the incident on her mobile phone.

How much further will you allow the government to push you around before you stand up and tell every member of Congress to protect your Fourth Amendment rights?
Sign the petition and send letters to your lawmakers and demand they END the police-state measures -- even dismantle the DHS and TSA and let the free market take care of those security needs, rather than the ever-growing federal government!

Public Comments
Aug 5th, 2011
Karl B. from Bridgewater, NJ signed.
Aug 5th, 2011
John S. from Akron, OH signed.
Aug 5th, 2011
Cancy H. from Talco, TX writes:
Treating Americans like terrorists and not treating Terrorists like terrorists is outrageous. I implore you to protect the constitution.
Aug 5th, 2011
william s. from Las Vegas, NV signed.
Aug 5th, 2011
Joseph Paul G. from Stonington, CT signed.
Aug 5th, 2011
Someone from Northampton, PA writes:
Typical tactic of the left ... when the facts don't support your agenda, resort to name calling and accusations of racism and terrorism to attempt ti discredit those who don't agree with your agenda.
Aug 5th, 2011
Westley K. from Albuquerque, NM signed.
Aug 5th, 2011
Someone from Plattsburgh, NY signed.
Aug 5th, 2011
Lilly L. from Carrollton, MS signed.
Aug 5th, 2011
peggy b. from Highland, IN signed.
Aug 5th, 2011
Roy V. from Allen, TX signed.
Aug 5th, 2011
Mrs. Louise D. from Saint Albans, VT writes:
Sometimes good ideas get out of hand. I believe that this is what is happening with the DHS and TSA. I am asking our representatives to work on this so things don't go "too far." Please help stop this ridiculous checking that is going on.
Aug 5th, 2011
Suzanne V. from Allen, TX writes:
Biden should be concentrating on the real Terrorist - Al-Qaeda and the Taliban in stead of The Conservative Americans that are better than he is!
Aug 5th, 2011
Barbara W. from Monroe, UT signed.
Aug 5th, 2011
Judy M. from Coal City, IL signed.
Aug 5th, 2011
Charles H. from Hermleigh, TX writes:
Elected officials swear to protect the constitution and our citizens. When will they start doing this?
Aug 5th, 2011
Someone from Simi Valley, CA signed.
Aug 5th, 2011
curtis b. from Lula, GA signed.
Aug 5th, 2011
Someone from Loretto, MN signed.
Aug 5th, 2011
Susan W. from Naples, FL signed.
Aug 5th, 2011
Someone from Council Bluffs, IA signed.
Aug 5th, 2011
Victoria f. from Medford, NJ signed.
Aug 5th, 2011
Someone from Phoenix, AZ signed.
Aug 5th, 2011
Jane M. from Littleton, CO signed.
Aug 5th, 2011
Leon H. from Graham, TX signed.