Tell Congress: End DHS Police State Measures
The Department of Homeland Security and the Transportation Security Administration are targeting innocent American citizens and destroying our freedom!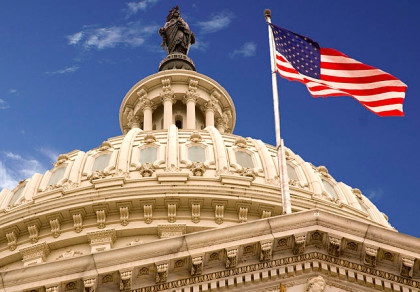 Vice President Joe Biden describes Conservatives as "acting like terrorists," and clearly the Department of Homeland Security (DHS) agrees, because their recently released terrorist-watch video "See Something, Say Something" has revealed a new terror threat: Americans!

The 10-minute video is filled with scenarios in which Americans are the real terror threats, and then advises Americans to not report on the suspicious activities of foreigners and those who speak a foreign language, but rather, to report the odd behaviors of American citizens.
The DHS video also displays newspaper clippings of Americans who have committed acts of terror, such as Ted Kaczynski the Unabomber, and Timothy McVey, one of the men involved in the bombing of the Murrah Federal Building in Oklahoma City. Yet, the video fails to show pictures of the 19 9/11 hijackers, or members of al-Qaeda, Hamas and Hezbollah, or members of other foreign terrorist organizations.

Is this simply a methodical effort by the DHS to be politically correct? Many say "no," because the DHS has gone out of its way to cast a shadow on middle-America by creating scenarios in which every suspected terrorist is an American citizen.

Unfortunately, these profiling tactics aren't new: according to documents written by the Missouri Information Analysis Center (MIAC) in 2009, if you display the Gadsden flag, or consider yourself to be Libertarian or a supporter of the liberty movement, then you just might be the biggest threat to our national security.

This is a prime example of an imposing police-state, where the government tasks citizens with the job of spying on their neighbors, instead of using the government's resources to protect patriotic Americans from the real terror threats.
TSA shakedown

Young children and grandmothers also seem to be on the Transportation and Security Administration's (TSA) radar as suspected terrorists.

A Tennessee woman was arrested by police at the Nashville International Airport for refusing to go through the TSA's airport screening machine, and for refusing to allow her daughter to be patted-down by a TSA agent.

According to a police report, the mother told TSA agents that she didn't want her daughter to be "touched inappropriately" or have her "crotch grabbed." And since she refused to allow the screening, she was arrested on a charge of disorderly conduct.

The mother was also prevented from taking a video of the incident on her mobile phone.

How much further will you allow the government to push you around before you stand up and tell every member of Congress to protect your Fourth Amendment rights?
Sign the petition and send letters to your lawmakers and demand they END the police-state measures -- even dismantle the DHS and TSA and let the free market take care of those security needs, rather than the ever-growing federal government!

Public Comments
Aug 5th, 2011
Paul H. from Santa Maria, CA signed.
Aug 5th, 2011
neil h. from Davis, CA writes:
More laws and enforcement of these new laws does not promise increased safety.
Aug 5th, 2011
Robert G. from Jacksonville, NC signed.
Aug 5th, 2011
Sandra G. from Jacksonville, NC signed.
Aug 5th, 2011
tony n. from Chestertown, MD signed.
Aug 5th, 2011
Wanda V. from West Linn, OR signed.
Aug 5th, 2011
David R. from Westerville, OH signed.
Aug 5th, 2011
Matthew O. from Garfield, NJ signed.
Aug 5th, 2011
Marla R. from Phoenix, AZ writes:
Joe Biden, instead of being proud to serve the people of the United States, your heart has been lifted up with self-pride and you actually think you are better than us! Do the RIGHT thing instead of the expediant thing!
Aug 5th, 2011
George C. from Shepherdstown, WV writes:
The misnamed Patriot Act is a death blow to forth amendment rights. TSA assaults have nothing to do with security. They have everything to do with conditioning free citizens to accept felonious assaults, without protest, from TSA functionaries.
Aug 5th, 2011
Martin R. from Paramus, NJ writes:
I am a decorated veteran, Captain,USAF,Ret. I rfesent being called a terrorist bya politician who never served this countgryin the military.
Aug 5th, 2011
Evesta S. from Dayton, OH signed.
Aug 5th, 2011
Gene J. from Ripon, WI signed.
Aug 5th, 2011
Laura M B. from Milford, CT writes:
I can guarantee that the overwhelming majority of Conservative people do not want to harm anyone in anyway; especially a public figure. We are peaceful people who use the democratic process to change something if we feel it needs to be changed. That young guy who shot that Congresswoman was worshiping the Devil with a makeshift altar in his backyard. I don't know where he stood politically at all. I just want you to know that Conservative people do not want to harm anyone. I can state this in complete confidence. I believe in our 4th Amendment rights which are guaranteed in Our Constitution. With these TSA searches you are not only wasting your time; you are wasting valuable money which could be used in a much more effective way. Also, many citizens have been uprightly "seized & searched" and have been humiliated to say the least. American citizens are not "the enemy." We are law abiding citizens & we are being singled out & many have been abused. I want to assure you also, that just because I am a Conservative person, I am in no way a terrorist, nor will I ever be one. Please be reasonable & put an end to the violation of our Constitutional rights as citizens of this country. Respectfully Yours, Laura M Bernard
Aug 5th, 2011
Harry W. from Mission Viejo, CA signed.
Aug 5th, 2011
Ted H. from Urbana, IN writes:
Dismantle the TSA!! We Americans are NOT the problem!! The foreigners are. Why are the Muslims given a pass while we Americans must submit to sexual assault??
Aug 5th, 2011
william c. from Port Saint Lucie, FL signed.
Aug 5th, 2011
Melvin N. from Lynden, WA writes:
Aug 5th, 2011
Someone from Colorado Springs, CO signed.
Aug 5th, 2011
Mary A. from Niagara Falls, NY signed.
Aug 5th, 2011
BILL S. from Hemet, CA writes:
STOP ALL THESE ACTS IMMEDICATELY
Aug 5th, 2011
robert c. from Roseville, CA signed.
Aug 5th, 2011
John M. from Phillipsburg, NJ writes:
John Pistole: Actions of the TSA (really? a six-year old girl. You're really sick!
Aug 5th, 2011
Someone from Monroe, WI signed.
Aug 5th, 2011
Max L. from Houston, TX signed.
Aug 5th, 2011
Larry B. from Aztec, NM signed.
Aug 5th, 2011
Tom L. from Lowell, MA writes:
It is pass time to remove Obama and all his cronies form the White House and in the rest of the government were ever they may be found, get it done now.
Aug 5th, 2011
willard s. from Bremerton, WA signed.
Aug 5th, 2011
Geneva M M. from Oxford, MS signed.
Aug 5th, 2011
Someone from Commerce, TX signed.
Aug 5th, 2011
Someone from Groveland, FL signed.
Aug 5th, 2011
William A. from Bricelyn, MN signed.
Aug 5th, 2011
Someone from Lebanon, MO signed.
Aug 5th, 2011
Glenroy S. from Rosedale, MD signed.
Aug 5th, 2011
Dean B. from Las Vegas, NV signed.
Aug 5th, 2011
Carol M. from Mulberry, KS signed.
Aug 5th, 2011
Nina W. from Spring, TX writes:
Shame on politicians of our govt for "pretending to listen to us" and then treating us as if we are worse than the actual terrorists. Just goes to show who the actual terrorists are...our own politicians. How can the regular American impeach them when our "conservative politicians" refuse to do it?
Aug 5th, 2011
Steve F. from Simi Valley, CA writes:
The TSA must be using perverts at the airports. These are sick people who need help,not a government job.
Aug 5th, 2011
harvey b. from Creswell, NC signed.
Aug 5th, 2011
Rosemarie M. from Lake Bluff, IL signed.