Tell Congress to PASS "The ObamaCare Repeal Act" to FULLY REPEAL Obama's federal healthcare law!
Messages Sent So Far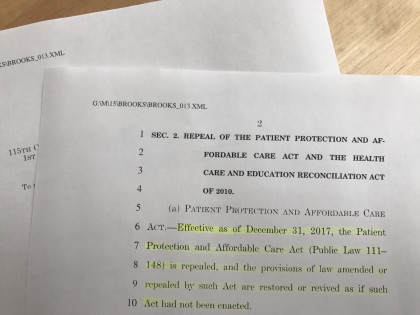 "We should repeal Obamacare, but partial repeal will only accelerate the current chaos and may eventually lead to calls for a taxpayer bailout of insurance companies." – Sen. Rand Paul
"If the American people want to repeal Obamacare, ["The ObamaCare Repeal Act"] is their last, best chance during the 115th Congress." – Rep. Mo Brooks
The federal healthcare law established by "the Patient Protection and Affordable Care Act" – or, Obamacare – is unconstitutional and must be repealed.
While Big Government politicians under Obama's watch succeeded in funding the healthcare law, we believe that Obamacare's days are numbered...
But while Congressional conservatives and the Trump Administration look to erase Obamacare's worst elements, we must demand that they not stop short.
It's time to urge members of the House and Senate to fully dismantle the healthcare law -- that every last word of Obama's signature legislation be erased from the books.
Right now, we must urge legislators to support and pass the two-page "ObamaCare Repeal Act" which fully repeals Obamacare and replaces it with nothing.
Take Action! Sign the petition and tell legislators to FULLY REPEAL Obamacare by passing The ObamaCare Repeal Act in 2017!
Read The ObamaCare Repeal Act here.
Public Comments
May 3rd, 2017
john b. from Dublin, GA writes:
repeal obamacare. then replace it . you can't make something bad a good thing.
May 3rd, 2017
Richard G. from Cleburne, TX writes:
WHOA!!! I just went to read the repeal act and had to download an app that was $8.99 a month? HOW RIDICULOUS CAN YOU PEOPLE BE? Are you used car salesmen too!!
May 3rd, 2017
Joseph B. from Waterford, MI signed.
May 3rd, 2017
John K. from Clinton, MS writes:
NOTICE: ALL OF CONGRESS SHOULD BE ASHAMED OF THE HORRID JOB THEY ARE DOING! Most of you are criminals, liars and thieves! Both groups are equally to blame! The country is on the verg of collapse and national disasters and you people call names and have rocks thrown! You ALL ARE A BUNCH OF CLOWNS! I wish there was a way to fire all of you! We could send some volunteer housewives and do a much better job!
May 3rd, 2017
Someone from Houston, TX writes:
Too many RINO'S in Charge, I am now an Independent Voter, Never going Back To Them, Why go to see Clowns in A Circus just go to Washington DC !!!!!
May 3rd, 2017
Loretta R. from Cartersville, GA signed.
May 3rd, 2017
David S. from Henderson, NV signed.
May 3rd, 2017
Doyle W. from Lakewood, CO signed.
May 3rd, 2017
Kurt S. from Hampshire, IL signed.
May 3rd, 2017
Lyle G. from Arab, AL signed.
May 3rd, 2017
Dan F. from Tyrone, GA signed.
May 3rd, 2017
Berniece B. from New Smyrna Beach, FL writes:
Do It Now! Repeal Obamacare! You are voting for the voice of the American people!!
May 3rd, 2017
Marvin M. from Mandan, ND writes:
Repeal the whole damn thing!
May 3rd, 2017
Stephen A. from Oak Lawn, IL writes:
REPEAL THE F...ING ACA NOW!
May 3rd, 2017
David C. from Bonner Springs, KS writes:
Get rid of all and everything about obamacare
May 3rd, 2017
Keith V. from Cape Girardeau, MO writes:
Do it now !!! We the people are tired of your Crap !!! Back our President !!
May 3rd, 2017
Edward R. from Castle Rock, CO writes:
Will vote these people out of office if they cannot get anything done. So far, they are worse than the DEMs as at least the DEMs are together.
May 3rd, 2017
Someone from Houston, TX signed.
May 3rd, 2017
Jacob L. from Washington, MO writes:
May 3rd, 2017
Someone from Jacksonville, FL writes:
Because of this stupid law I have no healthcare and had to pay $1700! That is crazy!
May 3rd, 2017
David R. from Fort Lauderdale, FL writes:
Repeal and Replace Obamacare. Compromise and move the bill forward or suffer for the rest of the year with Democrat Insults and taunting.
May 3rd, 2017
Someone from Newberg, OR writes:
Republicans have been promising to do this for 8 years. You now control both houses of Congress and the White House. All it takes is the courage to act. This is your last, best chance. To be sure, the details of a replacement are difficult and will take time and effort to work out, and the Radical Left propaganda media will whine and scream every step of the way -- but repealing Obama Care is the necessary first step. Repeal is the easy, obvious part. Wipe the slate of the failed system so something better can emerge. Congress can even set a cancellation timeline of a few months to allow useful public debate on what comes next and set plans for the transition. REPEAL --> SET FIRM DATE FOR CANCELLATION --> HAVE A REPLACEMENT BY THAT DATE. If there is chaos because the replacement is sabotaged, blame those who obstructed: the RINOs, Democrats, and FAKE NEWS.
May 3rd, 2017
Edward Z. from Paradise Valley, AZ signed.
May 3rd, 2017
Tommomh@att.nety H. from Martinez, CA signed.
May 3rd, 2017
Kenneth G. from Greenfield, WI writes:
Unfortunately, you don't like to listen to the people...and you expect to get re elected...
May 3rd, 2017
Someone from Austin, TX writes:
pass it already - and yes, people with pre-existing conditions should be expected to pay more... otherwise why would anyone buy health care before they got sick... so tired of the swamp... repeal obamacare or get out of Washington!
May 3rd, 2017
Thomas R. from Fort Myers, FL signed.
May 3rd, 2017
Linn P. from Sheridan, WY signed.
May 3rd, 2017
Someone from Andersonville, TN writes:
When are you all going to figure out that you actually won the election? Do what we were promised. Repeal! Repeal! Repeal!
May 3rd, 2017
Bryan D. B. from Ocean Springs, MS writes:
We ask only what that you do what, you have said repeatedly ,that you were going to do. How can we trust you when it is obvious that you only voted to repeal Obamacare because you knew it would not make it past President Obama's desk.
May 3rd, 2017
Richard G. from Cleburne, TX writes:
I can not wait to vote some of you "politicians" out of the cushy positions you somehow managed to get to. You spineless characters have no business being in congress if you can't take care of the business that the country is so demanding.
May 3rd, 2017
Joe W. from Yardley, PA signed.
May 3rd, 2017
Paul S. from Orange Park, FL writes:
DO NOT PASS THIS BBAADD HEALTHCARE bill!!!!!!!!!!! Any constitutional healthcare bill mus be passed by the various states. ANY FEDERAL HEALTHCARE BILL IS UNCONSTITUTIONAL, ANY LIBERAL BASED SUPREME COUNT CAN'T BE RELIED ON TO DO THE RIGHT THING!!!!!!!!!!!!!!!!!!!!!!!!!!!!!!!!
May 3rd, 2017
Carl O. from Silverdale, WA writes:
Republicans need to get off their dead buts and repeal Obomacare.
May 3rd, 2017
Brian R. P. from Minneapolis, MN signed.
May 3rd, 2017
Claudia C. from Tulsa, OK writes:
I think we should possibly sign a new amendment making all of you held to what we are held to. All laws shall apply to Congress that apply to other US citizens. Really, the vote for Trump wasn't so much for Trump, but a vote AGAINST everything Obama! Do you all not understand that?
May 3rd, 2017
Michael B. from Lewes, DE signed.
May 3rd, 2017
Patrick A. from Tipp City, OH writes:
Repeal and don't replace ,we had good insurance before the government got involved,we can have it again without them
May 3rd, 2017
Peter H. from El Cajon, CA signed.
May 3rd, 2017
Denny M. from Bedford, TX writes:
You're proving to be a disgrace! Jerks, get it done.