Tell Congress: Stop Police State Tyranny In America
Messages Sent So Far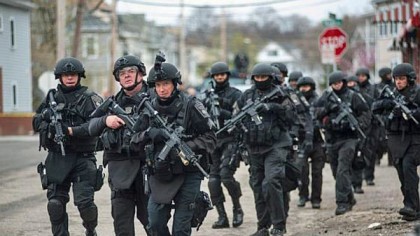 Concerned Americans, we must pay attention! The writing is on the wall. We must wake up:

SILENCING THE PEOPLE. A Department of Homeland Security report entitled, "Rightwing Extremism: Current Economic and Political Climate Fueling Resurgence in Radicalization and Recruitment" warns of "radical" groups like Christian cults, pro-life groups and returning military veterans. Further, West Point's Combatting Terrorism Center claims that conservatives and libertarians are a threat to society in their report called "Challengers from the Sidelines: Understanding America's Violent Far-Right." At what point will law-abiding, pro-liberty Americans be labeled "terrorists?"
DISARMING THE PEOPLE. On January 16, 2013 Barack Obama issued 23 executive orders, including 3 presidential memoranda, calling for increased gun-control. Diane Feinstein, Frank Lautenberg, and other Congresspersons have also introduced legislation to ban weapons and magazines, establish sweeping background checks, and create a centralized gun-registration system.

AMERICAN CONCENTRATION CAMPS. The National Emergency Centers Establishment Act, initiates the framework for mass-quarantine of American citizens. Congressman Alcee Hastings (D-Fl) reintroduced this bill in the 113th Congress on January 23; the bill is H.R. 390. This legislation calls for the creation of six national facilities for the concentration of civilian internees. Who are they planning to detain?

STABILITY POLICE FORCE. The George Soros-funded Rand Corporation issued a report calling for a Stability Police Force (SPF), saying "Stability operations have become an inescapable reality of U.S. foreign policy. Establishing security with soldiers and police is critical because it is difficult to achieve other objectives - such as rebuilding political and economic systems - without it."

STATE-LEVEL MILITARY ACTIVITIES. Obama signed an executive order establishing a Council of Governors, which is to be a panel of 10 state governors selected by the President who will review "review matters involving the National Guard; homeland defense; civil support; and synchronization and integration of state and federal military activities in the United States," according to the White House. Has Obama now federalized the states and gained control of the National Guard?

GOVERNMENT AMASSING WEAPONS. The Department of Homeland Security (DHS) has in its possession over 1.6 billion rounds of ammunition -- including hollow-points. The Department also has thousands of tanks for "domestic use," capable of withstanding "ballistic arms fire, mine blasts, IEDs, and other emerging threats." Why does the DHS need over a billion bullets, rifles, and tanks? We have the armed forces for our defense.

INTERNATIONAL LAW ENFORCEMENT. Obama signed executive order 12425, giving the international police force INTERPOL immunity from American law. INTERPOL now has free reign in the United States, unencumbered by the Fourth Amendment, the Freedom of Information Act, American law enforcement agencies, and the U.S. Constitution. Obama has now given our sovereignty away to an international police force.
DRONES IN OUR SKIES. In the summer of 2012, after legislation was passed and signed by President Obama, unmanned aerial vehicles were first dispatched into American skies. While these UAV's -- or drones -- are not armed, they are equipped with surveillance cameras. The records they collect are kept for 90 days.

The government's encroachment of our rights will continue as long as we fail to act! Where will this dangerous pathway end?

Take action to preserve liberty, the Republic, and individual sovereignty. Send your personalized messages to your Representative and U.S. Senators right now and ask them to DEFUND and DISMANTLE the American Police State!
Public Comments
Apr 4th, 2012
Marc B. from Nipomo, CA signed.
Apr 4th, 2012
Jim G. from Sealy, TX signed.
Apr 4th, 2012
Margaret E P. from Colchester, VT signed.
Apr 4th, 2012
Charlotte R. from Memphis, TN writes:
This man must not be put back in office. He is taking our freedoms away and will finish his job if he has 4 more years. May God be with us.
Apr 4th, 2012
Terrence W. from Simpsonville, KY signed.
Apr 4th, 2012
Glenda S. from Julian, NC signed.
Apr 4th, 2012
Someone from Keller, TX signed.
Apr 4th, 2012
Jamie P. from Doniphan, MO signed.
Apr 4th, 2012
Philip R. from Coraopolis, PA signed.
Apr 4th, 2012
Ron C. from Gray, ME signed.
Apr 4th, 2012
Don D. from Bayonne, NJ signed.
Apr 4th, 2012
Someone from Milwaukee, WI signed.
Apr 4th, 2012
Michael S. from Spokane, WA writes:
Obama must be stopped from these atrocities as well as his implementation of citizen police force. This is the same pattern as was implemented by Hitler in the 1930's. States should not be receiving Federal Funding for State Law Enforcement and training. Every State that receives Federal Money for their Police Forces need to take notice.
Apr 4th, 2012
David H. from Clovis, NM signed.
Apr 4th, 2012
David L. from Mesa, AZ writes:
Money could be better spent on other things!
Apr 4th, 2012
Emil Y. from Meeker, OK signed.
Apr 3rd, 2012
Mark E. from Woodbridge, VA signed.
Apr 3rd, 2012
Someone from Bethesda, MD signed.
Apr 3rd, 2012
Someone from Dayton, OH writes:
Are we are free republic or a police state? Do we want the government answerable to the people or serfdom?
Apr 3rd, 2012
william s. from Miamisburg, OH writes:
Apr 3rd, 2012
Charles K. from Long Beach, CA writes:
Apr 3rd, 2012
john m. from Divernon, IL writes:
we have to pay for the bullet they shoot us with?
Apr 3rd, 2012
Ingrid P. from Washburn, WI writes:
The Military HAS SERVED OUR COUNTRY WELL Over almost 200 Years.We are proud of them and what they have Accomblished.What are we
Apr 3rd, 2012
Carol A. F. from Herkimer, NY writes:
Obama was sworn into office to defend the Constitution! What is he doing?
Apr 3rd, 2012
Someone from Los Angeles, CA signed.
Apr 3rd, 2012
Norma P. from Eloy, AZ signed.
Apr 3rd, 2012
Billie W. from Burleson, TX writes:
We the people have elected you to do a job and up hold the Constitution.You have allowed Obama to run roughshoud over you and us.He and his thugs have set up our NATION for a take over . STOP IT NOW . WHILE YOU STILL CAN . GOD HELP AMERICA
Apr 3rd, 2012
Robert J W. from Kerrville, TX signed.
Apr 3rd, 2012
Shonna R. from Casper, WY signed.
Apr 3rd, 2012
Brad H. from Torrance, CA signed.
Apr 3rd, 2012
william r. from Sylvester, GA signed.
Apr 3rd, 2012
Robert R. from Cozad, NE signed.
Apr 3rd, 2012
Macena M. from Indianapolis, IN writes:
This has to stop and be reversed NOW. All public servant's jobs are currently on the line...remember who votes!
Apr 3rd, 2012
Robert S. from Lutz, FL signed.
Apr 3rd, 2012
Someone from Escanaba, MI signed.
Apr 3rd, 2012
Charlotte E. from West Monroe, LA writes:
How do we get your attention? Do we have to SCREAM? You are the ONLY ONES who can STOP this MADNESS!!!! Just do it . . .
Apr 3rd, 2012
Dorin P. from La Habra, CA signed.
Apr 3rd, 2012
Darryl H. from Hollister, CA signed.
Apr 3rd, 2012
donald g. from Plainfield, NJ signed.
Apr 3rd, 2012
Kyle E. from Gardena, CA signed.