Tell Congress: Pass the Fair Tax Act of 2017!
Messages Sent So Far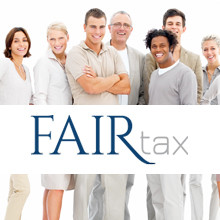 The current federal income tax system is clearly broken — unfair, overly complex, and almost impossible for most Americans to understand.
But there is a reasonable, nonpartisan alternative before Congress that is both fair and easy to understand. A system that allows you to keep your whole paycheck and only pay taxes on what you spend.
It's called the FairTax. Introduced in the U.S. House and Senate as H.R. 25 and S. 18, respectively, The FairTax is a national sales tax that treats every person equally and allows American businesses to thrive, while generating the same tax revenue as the current four-million-word-plus tax code... and without the I.R.S.
The Fair Tax Act of 2017 is the only tax replacement plan before the U.S. Congress that:

Eliminates all federal income and payroll taxes including personal, gift, estate, capital gains, alternative minimum, Social Security/Medicare, self-employment and corporate.
Eliminates the need for businesses and individuals to file federal income tax returns.
Eliminates over 74,000 pages of Internal Revenue Code and the estimated $350 billion in annual compliance costs.
Defunds, disbands and eliminates the Internal Revenue Service.
Favors American businesses and workers over foreign corporation, and dramatically increases the rate of economic growth and job creation.
Brings American jobs back to America and generates employment opportunities for the hundreds of thousands of chronically unemployed.
Repeals the 16th Amendment and direct taxation through companion legislation.
Take action and tell your U.S. Representative and Senators to co-sponsor the Fair Tax Act of 2017. Add your name in the fields below to proceed to send your no-cost letters.
Be a part of the FAIRtax movement and help make make April 15 just another spring day. Visit FAIRtax.org.
Public Comments
Mar 26th, 2015
Lyn G. from Humble, TX writes:
Please co-sponsor and pass the FairTax Act of 2015. This is the only replacement plan that can and will work. The flat tax will not work and it's time to abolish the IRS, the agency that has acted without accountability and with malice toward all Americans. We need a consumption tax, not a punishment based productivity tax. The decades-old history of tax reform and the miserable failures at numerous attempts to always make the code "better, fairer, and more equitable" has proven that tinkering and tweaking of the code is just more waste of our tax dollars. This should not take any intestinal fortitude as everyone but special interests hates the IRS and our tax system. Radical but logical effort toward the FairTax is totally supported by grass roots America and should be easily embraced by all politicians who stand for doing the right things for America. Enough is enough!
Mar 26th, 2015
Byron A. from Beaverton, OR signed.
Mar 26th, 2015
Timothy F. from Dayton, OH writes:
The FairTAX is the only viable solution to excessive Federal taxes and returns power to the people, removing it from bureaucrats and backroom deal making. If you value your oath of office, if you still believe in the values that first drove you seek public office, then you must support the FairTax!
Mar 26th, 2015
Christian K. from Memphis, TN signed.
Mar 26th, 2015
Casey T. from Derby, KS writes:
The time is now for the national sales tax, it is the fairest for the poor and the people who most need the help.
Mar 26th, 2015
Larry M. from Kaufman, TX writes:
Please,Please, pass this fair tax for the good of our country. Everyone needs to participate in the taxation. Everyone can determine how much they pay in taxes and everyone_WILL PAY!!!!!!!! As far as I am concerned this is the beginning of we the people taking back our country. Once we abolish the IRS, we can move on to other waste of tax payers money with the Dept of Education being the next on the list and so on.
Mar 26th, 2015
Fred and Jan P. from Melbourne, FL signed.
Mar 26th, 2015
Rod F. from Plainwell, MI writes:
Congess, Please take some of the coruption out of Washington and start our economic engine by implementing the FAIR TAX.
Mar 26th, 2015
Jason C. from Lewisville, NC writes:
This is a chance to save our dying country and needs to be taken seriously. Any candidate not in favor of the fairtax will not be getting my vote.
Mar 26th, 2015
Jim J. from Sherman, TX signed.
Mar 26th, 2015
Joe G. from Cadiz, OH signed.
Mar 26th, 2015
Someone from Hugo, MN writes:
Mar 26th, 2015
Gary & Ethel O. from Conyers, GA writes:
Do it now, it is time to provide relief from the IRS.
Mar 26th, 2015
Robert A. from Defuniak Springs, FL signed.
Mar 26th, 2015
Kenneth C. from Franklin, OH writes:
We need to undo the present tax system with a flat tax or collected taxes on purchesed items.
Mar 26th, 2015
Bernard G. from Gates Mills, OH signed.
Mar 26th, 2015
Michael M. from Fort Wayne, IN writes:
We need to abolish the inequitable taxation system that currently exists in this country.
Mar 26th, 2015
Ronald R. from Savage, MN signed.
Mar 26th, 2015
Bill B. from Henrico, VA signed.
Mar 26th, 2015
Christopher P. from Woodstock, GA signed.
Mar 26th, 2015
Stephen C. from Warrensburg, MO signed.
Mar 26th, 2015
David D. from Miami, FL writes:
As an investment management professional that specializes in global macroeconomics it is clear to me that countries with complex tax systems greatly impoverish their citizens and sow the seeds of slower economic output. America is far overdue for a new tax system. The Fair Tax Act of 2015 is exceptionally well thought out and simple! Let's make it a reality. The time is now!
Mar 26th, 2015
Taylor S. from Dallas, TX writes:
Please help make our tax code simple and fair with the FairTax proposal!
Mar 26th, 2015
John A. from Atlanta, GA signed.
Mar 26th, 2015
J C C. from New Iberia, LA signed.
Mar 26th, 2015
Robert A. from Boca Raton, FL signed.
Mar 26th, 2015
Marguerite A. from Houma, LA writes:
As my elected representatives, I expect you to support this legislation as it is in the best interests of the people you serve. The time is now! Thank you.
Mar 26th, 2015
james m. from Jupiter, FL signed.
Mar 26th, 2015
michael k. from Montrose, MO signed.
Mar 26th, 2015
Kenneth S. from Jasper, GA signed.
Mar 26th, 2015
Rowena B. from Riverton, WY signed.
Mar 26th, 2015
Michael N. from Dayton, OH signed.
Mar 26th, 2015
Robert M. from Powder Springs, GA signed.
Mar 26th, 2015
Dave C. from Acton, MA signed.
Mar 26th, 2015
Ray E. from Shorewood, IL writes:
Lois Lerner took the 5th because she new she had violated the law. The IRS has always violated our God-Given rights and will always do so. It can not be "reformed." It must be eliminated. Rip it out by the roots so it can never come back. The only way to do that is to pass the Fair Tax!
Mar 26th, 2015
Mark C. from Atlanta, GA signed.
Mar 26th, 2015
Paul M. from Thorndale, TX writes:
Recent discoveries of the abusive nature, and above the law attitude by the IRS clearly shows that the system is broken and needs to be dismantled. A form of consumption tax; such as FairTax; is a key step in stabilizing our economy and creating growth.
Mar 26th, 2015
Robert M. from Powder Springs, GA writes:
Fair? What is the definition of fair? A tax system that allows large businesses to find loopholes to exempt themselves of their responsibilities of their tax burdens? While pentalizing small businesses starting up so much that it is almost impossible to start a small business? A tax code that has a thousand or so pages that is so complicated that most of washington have no clue to understand it and the people do not understand it and have to hire some professional to do their taxes? One that is so terrifying that tax payers will commit crimes to get the money to avoid being in the irs crosshairs? A government entity that has no laws regulating them and have more power than should be allowed? Is this the definition of fair? Or maybe a tax system that holds everyone equally responsible for supporting the government? One that is unbiased in not giving tax loopholes to anyone? News flash washington---government is of the people, by the people and for the people. Bosses do not get told how they are going to act! WE are your bosses!!!! Maybe washington should have a refresher course in this. A wakeup call to realize we pay you! But a fair tax takes an element that is lacking in washington, common sense. Any sane citizen can make better decisions on more regulations than our paid employees of washington can. So pass the Fair Tax and let our economy flourish and everyone relax from the stresses and pressures of our current UNFAIR tax code!!! Get with the program and get current washington. Quit slacking!!!!
Mar 26th, 2015
D. D. from Carmel, CA writes:
Our tax system is broken - please consider the Fair Tax as a way of restoring faith in our system of government.
Mar 26th, 2015
Peter C. from Saint Johns, FL signed.