RIGHTMARCH: Tell Congress to STOP Funding Radical Islamist Nations!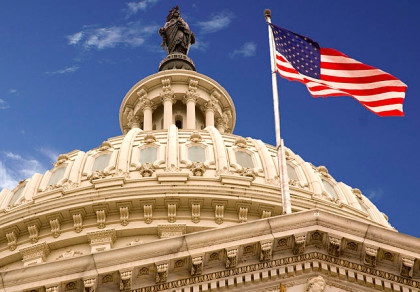 ALERT: At least four Americans, including the U.S. Ambassador to Libya, were murdered by radical Muslms in cold-blooded attacks on American embassies and consulates this week.
So how does President Obama respond? How do our elected Representatives and Senators "handle" murderous attacks on our sovereign soil overseas?
Here's how: the United States government is ready to send BILLIONS OF DOLLARS in foreign aid… to RADICAL ISLAMIST GOVERNMENTS in the Middle East!
YOU READ THAT RIGHT: BILLIONS OF TAXPAYER DOLLARS go to RADICAL MUSLIM NATIONS each and every year… and our Congress and President are about to send them BILLIONS MORE -- THIS WEEK!
WE MUST NOT LET THEM DO IT! SIGN THE PETITION AND SEND A LETTER TO YOUR REPRESENTATIVE AND SENATORS DEMANDING THAT WE STOP FUNDING RADICAL ISLAMIST NATIONS!
We send these radical Islamist nations BILLIONS every year. Egypt alone, where protesters stormed the U.S. Embassy in Cairo and tore down the U.S. flag, is slated to receive $1.6 BILLION this year in U.S. aid… Libya, where our embassy personnel were brutally murdered, is set to receive hundreds of millions of dollars… And other Islamist nations, like Pakistan (whose own spy agency regards America as its "worst enemy," and where the government jailed the man who helped us track down Osama bin Laden), has already received billions, and will be receiving even MORE of our hard-earned taxpayer dollars this year!
Rewarding the outrageous behavior of radical Islamist nations is just plain crazy. Thankfully, a number of lawmakers are proposing that we take action NOW in response to these murderous attacks:
Rep. Peter King (R-NY), chairman of the House Homeland Security Committee, declared that President Obama should be putting particular pressure on Egypt and its president, Mohammed Morsi -- a member of the radical

Muslim Brotherhood

-- over the sustained demonstrations there. King said the U.S. should suspend aid to Egypt until Morsi makes "absolutely clear" he is condemning the demonstrations and taking "forceful action" to protect the U.S. Embassy.
Rep. Michael McCaul (R-TX) said that the U.S. should send a signal that "this barbaric behavior will not be tolerated" by suspending aid, closing U.S. embassies in Egypt and Libya and expelling their diplomats from the United States.
Sen. Rand Paul (R-KY) spoke on the floor of the Senate, saying, "we are appalled by lack of protection of our embassies by supposed allies. We send billions of taxpayer dollars abroad and what do we get in return? Disrespect, disdain, and ultimately violence… not one penny of American taxpayer dollars should go to Libya until the murderers are delivered to justice. And not one more penny should go to Egypt until they prove that they are willing and able to protect our embassy. Second, not one more penny of American taxpayer dollars should go to Pakistan until the doctor who helped us get bin Laden is freed."
Rep. Jeff Landry (R-LA) said at a press event, "It would show a tremendous amount of leadership from this administration, in light of the recent developments, if the president were to come back and demand that the amount of money that is in the [continuing resolution] for Libya and Egypt be stripped." In a press release, Landry stated, "Reports of Egypt's intelligence chief meeting with a senior Iranian spy should further spark the necessity for the President to meet with Prime Minister Netanyahu and cancel any plans to use American money to bail out Egypt's new Islamist government. We should cease funding any nation that is run by radical Islamists, such as the Muslim Brotherhood."
Rep. Joe Walsh (R-SC) and 34 other House Members had even already sent a letter to the House leadership last month, requesting that all aid to Egypt be suspended as long as they fail to commit to upholding the Camp David Accords peace treaty with Israel. The House "leadership" IGNORED them.
THESE EFFORTS MUST BE SUPPORTED BY EVERY AMERICAN -- NOW, before Congress helps the Obama regime send BILLIONS MORE to these radical Islamist nations!
SEND A MESSAGE TO YOUR U.S. CONGRESSSMEN, DEMANDING THEY STOP FUNDING RADICAL ISLAMIST NATIONS!
Public Comments
Oct 29th, 2012
Someone from Los Alamos, NM signed.
Oct 29th, 2012
Someone from Parkersburg, WV writes:
Oct 29th, 2012
William K. from Foley, AL writes:
Get us out of debt by not funding terrorist governments. Bring our soldiers home to reduce the deficit.
Oct 29th, 2012
Andrew M. from Brooklyn, CT signed.
Oct 29th, 2012
Tricia G. from Azle, TX signed.
Oct 29th, 2012
Annette C. from Houston, TX writes:
Texas Reps...if you allow this to keep happening, we will make sure you are voted out! We The People are tired of you wasting Our Money. Stop feeding the rabid Muslims and foreign countries that despise us. We The People are sick of it!
Oct 29th, 2012
Ralph C. from San Diego, CA signed.
Oct 29th, 2012
LeRoy J. from Lakeland, FL signed.
Oct 29th, 2012
Someone from Mesa, AZ signed.
Oct 29th, 2012
B W. from Wilsonville, AL writes:
NO MORE MONEY TO RADICAL NATIONS!!
Oct 29th, 2012
Brenda B. from Williamsburg, VA writes:
To all of my VA Representatives: My vote for you teeters on the response from you on this matter. The United States Government is not my employer, We, The People, are YOUR employer. We put you into office, we can take you out of office. This nation was not built on an islamic foundation. STOP! Funding them! Now!
Oct 29th, 2012
Lori M. from Hermitage, TN writes:
To my (TN) Representatives; my vote "for" you hinges on your your response. May I say, I am disappointed in the lack of Democrats standing up for America.
Oct 29th, 2012
Someone from Sumter, SC signed.
Oct 29th, 2012
Robert H. from Austin, TX signed.
Oct 29th, 2012
Someone from Loveland, CO signed.
Oct 29th, 2012
Brian F. from West Chicago, IL signed.
Oct 29th, 2012
Kelley E. from Panama City, FL signed.
Oct 29th, 2012
Someone from El Paso, TX writes:
TAKE CARE OF OUR PEOPLE & COUNTRY FIRST!!!
Oct 29th, 2012
Tina S. from Plano, TX writes:
End foreign aid, all of it now
Oct 29th, 2012
Bob H. from Lorain, OH writes:
Instead of always feeding the snake,...look for ways to starve it!
Oct 29th, 2012
donald s. from Hagerstown, MD signed.
Oct 29th, 2012
James P. from Port Richey, FL writes:
We are being ripped of to the tune of 16,000,000,000. And I for one and sick of it! Citizens Investment Trust Account/ Tax Retirement Fund. Either every Congressmen, Senator, and President get on board or be indicted under the Regal Act. I personally vote to throw your*****in prison. Funny how you morons make laws, and are the worst offenders on the planet.
Oct 29th, 2012
Lisa B. from Beaver, WV writes:
Stop foreign aid... let countries fend for themselves! Last but not least, get Obama out of office!!
Oct 29th, 2012
Bernie F. from Licking, MO writes:
It's time to rethink all foreign aid!
Oct 29th, 2012
Sarah L. from Beckley, WV writes:
Why are we giving money that we don't have to our enemies?!! There is no justification for this, zero!
Oct 17th, 2012
Someone from Lincoln, NE signed.
Oct 17th, 2012
Cherrie K. from Mesa, AZ writes:
Stop funding countries who behave like our enemies.
Oct 17th, 2012
John R. from Cary, NC signed.
Oct 13th, 2012
Someone from Kaneohe, HI signed.
Oct 12th, 2012
Ann M. from Syracuse, NY writes:
This is like funding the Nazis in 1937. We are funding nations which behave like our enemies. Let's stop funding them until we really know where they stand. Right now, they take our funding for granted. Let's wait until they are grateful for the funding!
Oct 11th, 2012
Greg X. W. from North Liberty, IA writes:
Put these funds towards our national debt!
Oct 10th, 2012
Someone from Crandon, WI signed.
Oct 10th, 2012
Patricia F. from Vail, AZ signed.
Oct 9th, 2012
Someone from Munster, IN signed.
Oct 9th, 2012
Paul P. from Oblong, IL writes:
It is a criminal to give money to people who want us dead
Oct 8th, 2012
William F. from Broken Arrow, OK signed.
Oct 8th, 2012
Kathleen M. from Oakdale, NY writes:
Save the USA and stop this funding to people who can't stand us.
Oct 8th, 2012
Marj S. from Brentwood, NY signed.
Oct 7th, 2012
Vincent P. from Babson Park, FL writes:
We must stop the antichriest
Oct 7th, 2012
Benjamin J. from Bartow, FL signed.