RIGHTMARCH: Tell Congress to STOP Funding Radical Islamist Nations!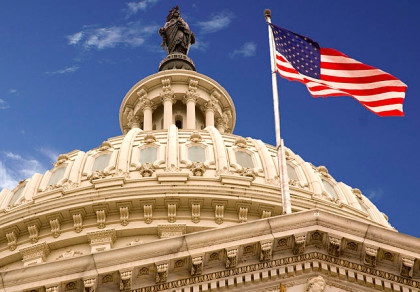 ALERT: At least four Americans, including the U.S. Ambassador to Libya, were murdered by radical Muslms in cold-blooded attacks on American embassies and consulates this week.
So how does President Obama respond? How do our elected Representatives and Senators "handle" murderous attacks on our sovereign soil overseas?
Here's how: the United States government is ready to send BILLIONS OF DOLLARS in foreign aid… to RADICAL ISLAMIST GOVERNMENTS in the Middle East!
YOU READ THAT RIGHT: BILLIONS OF TAXPAYER DOLLARS go to RADICAL MUSLIM NATIONS each and every year… and our Congress and President are about to send them BILLIONS MORE -- THIS WEEK!
WE MUST NOT LET THEM DO IT! SIGN THE PETITION AND SEND A LETTER TO YOUR REPRESENTATIVE AND SENATORS DEMANDING THAT WE STOP FUNDING RADICAL ISLAMIST NATIONS!
We send these radical Islamist nations BILLIONS every year. Egypt alone, where protesters stormed the U.S. Embassy in Cairo and tore down the U.S. flag, is slated to receive $1.6 BILLION this year in U.S. aid… Libya, where our embassy personnel were brutally murdered, is set to receive hundreds of millions of dollars… And other Islamist nations, like Pakistan (whose own spy agency regards America as its "worst enemy," and where the government jailed the man who helped us track down Osama bin Laden), has already received billions, and will be receiving even MORE of our hard-earned taxpayer dollars this year!
Rewarding the outrageous behavior of radical Islamist nations is just plain crazy. Thankfully, a number of lawmakers are proposing that we take action NOW in response to these murderous attacks:
Rep. Peter King (R-NY), chairman of the House Homeland Security Committee, declared that President Obama should be putting particular pressure on Egypt and its president, Mohammed Morsi -- a member of the radical

Muslim Brotherhood

-- over the sustained demonstrations there. King said the U.S. should suspend aid to Egypt until Morsi makes "absolutely clear" he is condemning the demonstrations and taking "forceful action" to protect the U.S. Embassy.
Rep. Michael McCaul (R-TX) said that the U.S. should send a signal that "this barbaric behavior will not be tolerated" by suspending aid, closing U.S. embassies in Egypt and Libya and expelling their diplomats from the United States.
Sen. Rand Paul (R-KY) spoke on the floor of the Senate, saying, "we are appalled by lack of protection of our embassies by supposed allies. We send billions of taxpayer dollars abroad and what do we get in return? Disrespect, disdain, and ultimately violence… not one penny of American taxpayer dollars should go to Libya until the murderers are delivered to justice. And not one more penny should go to Egypt until they prove that they are willing and able to protect our embassy. Second, not one more penny of American taxpayer dollars should go to Pakistan until the doctor who helped us get bin Laden is freed."
Rep. Jeff Landry (R-LA) said at a press event, "It would show a tremendous amount of leadership from this administration, in light of the recent developments, if the president were to come back and demand that the amount of money that is in the [continuing resolution] for Libya and Egypt be stripped." In a press release, Landry stated, "Reports of Egypt's intelligence chief meeting with a senior Iranian spy should further spark the necessity for the President to meet with Prime Minister Netanyahu and cancel any plans to use American money to bail out Egypt's new Islamist government. We should cease funding any nation that is run by radical Islamists, such as the Muslim Brotherhood."
Rep. Joe Walsh (R-SC) and 34 other House Members had even already sent a letter to the House leadership last month, requesting that all aid to Egypt be suspended as long as they fail to commit to upholding the Camp David Accords peace treaty with Israel. The House "leadership" IGNORED them.
THESE EFFORTS MUST BE SUPPORTED BY EVERY AMERICAN -- NOW, before Congress helps the Obama regime send BILLIONS MORE to these radical Islamist nations!
SEND A MESSAGE TO YOUR U.S. CONGRESSSMEN, DEMANDING THEY STOP FUNDING RADICAL ISLAMIST NATIONS!
Public Comments
Oct 3rd, 2012
Cherrie K. from Mesa, AZ writes:
It's time to take a stand against radical Islamists. Sending them money in a vain effort to gain their friendship is insane. Enough already!
Oct 3rd, 2012
camden d. from Maryville, TN signed.
Oct 3rd, 2012
Someone from Glendale, AZ writes:
Please STOP this Omama insanity. Quit funding the Terrorists NOW...
Oct 3rd, 2012
Sherri C. from Claremore, OK writes:
I thought we have a deficit???
Oct 3rd, 2012
Theodore W. from Glendale, AZ signed.
Oct 3rd, 2012
francisca g. from Deering, ND signed.
Oct 3rd, 2012
Charles R. from Hollister, MO writes:
I, as an American, a taxpayer and a patriot, voter demand that Congress immediately stop sending my money, my fellow Americans hard earned money to these radical Islamic nations such as Pakistan,Egypt and Libya or any other "bastard country" who is not our Ally.Also get your*****in gear to repair relations with our no.1 ally in the region..Israel!!!You leftest pricks and our President better support Israel and condemn Iran and the Syrian Government as well as the Muslim Brotherhood!!!I for 1 of tons of people are ****ed off and been pushed as far as I am going.Stop the insanity.You work for me.Straighten up and represent me in an American fashion.I will do my part in "firing" you liberals like Obama,Nancy Pelosi(sicko) and the prick Harry Reid.Wake the hell up.You turds are giving our America away.People from all over the world risk their lives to live here and make a life for themselves.The ones that do it honestly and correct are welcome here.If you are an illegal...take your*****back home and stay there!!!I lose sleep at night worrying about "my America"that I love,admire and respect.Get your******together and turn this Islamic tide around...Now!!!!Right now!!!
Oct 3rd, 2012
Lee S G. from North Las Vegas, NV writes:
TAX DOLLARS FUNDING OUR ENEMIES? AMAZING!
Oct 3rd, 2012
phil m. from Rushsylvania, OH signed.
Oct 3rd, 2012
Hobart T. from Huntington, VT signed.
Oct 3rd, 2012
Ruth N. from Somerset, NJ signed.
Oct 3rd, 2012
Katjleen M. from Nokomis, FL writes:
GETTING RID OF OBAMA WOULD ALLOW US TO GET OUT OF THE MIDDLE EAST.
Oct 3rd, 2012
Randy H. from Galt, CA signed.
Oct 3rd, 2012
Kim S. from Longmont, CO signed.
Oct 3rd, 2012
Margaret L. from Far Rockaway, NY signed.
Oct 3rd, 2012
Rosabel B. from Kodiak, AK writes:
Sending our taxpayer's money to these radical countries is a slap in the face to the American people who work hard for this money, pay their taxes, then see it sent off to kill other Americans and allies. Whatever happened to the 'Monroe Doctrine?
Oct 3rd, 2012
Suzanne R. from Houston, TX signed.
Oct 3rd, 2012
Sandra B. from Branson, MO signed.
Oct 3rd, 2012
Michael M. from Montrose, CO signed.
Oct 3rd, 2012
Walter S. from Venus, TX signed.
Oct 3rd, 2012
Someone from Lafe, AR signed.
Oct 3rd, 2012
JOHN W. from Alton, IL signed.
Oct 3rd, 2012
Barbara P. from Woodstock, GA writes:
No aid to radical Islamists
Oct 3rd, 2012
Evelyn A. from Sparta, TN writes:
No friend of the United States We do not reward people who hate and kill us
Oct 3rd, 2012
Sandra B. from Placerville, CA writes:
Ludicrous. Why would Obama want to send more money? What is Obama's true agenda? To see the U.S. fail?
Oct 3rd, 2012
John P. from Milwaukee, WI signed.
Oct 3rd, 2012
Peter S. from New Buffalo, MI signed.
Oct 3rd, 2012
Mel B. from Anchorage, AK signed.
Oct 3rd, 2012
Someone from Acworth, GA signed.
Oct 2nd, 2012
Norma S. from Herndon, VA writes:
you can buy a good time but you can't buy love! Stop wasting our money on those who hate us and will continue to hate us.
Oct 2nd, 2012
Gordon A. from Riley, KS signed.
Oct 1st, 2012
Jodi P. from Round Rock, TX signed.
Oct 1st, 2012
Ken p. from Lovington, IL signed.
Sep 27th, 2012
Linda B. from Houston, TX signed.
Sep 26th, 2012
terry t. from Jacksonville, NC writes:
Trillions of dollars in debt, and we are sending money to those who storm our embassies. Stop this madness immediately!
Sep 26th, 2012
Someone from Lincoln, NE signed.
Sep 25th, 2012
Vicky B. from Bull Shoals, AR writes:
Why are we giving them monies? They despise us and kill us
Sep 25th, 2012
Lois B. from Standish, ME writes:
These countries do not deserve any monies from the USA. We can use the money for people in our own country that are starving.
Sep 25th, 2012
Margaret L. from Far Rockaway, NY signed.
Sep 25th, 2012
William B. from Groveoak, AL writes:
This is money that can be used in the U.S. instead of funding the radical Islamist terrorists.