Tell U.S. Attorney General Loretta Lynch to PROSECUTE Hillary Clinton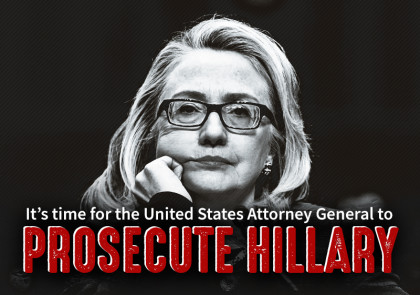 Hillary Clinton is not above the law.
The facts are in: Mrs. Clinton has already openly admitted to…
- Diverting public records from government control;
- Placing classified information in a non-classified location; and,
- Destroying subpoenaed evidence after receiving subpoena notice.
For these acts alone – not to mention her unconstitutional receipt of gifts from foreign government while sitting as U.S. Secretary of State, or the fact that her actions cost American lives in Benghazi, Libya – Hillary Clinton must be put on trial.
But there will be no prosecution without a prosecutor.
That's why we're asking you to stand with us and demand U.S. Attorney General Loretta Lynch to pursue legal action against Hillary Clinton in response to her lawless acts.
Attorney General Loretta Lynch has the authority to start a prosecution, and we must urge her to use her authority justly against Hillary Clinton.
Law is the law. No one is exempt.
Add your name below to send a personal message to U.S. Attorney General Loretta Lynch demanding that Hillary Clinton be prosecuted.
Public Comments
Apr 26th, 2017
Jason L. from Arlington, VA writes:
Her pay to play politics and crony capitalism have made her liable for prosecution. She. is. a. Traitor.
Mar 1st, 2017
Gail B. from Gwynn, VA signed.
Feb 14th, 2017
John N. from Buckingham, PA signed.
Feb 9th, 2017
Michael B. from Alhambra, CA signed.
Jan 17th, 2017
Someone from Red Bluff, CA signed.
Dec 21st, 2016
Someone from Millsboro, DE signed.
Dec 20th, 2016
JOHN A. from Exeter, NH signed.
Dec 10th, 2016
Someone from Lithia Springs, GA writes:
Hillary seems all to eagar to get the American public to believe Russia hacked in to Trump voters ballots. Why is she saying no one leaked her emails with sensitive information. You LOST Get over it. Act like you have aome class and just fade away. Maybe you need to be prosecuted for your email leaks as well as your so called charity. Yiu are the one that should be ashamed. Problem is you don't ever think you're wrong.
Dec 4th, 2016
Randy J. from Muskegon, MI signed.
Dec 2nd, 2016
DAVID L. from Kewanee, IL signed.
Nov 25th, 2016
Kyle L. from Morven, GA signed.
Nov 23rd, 2016
Someone from Sarasota, FL writes:
All my life I've watched her straddle the fence and make bad choices. She is just another person who thinks the law doesn't apply to her. Thank God, she's not the first woman president. Prosecute her!
Nov 16th, 2016
Someone from Livingston, TX signed.
Nov 16th, 2016
Jeffrey G. from Swarthmore, PA writes:
No one, including powerful political elites such as Hillary Clinton, should be given preferential treatment with regard to being held accountable for committing crimes.
Nov 3rd, 2016
Someone from Cleveland, TN writes:
Nov 2nd, 2016
Melissa A. from Big Bear City, CA writes:
She is such a corrupted person. She is not above the law!! She must be prosecuted.
Oct 31st, 2016
Someone from Independence, OH signed.
Oct 30th, 2016
Angeol S. D. from Deming, NM signed.
Oct 22nd, 2016
Tom S. from Dundalk, MD writes:
Why hasn't this woman been prosecuted.Her crimes are too many to list here.
Oct 20th, 2016
JAMES T. from Sandoval, IL writes:
PROSECUTE HILLARY CLINTON AND DO NOT LET HER RUN FOR PRESIDENT
Oct 13th, 2016
Mark B. from Saint Louis, MO writes:
Understanding your meeting with former president Bill Clinton was most likely unpleasant. Wether to join the team, under threat or as one off the gang, either choice you should recuse yourself AG Lynch. I'm thinking your probably involved now and should recuse. Justice and the constitution are bigger than all of us. I plead to all better sides of morality and and a realization that justice is bigger than us when it is held up to its honor, men and women's honor. Do the job your paid for, if nothing else, prosecute under sec. 18 at minum. The whole DNC is criminal just in the recent vote rigging, fraud, stuffing, busing.etc. and should be prosecuted under Rico statutes. Decades of party powers has corrupted absolutely. Wiki leaks is painting a well established case for Rico. DNC, Clinton Foundation, foreign money and gifts, arms dealers, media firms, Superdelegates to local voting ballots sitting in an abandoned biulding ready to be used in the election. The information just in the public square has been rediculous in lack of seriousness of the breaches and law itself. This can't be ignored, dispite media controls words out.
Oct 11th, 2016
Someone from Mobile, AL writes:
Ms. Lynch, do your job, ma'm, and pursue legal action against Hillary Rodham Clinton. If you do not, you will go down in History as biased and partisan, who caved-in to upper echelons.
Aug 23rd, 2016
donald t. from New York, NY writes:
Aug 11th, 2016
Someone from Stuart, FL signed.
Aug 4th, 2016
Someone from Doyle, TN signed.
Jul 29th, 2016
L G. from Chicago, IL signed.
Jul 12th, 2016
Leonard C. from Miami Beach, FL writes:
For Lying so many times to the public. And still doing it.
Jul 11th, 2016
Someone from Binghamton, NY writes:
Justice must be served. She cannot be allowed to continue with deceit and disdain of the law. When are we finally going to hold her accountable for ALL of her lies and mistruths. The American public has EVERY right to expect that the law of the land, regardless of political stature be applied consistently and fairly. NO ONE not even a Clinton should be above the law. It's very clear that underhanded favors have played into the decision NOT to prosecute Hillary Clinton. SHAME,SHAME, SHAME!!!!
Jul 9th, 2016
Someone from Midland, TX writes:
She should have to be in Jail.
Jul 9th, 2016
Kelsey M. from Bellingham, WA signed.
Jul 9th, 2016
Kelsey M. from Bellingham, WA signed.
Jul 6th, 2016
Jack H. from Buford, GA writes:
I agree with the accusations. Committing crime after crime, year after year? Is this all allowed because they have the money to "buy" people?
Jul 5th, 2016
Kristin D. from Elmira, NY writes:
She lied under federal oath, that is perjury. The volume of emails that were sent through her server is gross negligence. How are we to value the law if it is not upheld?
Jul 5th, 2016
Jeremy W. from Berryville, VA signed.
Jul 5th, 2016
Someone from Sandy, OR signed.
Jul 3rd, 2016
Someone from Menomonie, WI signed.
Jul 2nd, 2016
Kathleen D. from Cleveland, OH writes:
Bill Clinton was impeached. Nixon was impeached. Some how Obama hasn't been. But should be. And now she is not is prison. I hope Trump wins now! Then you all, including you, will be in jail. How is Bill Clinton doing? Hope it was worth your career.
Jul 1st, 2016
Martin D. from Schererville, IN signed.
Jul 1st, 2016
Marvin W. from Flagstaff, AZ signed.
Jun 30th, 2016
Someone from Spring Hill, FL signed.