Tell U.S. Attorney General Loretta Lynch to PROSECUTE Hillary Clinton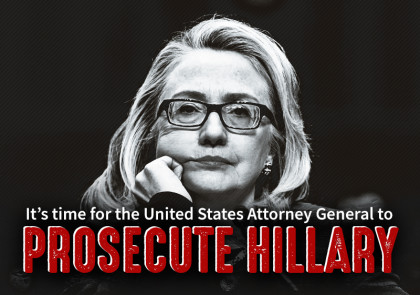 Hillary Clinton is not above the law.
The facts are in: Mrs. Clinton has already openly admitted to…
- Diverting public records from government control;
- Placing classified information in a non-classified location; and,
- Destroying subpoenaed evidence after receiving subpoena notice.
For these acts alone – not to mention her unconstitutional receipt of gifts from foreign government while sitting as U.S. Secretary of State, or the fact that her actions cost American lives in Benghazi, Libya – Hillary Clinton must be put on trial.
But there will be no prosecution without a prosecutor.
That's why we're asking you to stand with us and demand U.S. Attorney General Loretta Lynch to pursue legal action against Hillary Clinton in response to her lawless acts.
Attorney General Loretta Lynch has the authority to start a prosecution, and we must urge her to use her authority justly against Hillary Clinton.
Law is the law. No one is exempt.
Add your name below to send a personal message to U.S. Attorney General Loretta Lynch demanding that Hillary Clinton be prosecuted.
Post Public Comments
Public Comments (14,107)
Apr 26th, 2017
Jason L. from Arlington, VA writes:
Her pay to play politics and crony capitalism have made her liable for prosecution. She. is. a. Traitor.
Mar 1st, 2017
Gail B. from Gwynn, VA signed.
Feb 14th, 2017
John N. from Buckingham, PA signed.
Feb 9th, 2017
Michael B. from Alhambra, CA signed.
Jan 17th, 2017
Someone from Red Bluff, CA signed.
Dec 21st, 2016
Someone from Millsboro, DE signed.
Dec 20th, 2016
JOHN A. from Exeter, NH signed.
Dec 10th, 2016
Someone from Lithia Springs, GA writes:
Hillary seems all to eagar to get the American public to believe Russia hacked in to Trump voters ballots. Why is she saying no one leaked her emails with sensitive information. You LOST Get over it. Act like you have aome class and just fade away. Maybe you need to be prosecuted for your email leaks as well as your so called charity. Yiu are the one that should be ashamed. Problem is you don't ever think you're wrong.
Dec 4th, 2016
Randy J. from Muskegon, MI signed.
Dec 2nd, 2016
DAVID L. from Kewanee, IL signed.