Tell Congress: Stop Police State Tyranny In America
Messages Sent So Far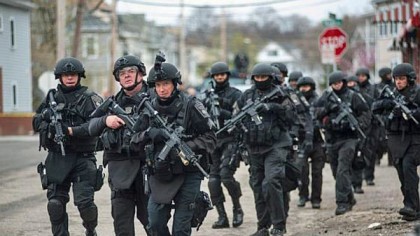 Concerned Americans, we must pay attention! The writing is on the wall. We must wake up:

SILENCING THE PEOPLE. A Department of Homeland Security report entitled, "Rightwing Extremism: Current Economic and Political Climate Fueling Resurgence in Radicalization and Recruitment" warns of "radical" groups like Christian cults, pro-life groups and returning military veterans. Further, West Point's Combatting Terrorism Center claims that conservatives and libertarians are a threat to society in their report called "Challengers from the Sidelines: Understanding America's Violent Far-Right." At what point will law-abiding, pro-liberty Americans be labeled "terrorists?"
DISARMING THE PEOPLE. On January 16, 2013 Barack Obama issued 23 executive orders, including 3 presidential memoranda, calling for increased gun-control. Diane Feinstein, Frank Lautenberg, and other Congresspersons have also introduced legislation to ban weapons and magazines, establish sweeping background checks, and create a centralized gun-registration system.

AMERICAN CONCENTRATION CAMPS. The National Emergency Centers Establishment Act, initiates the framework for mass-quarantine of American citizens. Congressman Alcee Hastings (D-Fl) reintroduced this bill in the 113th Congress on January 23; the bill is H.R. 390. This legislation calls for the creation of six national facilities for the concentration of civilian internees. Who are they planning to detain?

STABILITY POLICE FORCE. The George Soros-funded Rand Corporation issued a report calling for a Stability Police Force (SPF), saying "Stability operations have become an inescapable reality of U.S. foreign policy. Establishing security with soldiers and police is critical because it is difficult to achieve other objectives - such as rebuilding political and economic systems - without it."

STATE-LEVEL MILITARY ACTIVITIES. Obama signed an executive order establishing a Council of Governors, which is to be a panel of 10 state governors selected by the President who will review "review matters involving the National Guard; homeland defense; civil support; and synchronization and integration of state and federal military activities in the United States," according to the White House. Has Obama now federalized the states and gained control of the National Guard?

GOVERNMENT AMASSING WEAPONS. The Department of Homeland Security (DHS) has in its possession over 1.6 billion rounds of ammunition -- including hollow-points. The Department also has thousands of tanks for "domestic use," capable of withstanding "ballistic arms fire, mine blasts, IEDs, and other emerging threats." Why does the DHS need over a billion bullets, rifles, and tanks? We have the armed forces for our defense.

INTERNATIONAL LAW ENFORCEMENT. Obama signed executive order 12425, giving the international police force INTERPOL immunity from American law. INTERPOL now has free reign in the United States, unencumbered by the Fourth Amendment, the Freedom of Information Act, American law enforcement agencies, and the U.S. Constitution. Obama has now given our sovereignty away to an international police force.
DRONES IN OUR SKIES. In the summer of 2012, after legislation was passed and signed by President Obama, unmanned aerial vehicles were first dispatched into American skies. While these UAV's -- or drones -- are not armed, they are equipped with surveillance cameras. The records they collect are kept for 90 days.

The government's encroachment of our rights will continue as long as we fail to act! Where will this dangerous pathway end?

Take action to preserve liberty, the Republic, and individual sovereignty. Send your personalized messages to your Representative and U.S. Senators right now and ask them to DEFUND and DISMANTLE the American Police State!
Public Comments
May 6th, 2013
Karen B. from Molalla, OR signed.
May 6th, 2013
Alice M. from Humboldt, TN signed.
May 6th, 2013
Margaret A. from Beverly Hills, FL signed.
May 6th, 2013
linda a. from Cornish, NH writes:
AS A BORN IN USA ,TAXPAYER I HAVE HAD ENOUGH GOVERNMENT TO LAST A LIFETIME I WOULD NOT OR EVER DO I TRUST THIS GOVERNMENT. THEY ARE OUT TO DESTROY THE NATION WHICH I LOVE AND USED TO KNOW
May 6th, 2013
Mr. & Mrs. S. from San Diego, CA signed.
May 6th, 2013
James R K. from Cottonwood Falls, KS signed.
May 6th, 2013
Joan T. from Big Rapids, MI signed.
May 6th, 2013
Gordon G. from Fortville, IN writes:
Gentlemen, We have a fighting force sworn to fight our enemies both foreign and domestic. WE have a domestic fighting force being created right before our eyes and I am concerned that our lawmakers are going to continue to set on their hands until we are patroled by the DHS.It started out as a great idea but now it is morphing into a domestic enemy. I remember Obama saying during the first campaign that we need a citizen fighting force as well trained and well equipped as the U.S. military.Why? This President and his chronies are gearing up for a conflict that they are going to initiate. But with hear no evil, see no evil,and speak no evil in control of The House and especially Senate our freedoms will disappear overnight because these evil people are moving so fast we will never be able to assume a defensive posture. No Trojan Horse here folks, they are doing this quickly right in our faces. Who are we? Moreover who are you? So many times before this man has done whatever he wanted. Has ignored Congress which is supposed to represent the will of the people. I've heard Nancy Pelosi say I'm getting this health care done for the American people.And other dictator statements like Obama going to Mexico saying this gun thing isn't over .Blaming America for their evil, murdering behavior It is never the perpetrator's fault for unnecessary murdering. It's the citizens with their guns safely stored away. We might as well lock them up or throw them away. Janet Napolitano has locked up our ammo for the DHS. Famous last words, Never happen here, this is America."I hate all of this political Bull----. People more concerned about their position or re-election or getting along just to get along. America , once a wonderful place to live ,love and protect. Now just a disintegrating memory. I'm ashamed of our,backstabbing ,double dealing friend aliening President. Maybe the Webster Dictionary should modify the meaning of evil to include Barack Hussein Obama plus a list of his Gestapo like agents. I feel it is almost a waste of time to write these letters. But it is all thatI know to do. Get the truth out.
May 6th, 2013
Someone from Gladwin, MI signed.
May 6th, 2013
Allan D. from Fortuna, CA signed.
May 5th, 2013
Someone from Dana Point, CA signed.
May 5th, 2013
timothy m. from Indiana, PA signed.
May 5th, 2013
Anne G S. from Manahawkin, NJ signed.
May 5th, 2013
William W. from Dearborn, MI writes:
I'm DEMANDING that you take appropriate action to remove this FRAUD from the office of President of the U.S. He is truly unworthy of this position and MUST be IMPEACHED just as quickly as possible, along with the AG. He is way too close to turning this country into a police state and that would be WAY TOO DISASTROUS.
May 5th, 2013
Someone from Union, MO signed.
May 5th, 2013
Someone from Copperas Cove, TX signed.
May 5th, 2013
Someone from Newtown, PA writes:
Obama needs to be impeached; removed from office immediately. He is acting in multiple ways to the detriment of the citizens of the United States, to our freedom, our sovereignty and our Constitution, in violation of his oath of office. Congress, it is past time for you to do ypour duty to defend Americans against this dangerous and evil man. Don't wait until it's too late! Defund the police state now!
May 5th, 2013
Tina J. from Bessemer, AL signed.
May 5th, 2013
Someone from Walnut Creek, CA signed.
May 5th, 2013
Mary E. from Winchester, CA signed.
May 5th, 2013
James E. from Greer, SC writes:
This is a 'planned strategy' whereby Obama and supporters will stage a 'crisis' - then, take over the government in 2015 with the help of Homeland Security - the new 'Gestapo' of America.
May 5th, 2013
Donald T. from Fritch, TX signed.
May 5th, 2013
Someone from Cambridge, MN signed.
May 5th, 2013
John C. from Douglas, AZ signed.
May 5th, 2013
roy k. from Titusville, FL writes:
Sell me some of that Govt. Horded Ammo! When Obama goes away,if ever, You Won't need it!
May 5th, 2013
Ron R. from Dallas, TX writes:
The shelves are empty of ordinary ammo. I cannot buy ammo because the govt is buying up huge amounts.
May 5th, 2013
J P. from Uvalde, TX writes:
It is difficult to accept, and then admit, that our government is now taking actions similar to those taken by historical tyrannical governments just prior to the virtual enslavement of their own people. This IS, after all, the US of A, the land of the free and the home of the brave. WE are the protectors of the world...we free OTHER people from THEIR tyrannical governments. How could WE be in danger? BUT...there ARE questions that can be asked and that deserve answers. If there is any shred of truth in the reports of the enormous amassing of ammunition, armored vehicles, and "assault" weapons by the Department of Homeland Security, then we might be justified in asking, "Whom are you planning to shoot with so many bullets?" "Whom are you planning to attack with so many "assault" weapons and armored vehicles?" "Are there that many terrorists inside the US of A that more than a billion bullets are necessary to take them out?" "Are we in eminent danger of being invaded by numbers of terrorists so great that such huge quantities of armament are justified and reasonable?" These are not unreasonable questions which are elicited directly by current DHS actions, as reported in the media. Surely members of Congress will not sit on their hands while this part of government continues to engage in such alarming behavior... jpenajr@hotmail.com
May 5th, 2013
Someone from Spring Hill, FL signed.
May 5th, 2013
lee m. from Fort Worth, TX signed.
May 5th, 2013
Walter S. from Venus, TX signed.
May 5th, 2013
Gary P. from Wasilla, AK signed.
May 5th, 2013
Shawn B. from Milford, CT signed.
May 5th, 2013
Robert U. from Torrington, CT signed.
May 5th, 2013
Anthony C. from Danbury, CT writes:
I agree of all that has been posted, it's scary to think your own Government is working against you in any avenue brought in to public question.
May 5th, 2013
MARVIN B. from Citrus Heights, CA signed.
May 4th, 2013
Richard M. G. from Milford, CT signed.
May 4th, 2013
Eric G. from Mchenry, IL signed.
May 4th, 2013
Fidelo S. from Branford, CT signed.
May 4th, 2013
margo S. from Colorado Springs, CO signed.
May 4th, 2013
Edward C. from Kennesaw, GA writes: