TELL CONGRESS: STAY OUT OF SYRIA!
Messages Sent So Far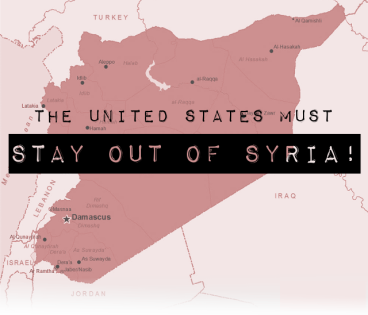 Dear President: Trump:
Dear Vice President Pence:
Dear Senators:
Dear Representative:

As a concerned American, I demand that all aid - lethal, non-lethal, and humanitarian - to the Syrian government or any of the rebel factions in opposition to the Syrian government be severed. I also demand that U.S. troops be removed from the Syrian arena.
I urge each and every member of Congress and the Trump Administration to resolve to STAY OUT OF SYRIA and turn the United States away from former President Barack Obama's dangerous, unconstitutional foreign policy regarding their affairs.
The United States' subsidization of foreign terrorists, the Free Syrian Army, is unwise, dangerous, and must not continue -- we simply cannot trust any so-called "ally" in this conflict, and it's clear that no U.S. aid to rebels is safe. (On December 11, 2013 the New York Times reported that the jihadist Islamic Front captured an entire warehouse filled with American supplies.)
The fact is, segments of the Free Syrian Army have committed heinous crimes: they've sold the blood of martyred Christians, they've beheaded humans publicly, they've murdered members of their duly-elected government, etc. -- and it's an abomination to think that my tax dollars may have subsidized these horrific acts.
Once again, I demand that all subsidies to any party in Syria from the United States be eliminated immediately.
Furthermore, I demand that the United States' military presence be entirely removed from Syria. Troops have been committed to this conflict in the absence of a War Declaration, which means their presence in the region is entirely unauthorized and that they be brought home without delay.
I am watching your actions.
For the Republic,
[Your Name Here]
***
Sign your name below to send personalized letters to your Representatives, Senators, the Trump Administration - add your name demanding the US to STAY OUT OF SYRIA right now!
Post Public Comments
Public Comments (8,287)
Jun 19th, 2017
Katherine B. from Windermere, FL signed.
May 4th, 2017
Jeff S. from Red Lion, PA writes:
No more banker wars for globalism. Bring the troops home and put them on the southern border!
Apr 24th, 2017
J G. from Sherman, TX signed.
Apr 20th, 2017
John M. from Jackson, NJ signed.
Apr 20th, 2017
Someone from Brooklyn, NY writes:
Let the Muslim b..st..ds kill each other. Good riddance.
Apr 20th, 2017
jack c. from Brooklyn, NY signed.
Apr 18th, 2017
Someone from Memphis, TN signed.
Apr 18th, 2017
Fern L. from Ephrata, PA writes:
The US needs to stay out of Syria
Apr 18th, 2017
Tj E. from Durant, OK writes:
Lock down the mexican/USA BORDER NOW !!
Apr 17th, 2017
Terrie H. from Mesa, AZ signed.