Tell Congress: Pass H. Con. Res. 107, Bring Impeachment Charges Against Obama's Unauthorized Military Actions
YES, I want to help STOP Barack Hussein Obama from VIOLATING the U.S. Constitution's clear wording in Article I, Section 8, that ONLY CONGRESS can initiate offensive military action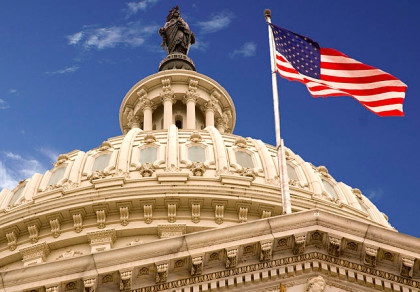 YES, I want to help STOP Barack Hussein Obama from VIOLATING the U.S. Constitution's clear wording in Article I, Section 8, that ONLY CONGRESS can initiate offensive military action -- NOT the President!

Believe it or not, Barack Hussein Obama's Defense Secretary has told Congress that they would seek "international permission" before engaging in war in Syria or elsewhere -- NOT the Constitutionally-required declaration of war!
YOU READ THAT RIGHT: the Obama regime would ask for "international permission" instead of Congressional permission before intervening militarily in a country like Syria's civil war -- and according to the Defense Secretary, "whether or not we would want to get permission from the Congress" is something they would "discuss as we decide what to do" about sending American troops to war!

THIS IS A BLATANT DISREGARD OF THE U.S. CONSTITUTION -- AND QUALIFIES AS AN IMPEACHABLE OFFENSE! WE MUST FORCE OBAMA TO OBEY THE CONSTITUTION'S REQUIREMENTS!
We need to mobilize folks to take action right away to STOP the Obama regime from violating the Constitution by asking the U.N.'s permission to send in troops, instead of asking Congress' permission... So we've set up an easy way for you to make your voice heard LOUD AND CLEAR -- you can send a free, customized message to your U.S. Representative and Senators AT ONCE, urging that they pass H. Con. Res. 107 which would declare Obama's rejection of the Constitution to be an IMPEACHABLE offense.
Public Comments
Feb 3rd, 2014
John C. from Pocono Pines, PA signed.
Dec 10th, 2013
George Arthur V. from Manchester Township, NJ writes:
How Much More' Need Be Said ? Until this madness fill your heads, with burning embers of faded glory? http://www.forbes.com/sites/realspin/2013/11/19/obamas-disdain-for-the-constitution-means-we-risk-losing-our-republic/
Nov 12th, 2013
Dave D. from Crestview, FL signed.
Nov 11th, 2013
gary & sue m. from Hudson, FL signed.
Nov 11th, 2013
Brett D. from Brooksville, FL signed.
Nov 11th, 2013
Rhonda R. from Altamonte Springs, FL signed.
Nov 11th, 2013
Someone from Apopka, FL signed.
Nov 11th, 2013
Someone from Murphy, NC signed.
Nov 10th, 2013
Someone from Lawrenceville, GA signed.
Nov 10th, 2013
John O. from Andrews, NC writes:
We need to impeach Obama for his various impeachment offenses. Obama is stealing power from Congress and the American people as defined by the Constitution. We have voted out incumbents in our city, because they were not doing their job. If Congress does not due their job, we will have to vote them out too!
Nov 8th, 2013
Someone from Taylorsville, KY signed.
Nov 3rd, 2013
Nikki C. from Georgetown, KY signed.
Nov 3rd, 2013
chris n. from New Haven, KY signed.
Nov 3rd, 2013
Chasity B. from Melvin, KY signed.
Nov 2nd, 2013
casey k. from Bath, SC signed.
Nov 2nd, 2013
Janice S. from Stanville, KY writes:
This is not the only impeachable offense he has committed.
Nov 2nd, 2013
Frank B. from Elkhorn City, KY signed.
Nov 2nd, 2013
Someone from Owensboro, KY writes:
Why hasn't the impeachment of Obama already started??? No other President ever in history gotten away with what he has.
Nov 2nd, 2013
Craig D. from Leitchfield, KY writes:
He is the downfall of America
Oct 28th, 2013
Debra T. from Gibsonton, FL writes:
He needs to be removed for arming our enemies as AQ has been on our "enemies list" since the 1990's! he is not legal and should not be in the Oval Office! He has committed more Impeqachable Offences tha ALL other presidents combined! Impeach him now!
Oct 28th, 2013
michael m. from Land O Lakes, FL signed.
Oct 18th, 2013
Someone from Rochester, NY signed.
Oct 15th, 2013
Dennis D. from Virginia Beach, VA signed.
Oct 10th, 2013
Aimee C. from Weirton, WV signed.
Sep 8th, 2013
Corinne B. from Oakland, OR signed.
Sep 5th, 2013
Someone from Onalaska, WA writes:
No US troops for any reason in Syria to aid Al queda that is so wrong to help the enemies.
Sep 4th, 2013
Joe C. from Fargo, ND writes:
I'm just signing this, because I wanted to comment on how ridiculous this petition is. First, you say that you want the Congress to impeach Obama for something you think he might do in the future involving Syria. Moreover, you are mischaracterizing how he is going about this; he is not planning on getting "permission" from the U.N., since it is obvious that the Security Council with Russia with veto power would never approve it. Second, even if he does order a military action without the approval of Congress, I don't see how this constitutes high crimes or treason. If that were the case, over half of 20th Century U.S. presidents would be impeachable for that very crime. Ronald Reagan invaded Granada without a vote in Congress. Should we have impeached him? All this impeachment talk is a bunch of garbage. The difference between Western democracies and the rest of the world is that we don't prosecute someone just because we disagree with their political, religious, & social values or objectives. To allow demogogery to supplant legally is to allow our country to backslide into barbarism.
Aug 31st, 2013
Madeline R. from Vernon Hill, VA writes:
Stop this MADNESS!! The American people WILL NOT support any attack on Syria or any other nation under this corrupted regime who only serves itself and agenda by using US MILITARY AS POLITICAL PAWNS FOR POWER!! OUR SERVICE MEN AND WOMEN ARE REAL PEOPLE WITH FAMILIES. DON'T LET BARACK HUSSEIN OBAMA SACRIFICE ANY MORE OF THEM. WE HAVE NO VITAL INTEREST OR BUSINESS IN SYRIA!!
Aug 15th, 2013
Nancy F. from Valencia, CA writes:
This and many many other actions that are destroying our country
Jul 30th, 2013
joanne g. from Plainfield, CT signed.
Jul 24th, 2013
Someone from Haddock, GA writes:
Impeachment is necessary to restore the United States. His total disregard for the United States Constitution, which he swore to up hold, acting without congress, the NSA and IRS are enough to proceed.
Jul 3rd, 2013
kim w. from South Saint Paul, MN signed.
Jun 16th, 2013
Robert L. from Old Hickory, TN signed.
Jun 14th, 2013
Amanda S. from Winona, MN signed.
Apr 12th, 2013
Donald S. from Lagrange, OH signed.
Apr 9th, 2013
WILLIAM O. from Vestal, NY signed.
Apr 4th, 2013
warren F. from Stockton, CA signed.
Apr 4th, 2013
Donald B. from Fort Collins, CO writes:
Obama is working for the Muslim Brotherhood, which told the Muslims in America to vote for him, he is trying to make the US a Muslim country...impeach him before its too late
Apr 2nd, 2013
joe a. from Denver, CO signed.
Mar 23rd, 2013
Kelly B. from Fairbanks, AK signed.