Tell Congress & Obama: No Small Arms Treaty
The United Nations wants to make all weapons come under the CONTROL of international law - and Obama is eager to give away our gun rights to them.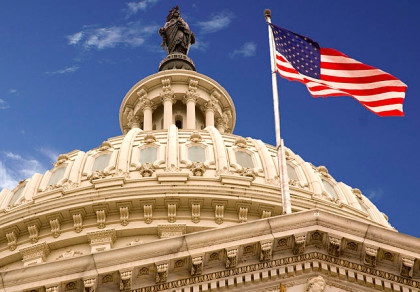 Barack Obama and the United Nations want to end private gun ownership!

The United Nations wants to pass a treaty banning and confiscating your guns, all in the name of "world peace." Doing that would obliterate the Second Amendment of our Constitution, and leave law-abiding American citizens unarmed while criminals and terrorists wreak havoc!

The Second Amendment to the United States Constitution reads: "...the right of the people to keep and bear Arms shall not be infringed."

But, Barack Obama doesn't care about the United States Constitution. He is willing to do anything to make sure his anti-gun agenda is implemented. Even if he has to bypass Congress, Mr. Obama will see to it that your gun rights will be severely restricted. In fact, he has a lot of well-financed organizations assisting him in his quest for a gun-less America, like the Brady Campaign.

Conservative Action Alerts is committed to stopping Obama's radical anti-gun agenda and protecting the right of every American to keep and bear arms. Please send sign and send your free messages to Congress and Barack Obama below and tell them you oppose the U.N. Small Arms Treaty.
Public Comments
Aug 21st, 2015
Cathy F. from Astoria, NY signed.
Dec 20th, 2014
Gary B. from Maquoketa, IA writes:
God gives me the right to defend my family and myself, not the goverment.
Dec 18th, 2014
Gary S. from Fowler, IN writes:
Remove Barack Obama from office
Dec 13th, 2014
Carole W. from Sunbury, OH signed.
Dec 12th, 2014
John S. from Brooklyn, NY signed.
Dec 10th, 2014
Larry M. from Greenwood, FL signed.
Dec 7th, 2014
Talon M. from Alliance, NE signed.
Dec 4th, 2014
Chris D. from Carbondale, PA writes:
Nov 18th, 2014
Eric W. from Centerburg, OH signed.
Nov 14th, 2014
Mike D. from Ponte Vedra, FL signed.
Nov 13th, 2014
Kimberly D. from Parkville, MD signed.
Nov 12th, 2014
Kevin H. from Belle Mead, NJ signed.
Nov 10th, 2014
Michelle s. from Florence, AL signed.
Oct 23rd, 2014
Dennis W. from Santa Clara, CA signed.
Oct 23rd, 2014
Jacob B. from Gallatin, MO signed.
Sep 25th, 2014
ROBERT F. from Edgewater, FL signed.
Sep 22nd, 2014
Walter L. from Seguin, TX signed.
Aug 7th, 2014
Timothy M. from Jeffersonville, IN signed.
Jul 24th, 2014
James E C. from Carson, CA signed.
Jul 22nd, 2014
Someone from Prattville, AL signed.
Jul 18th, 2014
John B. from Tulsa, OK signed.
Jul 17th, 2014
Kurt M. from Edmond, OK signed.
Jul 16th, 2014
Wes B. from Oklahoma City, OK signed.
Jul 15th, 2014
Someone from Yukon, OK signed.
Jul 15th, 2014
Jason G. from Yukon, OK signed.
Jul 15th, 2014
Someone from Yukon, OK signed.
Jul 15th, 2014
Grant W. from Edmond, OK signed.
Jul 15th, 2014
Leroy B. from Sedro Woolley, WA signed.
Jul 14th, 2014
Eric W. from Oklahoma City, OK signed.
Jun 27th, 2014
jonah f. from Prescott Valley, AZ signed.
Jun 27th, 2014
Someone from Elyria, OH signed.
May 26th, 2014
Someone from Indianapolis, IN signed.
May 11th, 2014
Someone from Reno, NV writes:
& stop fuc'n up the ammo supply too
Apr 3rd, 2014
Someone from Fort Myers, FL signed.
Mar 31st, 2014
Charles K. from Lawrenceburg, KY writes:
Our ForeFathers put our Constitution and our Bill of Rights into play with blood sweat and tears. 2A is to protect everyday citizens from tyranny. Should Obama sign a treaty with the UN he will start a civil war in the USA. While America suffers tough times the First Family "Jet Sets" around the world on the taxpayer dollar. America has suffered enough under his administration and to have our President sign a Treaty to do away with the freedoms of gun ownership is not the call of one man and his followers.
Mar 15th, 2014
minority of a. from Liberty, MO writes:
THE SECOND AMENDMENT WAS PUT IN THE CONSTITUTION TO PROTECT THE PEOPLE FROM OBAMA, HILLARY, AND THE REST OF THE PROBLEMS IN THE FEDERAL GOVERMENT. (CONTROL FREAKS) WAKE UP AMERICA! IT IS TIME TO LET YOUR GOVERMENT KNOW HOW WE AS AMERICANS FEEL ABOUT OUR CONSTITUTION!!!
Mar 1st, 2014
ronald c. from Sheffield, AL signed.
Feb 19th, 2014
Stephen T. from Johnston, RI writes:
Do not punish law abiding citizens by taking away our rights. We are not the problem, the criminals are the problem and their ability to obtain weapons illegally. Get law inforcement to put an end to illegal sale of firearms instead of handing out tickets to the working man day after day. Protect And Serve! Step it up people and the crime rate should drop, do not punish a law abiding citizen for events that we the public are not responsible for. Do not make use powerless by revoking out rights, it will not stop any of the problems however it will create more. Take our rights and now a criminal will still have their weapons and burglars will no longer have to think twice before breaking an entry because they will know they are the only one with the firearms! What are we thinking! Don't take the easy street just to make it look like your doing your job, get out there and actually do it and make the necessary changes that will keep weapons out of the wrong hands!
Feb 17th, 2014
robert m. from Charleston, WV signed.
Feb 12th, 2014
Someone from Greensboro, NC writes: