Send your Representative, Senators, and Obama the full US Constitution and the Bill of Rights!
We The People of the United States are tired of our Public Servants ignoring the Supreme Law of the Land!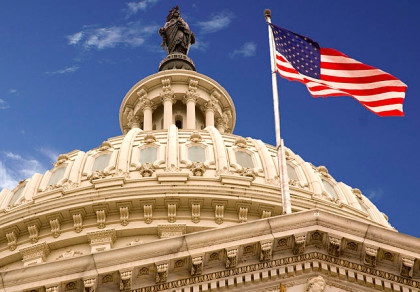 Send a copy of the United States Constitution and the Original Bill of Rights to your U.S. Representative, U.S. Senators, and Barack Obama himself.

Remind them of what they swore to Defend and Uphold!



Public Comments
Apr 26th, 2013
Mary Jane A. from Sandown, NH writes:
Please, will you all read these carefully and truly defend our Country and uphold our Constitution and the Bill of Rights. There have been some bad decisions without using our Constitution. I am praying that God will work in your heart to do what is best for our Country. And these are the best written works of leadership for the United States ever has known, or ever will know. God led in the writing of these works by the men of years gone by.
Apr 26th, 2013
brenda l. from Pensacola, FL writes:
President Obama, are you and your family on Obamacare?
Apr 26th, 2013
F.L M. from Elkins, AR writes:
This good govt. has seen fit to exclude themselves from the laws they pass, they seem to have the impression we are beneath them, time for real change, Thank God we have the constitution to protect us from you!!
Apr 26th, 2013
James W. from Las Vegas, NV signed.
Apr 26th, 2013
Craig W. from Watsonville, CA writes:
And being liberals, Rinos or Democrats, saying forget about Reagan, forget about your liberty. But remember these infamous words of the greatest statesman this country has ever beheld. Patrick Henry when he debated against Federalism peering 200 years into the future. "Consider how the only remaining defense we have left is destroyed in this manner. Besides the expenses of maintaining the Senate and other house in as much splendor as they please, there is to be a great and mighty President, with very extensive powers. The powers of a king. He is to be supported in extravagant magnificence; so that the whole of our property may be taken by this American government, by laying what taxes they please, giving themselves what salaries they please, and suspending our laws at their pleasure." Patrick Henry
Apr 26th, 2013
Craig W. from Watsonville, CA writes:
Okay folks, I know you think the C-Span Channel that broadcasts all those Congressional hearings are boring, but, really, you should have been around to watch the Senate Finance Committee's hearing last week on the Affordable Health Care Insurance Oversight. Folks, you haven't seen so many faces of misery since you watched Les Miserable's for three and a half hours...and they were all Democrats. And one of them, Senator Max Baucus, was the primary sponsor of Obama care in the Senate! Now, try to follow me here because this gets pretty complicated. (It seems that Nancy Pelosi was right; you have to pass Obama care to find out what's in it...and the Democrats are now learning what the Republicans warned them about. It's an unworkable mess that is throwing millions of Americans off the health care rolls!) Okay, apparently, tens of thousands of American employers began throwing workers off their health care plans and opting to pay the much lower federal fine for not offering health care for their workers. Thousands more are even now converting their full time workers to part time workers by limiting working hours per week to less than 30, in compliance with Obama care rules. (Remember when Paul Ryan and the Republicans predicted employers would do this? Remember when Democrats were warned that employer's would move to save operating expenses by moving their entire work force into federal healthcare exchanges?) Now, these workers who have lost their health care benefits are busy trying to sign up for state health care exchanges. (There are Internet sites available if your state has agreed to sign up to Obama care). However, when these American workers, soon to be without employer provided health care, go to the Health Exchanges to sign up, they are finding they are not qualified! It seems that during the signup process, applicants are required to fill in various income and benefit data, which then flows over to IRS computers who then are to spit out what your premium costs will be and how much federal tax credits you'll receive in order to receive subsidies to help you afford health care premiums that are as much as 30% more than you were paying under your employer's plan! Big Problem! The IRS is only allowing somewhere around 9% subsidy support for Obama care Health care Exchange premiums that are priced so much higher than the worker was paying under his employer plan! (Surprise, Surprise! Remember Republicans warning that forcing working Americans to pay for the 30 million leeches who pay nothing for their health care under Medicaid would drive the premiums of working Americans higher?) Second Big Problem! The IRS computers won't mate up with the Health Care Exchange computers because the IRS computer system is obsolete! So when workers try to sign up for Obama care the IRS, and the Health Exchanges are telling applicants to go to hell! And so fireworks really broke out at the Finance Committee hearings on Obama car
Apr 26th, 2013
Someone from Oneonta, NY signed.
Apr 26th, 2013
Gary and Evelyn J. from Lexington, SC signed.
Apr 26th, 2013
Helen T. from Kennesaw, GA writes:
This government is very, very, wasteful, inefficient, abusive of power, fraudulent dictatorship. Government is For the People, By the People and supposed to be performing for the people, not just themselves. Congress has become so very slanted, do they ACTUALLY remember why they were ELECTED? Obviously, not because what is going on in the government is totally OPPOSITE of what America needs. The government should be given "Pink Slips" for their ABUSIVE FAILURES , which is EVERY ASPECT!
Apr 26th, 2013
Chris C. from San Angelo, TX writes:
Government is elected by the people and is suppose to perform for the people. The Tea Party is certainly a large part of the people. I am tired of the government making rules for the people that do not apply to the politicians. Why does Obamacare rules not apply to the politicians that passed it. Just one loop sided ideology.
Apr 26th, 2013
Wayne T. from Lexington, MO writes:
The government is the enemy of the sovereign and the constitution is the enemy of the government.
Apr 26th, 2013
bill c. from Crothersville, IN writes:
The dictator sitting in the White House is the worst Law BREAKER of all He needs to be shown that no one is above the law even the position he is holding illegally
Apr 26th, 2013
Warren H S. from Charlotte, NC signed.
Apr 26th, 2013
michelle l. from Yuma, AZ writes:
You are public servants. Read the constitution,bill of right & really understand why the need for small goverment. This country is great,resilient,but you are pushing it to the limits,unless you want us to be like Europe or have 1 world order in mind. Well the mass majority don't. They just think Repubs are evil,unless asked about what they believe is right for the country. They are repubs & hate it,confused. Do what is right for the people through the Constitution.
Apr 25th, 2013
Martha E. from Lone Oak, TX writes:
Harry Reid said "government is inherently good" . What a lie that is!
Apr 25th, 2013
Robert G. from Lodi, WI writes:
"Government is inherently good?" You cannot be serious. No other institution of man is responsible for more bloodshed than human government. Check the facts. There is no comparison.
Apr 25th, 2013
Corey S. from Tucson, AZ signed.
Apr 25th, 2013
Jim O. from Layton, UT signed.
Apr 25th, 2013
Jim O. from Layton, UT signed.
Apr 25th, 2013
Mike M. from La Crescenta, CA signed.
Apr 25th, 2013
Pamela T. from Saint Petersburg, FL writes:
When did Washington be Hollywood , one giant fantasyland? Well, Mr Reid tell Syria, Cuba, Nazi Germany ( which we are beginning to resemble) Russia, and a multitude of Nations around the world oppressing, controlling, and killing their own people that and see what they say or the large numbers of legal immigrants that escaped here. Have you only traveled in the best of area's never looked to see how and what the people were suffering in other Nations? Government is only good when directed by the majority of people in a Nation, it is only good when the Government is held accountable to the Governed and it is only good when the representatives hire by vote to represent the majority will of the people is the rule Not the exception but above all it is ONLY good when the Constitution and the laws of the land are more than respected but held to according to the law. Agreed with or not and that NO MAN IS ABOVE THE LAW IN THIS NATION. Finally...it is only good when the representatives of the people are devoutly loyal to THIS Nation, the AMERICAN PEOPLE and keep faith without question to our dead and all who have died for the freedoms we the people hold dear. Anything other than that is beyond doubt High Treason and should be treated as such no matter what the party.
Apr 25th, 2013
James W. from Anaheim, CA writes:
Government is good as defined by the founding fathers. You have turned government into a evil monster that is out of control.
Apr 25th, 2013
Jerry B B. from North Platte, NE writes:
Every one of you have swore to uphold these documents, what has happened. The lie that "the government is good" is a out and out lie, that is why the Declaration of Independence and the Constitution were written , to limit government and to free the people not to enslave them.
Apr 25th, 2013
john h. from Mingo Junction, OH signed.
Apr 25th, 2013
Craig B. from Westminster, CO signed.
Apr 25th, 2013
Jeffrey E. from Memphis, TN signed.
Apr 25th, 2013
Robert P. from Franklin Lakes, NJ signed.
Apr 25th, 2013
Peggy W. from Little Rock, AR signed.
Apr 25th, 2013
Marilyn H. from Lafayette, CO writes:
Apr 25th, 2013
Vilas Z. from Schofield, WI writes:
When are you going to show us a budget??? You take raises, yet you produce nothing! You give money to other countries that you don't have!! You Waste everyones time trying to create laws that NO ONE wants or needs. The urgency is Jobs & a Budget. Start doing your jobs!!!!!!!!!!
Apr 25th, 2013
Nathanael A. from Minot, ND signed.
Apr 25th, 2013
Donna R. from Allen, TX signed.
Apr 24th, 2013
Warren H S. from Charlotte, NC signed.
Apr 24th, 2013
Ned T. from Los Angeles, CA signed.
Apr 24th, 2013
Lynn A. from Mission Viejo, CA signed.
Apr 24th, 2013
Rory C. from Ypsilanti, MI signed.
Apr 24th, 2013
David M. from Grandville, MI signed.
Apr 24th, 2013
Sue M. from Grandville, MI signed.
Apr 24th, 2013
ROBERT AND BELINDA c. from Cleveland, TX signed.
Apr 23rd, 2013
RICHARD S. from Saint Paul, MN signed.