Tell Congress to PASS "The ObamaCare Repeal Act" to FULLY REPEAL Obama's federal healthcare law!
Messages Sent So Far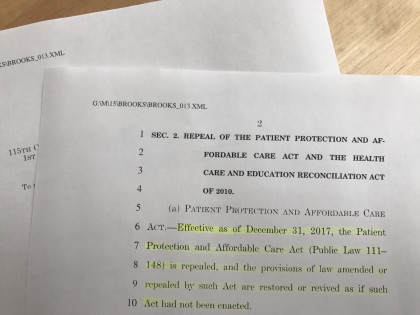 "We should repeal Obamacare, but partial repeal will only accelerate the current chaos and may eventually lead to calls for a taxpayer bailout of insurance companies." – Sen. Rand Paul
"If the American people want to repeal Obamacare, ["The ObamaCare Repeal Act"] is their last, best chance during the 115th Congress." – Rep. Mo Brooks
The federal healthcare law established by "the Patient Protection and Affordable Care Act" – or, Obamacare – is unconstitutional and must be repealed.
While Big Government politicians under Obama's watch succeeded in funding the healthcare law, we believe that Obamacare's days are numbered...
But while Congressional conservatives and the Trump Administration look to erase Obamacare's worst elements, we must demand that they not stop short.
It's time to urge members of the House and Senate to fully dismantle the healthcare law -- that every last word of Obama's signature legislation be erased from the books.
Right now, we must urge legislators to support and pass the two-page "ObamaCare Repeal Act" which fully repeals Obamacare and replaces it with nothing.
Take Action! Sign the petition and tell legislators to FULLY REPEAL Obamacare by passing The ObamaCare Repeal Act in 2017!
Read The ObamaCare Repeal Act here.
Post Public Comments
Public Comments (13,722)
Sep 9th, 2017
terry p. from Defiance, OH signed.
Aug 9th, 2017
Meagan S. from Phoenix, AZ signed.
Aug 9th, 2017
Meagan S. from Phoenix, AZ signed.
Aug 9th, 2017
Meagan S. from Inglewood, CA signed.
Jul 19th, 2017
Kirsten S. from Longwood, FL signed.
Jul 14th, 2017
Sandy W. from Fairbanks, AK writes:
I do not want the government involved in my healthcare. Repel, do not replace Obamacare. Also, when reading the bill, there are too many loopholes, subsidies, and other items, that most Americans are unaware of. These do benefit Americans, but few with deep pockets and whose interest is gained.
Jun 12th, 2017
John B. from West Palm Beach, FL signed.
May 12th, 2017
Someone from Hendersonville, NC writes:
PLEASE GET THOSE TRYING TO KEEP OBAMACARE (dumb Democrats and Speaker Paul Ryan) REMEMBER WHEN CRAZY PELOSE SAID YOU HAVE TO PASS IT TO FIND WHAT'S IN IT!!!!!!!! FULLY DISMANTLE IT & GET A SHORT, PRECISE, & SMART WRITTEN REPLACEMENT AND GET IT PASSED ASAP. yOU MUST HAVE SOMEONE SMARTER THAN PAUL RYAN. HE SCREWED THE FIRST VERSION get someone who is hugely smarter than PAUL RYAN crazy PELOSI TO GET A WHOLE NEW HEALTH LAW WRITTEN. YOU MUST HAVE SOMEONE WHO HAS WORKED ON CREATING ONE; CHECK WITH GOVERNORS IN STATES WITH GREAT PLANS ALREADY DONE WITH BRAINS AND KEEP IT SHORT.
May 8th, 2017
Someone from Pleasant Unity, PA writes:
Keep your word !!! Repeal Obama Care
May 6th, 2017
Fred C. from Stephenville, TX signed.