Tell Congress: Restore our Fourth Amendment protections!
Americans are losing the right to privacy and their private property rights.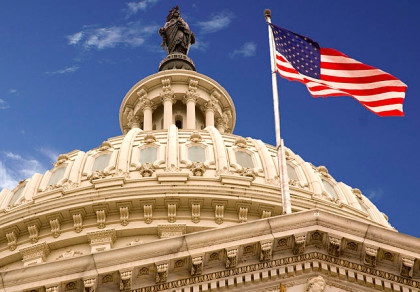 At every turn, Americans are losing the right to privacy and their private property rights.
The U.S. Supreme Court's ruling in Kentucky v. King essentially revokes the Fourth Amendment by allowing law enforcement to enter private property without a warrant, and by giving TSA agents the authority to demand that innocent Americans remove their clothing in front of the public.
Further, the astounding fact that the federal government ordered Verizon to hand it hundreds of millions of private phone records is also an important reminder that our constitutionally-protected rights have essentially been declared null by government actions.
Knowing that the National Security Agency has easy access to massive amounts of information held by major internet service and communication companies – records that detail millions of individuals ' private data – is evidence that our Fourth Amendment is essentially not a fact in the digital world.
The unconstitutional powers given to government by certain provisions of the Patriot Act and the Supreme Court are now being realized, and stand to prove that the Fourth Amendment "right of the people to be secure in their persons, houses, papers, and effects, against unreasonable searches and seizures" is a near-farce.
We must demand Congress to uphold the Fourth Amendment our individual rights to be secure in our "person, papers, and effects" in both physical and non-physical environments. We must demand Congress to work enact legislation that formally recognizes the wholesale supremacy of the Fourth Amendment – that is, the protection of privacy and private property from unwarranted searches and seizures – in the physical world, as well as extending its authority to protect private information in the realms of communications, finance, and the digital world as a whole.
When a 6-year-old child is forced to remove their T-shirt in public during a TSA screening, or when a 95-year-old leukemia patient is asked to remove her Depends undergarment, then you cannot ignore the fact that the government has gone too far in dismantling our Fourth Amendment protections.
When the FBI and NSA can easily surveil staggering amounts of private data – without suspicion or probable cause – held by third party communications and internet service companies, there can be no legitimate privacy.
Governing authorities should never have the right to wield power over citizens simply because they can. The disturbing actions coming from the TSA, the NSA, the FBI, and some law-enforcement officials are completely unacceptable!
Take action! Sign the petition and send a free message to Congress demanding that the Fourth Amendment be preserved and recognized across the board!
Public Comments
Feb 5th, 2012
Someone from Mountain View, MO signed.
Feb 5th, 2012
Sally L. from Evanston, IL signed.
Feb 5th, 2012
Joyce E. from Gloversville, NY signed.
Feb 5th, 2012
Brian B. from Woodville, TX writes:
Our Constitution is the only thing standing between our liberty and freedom and a totalitarian state. We must protect it.
Feb 5th, 2012
Mark C. from Riverdale, GA writes:
I urge you to take a stand for the Americans 4th Amendment rights. Our government interferes too much in our daily lives as it is. If our government is so concerned about the safety of our nation I suggest that the anyone that appears to be a radical Muslim be immediately remove from our country.
Feb 5th, 2012
Rudolph E. from Howell, MI writes:
We voted you in office to protect our rights not take them away! Please do what-ever it takes to repeal this power grab....
Feb 5th, 2012
Linda D. from Cannelton, IN writes:
Our Constitution is being shredded and trampled to the point that it is no longer recognizable! Wake up America before it is too late!
Feb 5th, 2012
Robert L. from Charlottesville, VA writes:
I am a retired Police Officer and it seems that the Justice System in our counrty has been turned upside down legal cases our dismissed and vice versa.
Feb 5th, 2012
Someone from Colorado Springs, CO signed.
Feb 5th, 2012
Martha R. from Springville, TN writes:
help us to turn this around.
Feb 5th, 2012
Rebecca S. from Colorado Springs, CO writes:
At what point, are you going to defend the Constitution and the citizens? At what point, are you going to defend the Constitution that you took to uphold and defend? At what point are you going to do the job you were sent to Washington to do? Like be a representative of the people, not the party.
Feb 5th, 2012
Ronald G. from Macclenny, FL signed.
Feb 5th, 2012
Vincent A. from Holdrege, NE signed.
Feb 5th, 2012
Guido M. from Pasadena, CA writes:
Have we finally become a Police State? SHAME ON US !
Feb 5th, 2012
Calvin D. from Glenwood, AR writes:
We The People demand that you protect and defend Our Constitution and Bill of Rights(please see oath of office.)
Feb 5th, 2012
john f t. from Venice, FL writes:
PLEASE STOP OBAMA AND HIS POLICE STATE.....PROTECT OUR RIGHTS
Feb 5th, 2012
Joseph C. from Mobile, AL signed.
Feb 5th, 2012
Jonathan M. from Towson, MD signed.
Feb 5th, 2012
thomas b. from Kansas City, MO signed.
Feb 5th, 2012
Jackie S. from Santa Anna, TX writes:
Obajma must be stopped and we are trusting you to do it in Washington.
Feb 5th, 2012
David M. from Denton, TX signed.
Feb 5th, 2012
Debra D. from Williamston, MI signed.
Feb 5th, 2012
donald c. from Dilliner, PA writes:
impeach obama, prosecute, convict, and execute him and his administration for treason. he is a communist trader who needs put in his place.
Feb 5th, 2012
Judith L. from Huntsville, AR writes:
WHY ARE WE ALLOWING OUR CONSTITUTION TO BE TRAMPLED ON? DIDN'T YOU TAKE AN OATH TO UPHOLD IT AND DEFEND IT?
Feb 5th, 2012
william S. from Camp Hill, PA signed.
Feb 5th, 2012
Toddy L. from Prescott, AZ writes:
The point at which we think an Act of Congress shall supersede the judicial activism of the Supreme Court and their presumption to dictate to the American People the meaning of the Constitution We The People put together to institute the national government, of which the Supreme Court is merely a branch of, is the point the people verify the powers never granted, where the people are assuming the role of servant to those whom we are the Master of. The limits of the 4th Amendment find their place in our comprehending the Supreme Court doesn't get to decide their meaning, particularly where the Supreme Court consistently rules in a manner that aids the political influence and expansion of the national government, far in excess of the 4 corners of the Constitution, always to a gain to power being assumed in the national government by the mere act of the 9 Justices claiming their role as final arbiter of an instrument we installed with the sole purpose of being our instrument, to be used upon and hold over our government, a means to keep them in line with their purpose and intention in being instituted. Long before the existence of the Civil Rights Act and Title 42 lawsuits. I give you James Madison from The National Gazette, March 29th 1792, words I hope aid every American in comprehending our "property in rights" to which the 4th Amendment applies no less: ""This term in its particular application means 'that dominion which one man claims and exercises over the external things of the world, in exclusion of every other individual.' "In its larger and juster meaning, it embraces every thing to which a man may attach a value and have a right; and which leaves to every one else the like advantage. "In the former sense, a man's land, or merchandize, or money is called his property. "In the latter sense, a man has property in his opinions and the free communication of them. "He has a property of peculiar value in his religious opinions, and in the profession and practice dictated by them. "He has property very dear to him in the safety and liberty of his person. "He has an equal property in the free use of his faculties and free choice of the objects on which to employ them. "In a word, a man is said to have a right to his property, he may be equally said to have a property in his rights. "Where an excess of power prevails, property of no sort is duly respected. No man is safe in his opinions, his person, his faculties or his possessions. "Where there is an excess of liberty, the effect is the same, tho' from an opposite cause. "Government is instituted to protect property of every sort; as well that which lies in the various rights of individuals, as that which the term particularly expresses. This being the end [purpose]of government, that alone is a just government, which impartially secures to every man, whatever is his own. "According to this standard of merit, the praise of affording a just security to propert
Feb 5th, 2012
Jon H. from Waukesha, WI writes:
We have the worst leaders this country has ever had to endure, especially at the very top. Can hardly wait to vote.
Feb 5th, 2012
Gabriel M. from Rutherford, NJ signed.
Feb 5th, 2012
Patti L. from Findlay, OH signed.
Feb 5th, 2012
Janet Z. from Davis, CA signed.
Feb 5th, 2012
Gordon S. from Chambers, AZ signed.
Feb 5th, 2012
walter D. from Meacham, OR signed.
Feb 5th, 2012
Robert B. from Katy, TX signed.
Feb 5th, 2012
Christine P. from Prole, IA signed.
Feb 5th, 2012
James E C. from Carson, CA signed.
Feb 5th, 2012
Carolyn D. from Sandersville, MS signed.
Feb 5th, 2012
Krista W. from Spokane, WA signed.
Feb 5th, 2012
Someone from Bensenville, IL signed.
Feb 5th, 2012
Henry J. from Aurora, NE signed.
Feb 5th, 2012
John B. from Noblesville, IN writes:
I served my country as a Marine to protect our constitutional rights. Now, these rights are slowly being taken from us by liberals in government and by judges who legislate from the bench. I demand that our representatives in government do everything in their power to restore our constitutional Republic and to restore our rights guaranteed by our constitution.