Tell Congress: Pass the Fair Tax Act of 2019!
Messages Sent So Far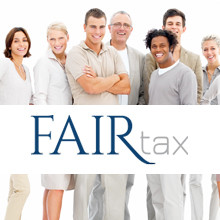 The current federal income tax system is clearly broken — unfair, overly complex, and almost impossible for most Americans to understand.
But there is a reasonable, nonpartisan alternative before Congress that is both fair and easy to understand. A system that allows you to keep your whole paycheck and only pay taxes on what you spend.
It's called the FairTax. Introduced in the U.S. House and Senate as H.R. 25 and S. 18, respectively, The FairTax is a national sales tax that treats every person equally and allows American businesses to thrive, while generating the same tax revenue as the current four-million-word-plus tax code... and without the I.R.S.
The Fair Tax Act of 2019 is the only tax replacement plan before the U.S. Congress that:

Eliminates all federal income and payroll taxes including personal, gift, estate, capital gains, alternative minimum, Social Security/Medicare, self-employment and corporate.
Eliminates the need for businesses and individuals to file federal income tax returns.
Eliminates over 74,000 pages of Internal Revenue Code and the estimated $350 billion in annual compliance costs.
Defunds, disbands and eliminates the Internal Revenue Service.
Favors American businesses and workers over foreign corporation, and dramatically increases the rate of economic growth and job creation.
Brings American jobs back to America and generates employment opportunities for the hundreds of thousands of chronically unemployed.
Repeals the 16th Amendment and direct taxation through companion legislation.
Take action and tell your U.S. Representative and Senators to co-sponsor the Fair Tax Act of 2019. Add your name in the fields below to proceed to send your no-cost letters.
Be a part of the FAIRtax movement and help make make April 15 just another spring day. Visit FAIRtax.org.
Public Comments
Mar 26th, 2015
emilio p. from Lakeland, FL writes:
This is the ONLY FAIR way to tax citizens, we ALL pay our "fair share"
Mar 26th, 2015
Michael R. from Paducah, KY writes:
Mar 26th, 2015
D. A. A. from Sandusky, OH signed.
Mar 26th, 2015
Scott R. from Issaquah, WA writes:
While the majority of this "letter/email" is a canned message, I've invested a lot of time and research into the FairTax. I KNOW what it is and support it. If the only thing you know about the FairTax is what your peers and leadership have been telling you, I urge you to spend a little time doing your own research. This is a VERY high priority for me. And, I vote.
Mar 26th, 2015
Pedro A. from Jacksonville, FL writes:
I am retired U.S.Navy, I am a small business owner and I am definitely a tax payer. Why do we have such a complex tax system? The president talks about fairness. But it appears to me that his fairness is taking from one group and dividing what is taken from one group between the Government and another group, what is fair about that. A simple tax system where we all pay the same sales tax percent would be fairer. The rich will automatically pay more because they buy more expensive items and since there will not be any loopholes they will pay and be OK with it. The middle and low income people will pay less since the items they buy cost less but they can work their way up to becoming a high income earner. This BS from the president is just that BS, all this garbage about fairness is not helping.
Mar 26th, 2015
John L. from Hampstead, NH signed.
Mar 26th, 2015
richard g. from Port Washington, NY signed.
Mar 26th, 2015
Jim H. from Springfield, MO writes:
The American people deserve the fair tax. The current system is too complex. Replace it with the Fair Tax.
Mar 26th, 2015
Joe W. from Houston, TX signed.
Mar 26th, 2015
Ben H. from Smyrna, GA signed.
Mar 26th, 2015
Marlowe A. from Washington, UT signed.
Mar 26th, 2015
Matthew S. from Gray, GA signed.
Mar 26th, 2015
Alan D. from Tomball, TX writes:
Now is the time! We are fed up with the abuse of power from the federal government.
Mar 26th, 2015
Charles W. from Lakeland, FL writes:
Mar 26th, 2015
Russell P. from Columbiaville, MI writes:
I encourage you to support the Fair Tax Act of 2015
Mar 26th, 2015
Someone from Tulsa, OK writes:
It's way past time to replace this criminal organization. The code is incomprehensible for most people.
Mar 26th, 2015
Carlos I. from Warsaw, MO writes:
Fair Tax fixes the problem, do the right thing for once.
Mar 26th, 2015
Steven W. from Milwaukee, WI writes:
Please consider sweeping changes and eliminate all deductions and credits for everyone, except the truly poor. A flat sales tax or income tax would eliminate the need for an IRS and the billions of hours and work wasted today collecting taxes. Get the corporate cronyism out of the code and DC.
Mar 26th, 2015
John B. from Houston, TX writes:
Please co-sponsor the Fair TaxAct of 2015
Mar 26th, 2015
Henry J. from Okatie, SC writes:
Fair Tax is necessary. Present system lends itself to benefit special interests. Fair Tax is the model of equality.
Mar 26th, 2015
Brad K. from Charlestown, IN signed.
Mar 26th, 2015
Terry F. from Tulsa, OK signed.
Mar 26th, 2015
LARRY J. from Jasper, IN writes:
We need to eliminate the drastically overreaching IRS and the 70,000+ pages of IRS code
Mar 26th, 2015
Christopher L. from Fuquay Varina, NC signed.
Mar 26th, 2015
Robert C. from Mashpee, MA writes:
The most extensively research plan in US history. Could be the catalyst to re energize the US economy.
Mar 26th, 2015
Someone from Seattle, WA signed.
Mar 26th, 2015
Wanda B. from Simi Valley, CA writes:
our country NEEDS Fairtax!
Mar 26th, 2015
Someone from Atlanta, GA writes:
As the owner of two small businesses, the current tax code makes the administrative tasks of those businesses crazy. I'd rather be spending my time building the business than worrying if I accounted for this or that appropriately and per the tax code. In fact, the tax code discourages me to invest in my business the way I would like to because of this and that tax law. Multiply that by all the small business owners out there, and you will get an immediate uptick in productivity! FAIRTax 2015 please, please, please!
Mar 26th, 2015
Kyle P. from Cumming, GA signed.
Mar 26th, 2015
Someone from Osceola, WI signed.
Mar 26th, 2015
Chuck A. from Oklahoma City, OK writes:
The Fair Tax is the perfect way to make sure everyone pays their fair share of tax. Everyone pays as they go.
Mar 26th, 2015
Joseph W L. from Knoxville, IA writes:
With all the problem with the IRS over the past 60 years it should be abolished.
Mar 26th, 2015
Kevin M. from Fernandina Beach, FL signed.
Mar 26th, 2015
Sue O. from Valparaiso, NE writes:
Abolish the IRS and implement the Fair Tax, where you are taxed only on what you purchase instead of on what you earn or inherit (which was already taxed!)
Mar 26th, 2015
Larry J. from Youngstown, FL writes:
The FAIR TAX ACT is the only solution that eliminates the need for IRS/income based taxes.
Mar 26th, 2015
Linda D. from Cairo, GA signed.
Mar 26th, 2015
Aaron B. from Grand Rapids, MI signed.
Mar 26th, 2015
Gary A. from Locust Valley, NY writes:
It's about time for Fair Tax or a Flat Tax...but our Congressmen don't have the guts to stand behind it...unanimously! Too many lobbyists don't want it, and guess where the "real power" is in Wash. D.C.? Can you imagine how hard the I.R.S. will now push back on this proposal. Gosh...we'll lose all our bonuses, pensions, free time to watch porn and full tenure in our fire-free jobs...no matter how bad we screw up. Aren't unions great?
Mar 26th, 2015
Richard L. from Wexford, PA writes:
The FairTax is the best option to fully fund the government, Social Security & Medicare while eliminating cronyism and special interest tax breaks, write-offs, deductions, etc.
Mar 26th, 2015
Timothy M. from Hampstead, NH signed.