Tell Congress: Pass the Fair Tax Act of 2019!
Messages Sent So Far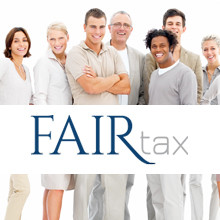 The current federal income tax system is clearly broken — unfair, overly complex, and almost impossible for most Americans to understand.
But there is a reasonable, nonpartisan alternative before Congress that is both fair and easy to understand. A system that allows you to keep your whole paycheck and only pay taxes on what you spend.
It's called the FairTax. Introduced in the U.S. House and Senate as H.R. 25 and S. 18, respectively, The FairTax is a national sales tax that treats every person equally and allows American businesses to thrive, while generating the same tax revenue as the current four-million-word-plus tax code... and without the I.R.S.
The Fair Tax Act of 2019 is the only tax replacement plan before the U.S. Congress that:

Eliminates all federal income and payroll taxes including personal, gift, estate, capital gains, alternative minimum, Social Security/Medicare, self-employment and corporate.
Eliminates the need for businesses and individuals to file federal income tax returns.
Eliminates over 74,000 pages of Internal Revenue Code and the estimated $350 billion in annual compliance costs.
Defunds, disbands and eliminates the Internal Revenue Service.
Favors American businesses and workers over foreign corporation, and dramatically increases the rate of economic growth and job creation.
Brings American jobs back to America and generates employment opportunities for the hundreds of thousands of chronically unemployed.
Repeals the 16th Amendment and direct taxation through companion legislation.
Take action and tell your U.S. Representative and Senators to co-sponsor the Fair Tax Act of 2019. Add your name in the fields below to proceed to send your no-cost letters.
Be a part of the FAIRtax movement and help make make April 15 just another spring day. Visit FAIRtax.org.
Public Comments
Mar 26th, 2015
Stanislaus G. from Unionville, VA signed.
Mar 26th, 2015
Christopher T. from Norfolk, VA writes:
Pas the Fair Tax, as it is the best and most equitable option for all.
Mar 26th, 2015
Robert D. from Tallahassee, FL writes:
Let's tax our consumption, not our productivity.
Mar 26th, 2015
michael j. from Reno, NV signed.
Mar 26th, 2015
David W. from Lansing, MI writes:
We need a fair a simple tax system. The only option is a national consumption tax. It would solve so many issues other than our tax system issues as well.
Mar 26th, 2015
Stephanie Y. from Valparaiso, IN signed.
Mar 26th, 2015
Chris M. from Las Vegas, NV signed.
Mar 26th, 2015
Jeffrey S. from Vinita, OK writes:
This is the plan that will rescue America in so many ways. We need the FairTax to allow the people to take charge of their own lives again!
Mar 26th, 2015
Marv K. from Richmond, TX writes:
I urge you to request Steve Hayes, President Americans for Fair Taxation, or Karen Walby, Tax economist for AFFT to testify before the Senate Finance Committee in support of the FAIRtax. This is the best opportunity we have to eliminate the IRS.
Mar 26th, 2015
Pete S. from Roswell, GA writes:
Our current tax code punishes the act of earning income. We need a tax code that only taxes on consumption. America will be stronger if we remove constraints on individuals. Then, each person will have the freedom to achieve their personal goals, without having a heavy tax on their performance. They can then make their own choices on how much tax they pay, based purely upon their consumption.
Mar 26th, 2015
Jeff P. from Tallahassee, FL writes:
Read the fair tax books, then decide.
Mar 26th, 2015
Roger B. from Rogers, AR signed.
Mar 26th, 2015
Dave R. from Kennewick, WA signed.
Mar 26th, 2015
Chad S. from Norcross, GA signed.
Mar 26th, 2015
Gary K. from Maryville, TN writes:
Put aside your personal power/financial interests and do what is right for our country.
Mar 26th, 2015
Joe N. from Clarksville, VA signed.
Mar 26th, 2015
Lynn H. from Smyrna, GA writes:
PLEASE!!!!!!!! This is the answer !
Mar 26th, 2015
Pravin M. from Lexington, MA signed.
Mar 26th, 2015
Pravin M. from Lowell, MA signed.
Mar 26th, 2015
Kyle C. from Arlington, TX signed.
Mar 26th, 2015
Mike S. from Oak Ridge, NC writes:
When a book that you can hold in your hand can address the tax code so that every American can understand it, why wouldn't our elected officials see the benefit? James Madison recognized the dangers in Federalist Paper 62, "It will be of little avail to the people, that the laws are made by men of their own choice, if the laws be so voluminous that they cannot be read, or so incoherent that they cannot be understood; if they be repealed or revised before they are promulgated, or undergo such incessant changes that no man, who knows what the law is to-day, can guess what it will be to-morrow. Law is defined to be a rule of action; but how can that be a rule, which is little known, and less fixed?" The "fix" is the FairTax.
Mar 26th, 2015
Clayton A. from Sussex, NJ writes:
All businesses would be more profitable if decisions were made on a sound financial basis rather than based on tax implications.
Mar 26th, 2015
Charlene C. from Eustis, FL signed.
Mar 26th, 2015
Russ F. from Lakeland, MN writes:
Please simplify the tax code!
Mar 26th, 2015
Jim A. from Campbell, CA writes:
PLEASE get this simplified, and perhaps reign in lingering IRS aggression/lawlessness
Mar 26th, 2015
Don B. from Gainesville, GA writes:
Do it now or wait for your replacements to vote to approve the Fair Tax
Mar 26th, 2015
John N. from Jacksonville, FL writes:
Having just finished my 2014 Tax return, I'm more certain than ever tax reform must be done NOW! Our current system is confusing, inefficient, being used for political purposes, and uses the tax code to form public policy. Taxing consumption is the fairest most efficient means of raising revenue to fund govt! Prebates ensure the poor are protected. Real reform is long overdue.
Mar 26th, 2015
Charles G. from Queen Creek, AZ writes:
Mar 26th, 2015
Sean M. from Portland, OR writes:
People and companies with big budgets have enough money to navigate the system and get lower tax rates than people and small companies who can not afford the consulting fees end up having a higher tax rate. I need a system that does not require a masters degree to navigate. It just needs to be automatic and happen so at the end of the year I do not need to do anything as my taxes are all paid.
Mar 26th, 2015
Someone from New York, NY writes:
Like the bible says 10% tax for everybody.
Mar 26th, 2015
Linda R. from La Conner, WA writes:
It's time that the tax system as it exists be destroyed. There is nothing fair about it. Hard work is punished with ever increasing taxes while those who choose to not work and game the system are rewarded. It's Robin Hood in reverse and it must be stopped.
Mar 26th, 2015
Jack T. from New Bern, NC writes:
Abolish the IRS, Flat or Fair Tax will do. Just do it.....
Mar 26th, 2015
Adam E. from Roseau, MN signed.
Mar 26th, 2015
Michael C. from Laurinburg, NC signed.
Mar 26th, 2015
Matthew C. from Sierra Vista, AZ writes:
We, the people, have spoken. Enact the Fair Tax and dissolve the IRS.
Mar 26th, 2015
george h. from Pleasanton, CA writes:
IRS has destroyed my life
Mar 26th, 2015
Someone from Vancleve, KY signed.
Mar 26th, 2015
jeff j. from Belton, TX writes:
Please read Boortz' book. It makes sense. Let's start cleaning " House". Abolish the IRS.
Mar 26th, 2015
Ronald O. from Montgomery, AL signed.
Mar 26th, 2015
James L. from Council Bluffs, IA signed.