Tell Congress: Pass the Fair Tax Act of 2019!
Messages Sent So Far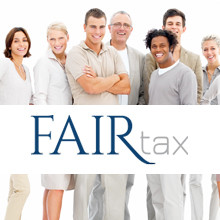 The current federal income tax system is clearly broken — unfair, overly complex, and almost impossible for most Americans to understand.
But there is a reasonable, nonpartisan alternative before Congress that is both fair and easy to understand. A system that allows you to keep your whole paycheck and only pay taxes on what you spend.
It's called the FairTax. Introduced in the U.S. House and Senate as H.R. 25 and S. 18, respectively, The FairTax is a national sales tax that treats every person equally and allows American businesses to thrive, while generating the same tax revenue as the current four-million-word-plus tax code... and without the I.R.S.
The Fair Tax Act of 2019 is the only tax replacement plan before the U.S. Congress that:

Eliminates all federal income and payroll taxes including personal, gift, estate, capital gains, alternative minimum, Social Security/Medicare, self-employment and corporate.
Eliminates the need for businesses and individuals to file federal income tax returns.
Eliminates over 74,000 pages of Internal Revenue Code and the estimated $350 billion in annual compliance costs.
Defunds, disbands and eliminates the Internal Revenue Service.
Favors American businesses and workers over foreign corporation, and dramatically increases the rate of economic growth and job creation.
Brings American jobs back to America and generates employment opportunities for the hundreds of thousands of chronically unemployed.
Repeals the 16th Amendment and direct taxation through companion legislation.
Take action and tell your U.S. Representative and Senators to co-sponsor the Fair Tax Act of 2019. Add your name in the fields below to proceed to send your no-cost letters.
Be a part of the FAIRtax movement and help make make April 15 just another spring day. Visit FAIRtax.org.
Public Comments
Sep 29th, 2017
Someone from Charlotte, NC signed.
Sep 29th, 2017
Someone from Charlotte, NC signed.
Sep 28th, 2017
Fred W. from Mount Juliet, TN writes:
Three tax brackets shackle our engines of production (labor and capital) at lower rates. James Madison knew Econ 101 and set one bracket with zero rate.
Sep 28th, 2017
Matthew L. from Knoxville, TN signed.
Sep 27th, 2017
Someone from Amarillo, TX signed.
Sep 27th, 2017
Someone from Wilmette, IL signed.
Sep 27th, 2017
Terry C. from Jacksonville, FL writes:
Politicians keep saying we need a fairer, easier tax. How about the FairTax?
Sep 27th, 2017
Someone from Aurora, CO writes:
Insanity: doing the same thing over and over and expecting a different result. This is what the Republicans are doing with the tax code.
Sep 27th, 2017
Someone from Keystone Heights, FL signed.
Sep 25th, 2017
Natasha S. from Navarre, FL signed.
Sep 23rd, 2017
Howard V. from Suffolk, VA signed.
Sep 23rd, 2017
Kathy M. from Toledo, OH signed.
Sep 22nd, 2017
Janice K. from Charlotte, NC signed.
Sep 22nd, 2017
Janice K. from Charlotte, NC signed.
Sep 22nd, 2017
Andrew N. from Mount Sterling, OH signed.
Sep 20th, 2017
Penny F. from Hagerstown, MD writes:
Capitol Hill needs to get serious about giving us some relief. We've torn free from one abusive governing system, and it's been a while, but we can certainly do it again, if you don't.
Sep 18th, 2017
CHARLES D. from Newnan, GA writes:
The Fair Tax seems to be the only way to make taxes, well, fair. It collects taxes from everyone: U.S. citizens, illegal immigrants, drug dealers, tourist, etc. I simply can't understand why Congress won't pass this bill.
Sep 17th, 2017
Wayne H. from Mayville, WI writes:
Please be a Cosponsor of the Fair Tax and Vote for the Bill when it comes up for a vote
Sep 15th, 2017
Janice K. from Charlotte, NC signed.
Sep 15th, 2017
Janice K. from Charlotte, NC signed.
Sep 12th, 2017
Everett B. from Monmouth, IL signed.
Sep 9th, 2017
Ashley C. from New Prague, MN signed.
Sep 8th, 2017
Thomas W. from Milton, FL writes:
The tinkering and adjusting of the tax code annually is just to confusing and hard to keep up with. Why not take a code that is transparent to all and fair for all? Why not?
Sep 6th, 2017
Jeff M. from Santa Rosa Beach, FL writes:
Please tell your elected officials to pass the FAIRTAX!
Sep 6th, 2017
Jennifer G. from Starke, FL signed.
Sep 6th, 2017
Randy G. from Starke, FL signed.
Sep 6th, 2017
Allen T. from Miami, FL writes:
Folks although it seems to be otherwise, FAIR TAX legislation (HR 25, S 18) is the most appropriate form of taxation in order to raise the revenues required to run this nation; and MAKE AMERICA GREAT AGAIN. Starting with the basic thought that BUSINESS DOES NOT PAY TAXES, AND HAS NEVER PAID TAXES. As you well know a business survives and flourishes on the "bottom line". Therefore to a business, taxes is just another cost of doing business like raw materials, rent, payroll, etc. A business simply collects taxes from the consumer and passes them on to the government. Then it would make sense to let the consumer pay those taxes directly in the form of a Sales Tax on all goods and services at the consumer level, to the government. All the goods we generate in this country will be exportable at a lower cost.; think about that. US goods will be more attractive on the international market. Also a Sales Tax will virtually eliminate the underground economy. Think of all the taxes will be paid when the "big man" buys his luxury goods with all his unreported income. Please have the staff look at the two bills, and if they have any questions, ask Mr. Rubio, Mr. Huckabee or the Vice President. Looking forward to having you make a very good move on the way to MAKE AMERICA GREAT.
Sep 6th, 2017
Gene H. from Jacksonville, FL signed.
Sep 6th, 2017
Glenn M. from Jacksonville, FL writes:
The FairTax is the only real "fix" for our broken tax system. Everyone agrees that it needs changing. Even Congress gives lip-service to fixing it. But all other options currently being considered are merely rearranging deck chairs on the Titanic - they may look like they are doing something but leave the real problem (taxing productivity) in place. H.R. 25 and S. 18 will permanently fix this problem. Penalizing productivity results in lowered productivity. Taxing consumption results in increased productivity, increased savings and an expanding economy. I expect you to not only support the FairTax but to add your name as a co-sponsor. I will look for your name to appear on the list of co-sponsors soon.
Sep 6th, 2017
Someone from Sanford, FL signed.
Sep 6th, 2017
Ernest M. from Jacksonville, FL writes:
Time to tax the whores, pimps, drug dealers, and all those folks that work for cash.
Sep 6th, 2017
Daniel S. from Mount Dora, FL writes:
Fair tax is the best if you have the nerve.
Sep 6th, 2017
Thomas C. from Fort Lauderdale, FL signed.
Sep 6th, 2017
Thomas C. from Fort Lauderdale, FL signed.
Sep 6th, 2017
Jerry L. from Spring Hill, FL writes:
It is well known and documented that the current federal tax system is an abomination of inefficiency, waste. It has grown increasingly perverse for decades, primarily because congress has found it expedient to use it to reward special interests and as a means to (ineptly) manage and control our economy and the behavior of segments the population, rather than as simply a tool to raise the funds necessary to carry out the necessary and legitimate function of government while causing as little adverse impact on the lives of the citizens as possible. The Fair Tax would reverse that progression and unleash major parts of our economy to produce the levels of growth that would make major inroads into balancing the budget, while restoring the tax system to the simplicity, transparency and fairness to all that should be the goals of every elected official. Isn't that the sort of thing you were elected to accomplish? In the world I live in being hired to do a job and then doing something entirely different could get you replaced by someone who will follow through on their commitments.
Sep 5th, 2017
Pamela R. from The Villages, FL writes:
Tell President Trump to send the FAIRtax, HR 25 to Congress. It addresses ALL four goals of his tax plan, 1) tax relief for middle class Americans, 2) simplify the tax code, 3) grow the American economy & 4) don't add to the national debt or deficit - are easily and quickly accomplished with the FAIRtax. The FAIRtax also solves two other serious problems that plague the income tax - evasion and stability. Evasion of the current income tax is between 20% and 25% which means the people that are paying their fair share have to make up the difference. A consumption tax, such as the FAIRtax, is almost impossible to evade. Congress makes almost daily changes to the income tax code. This lack of stability means businesses cannot plan for the future. The only thing business owners can predict about the income tax is that it won't be the same tomorrow, next week or next year. These constant changes makes it nearly impossible to plan ahead. As long as we keep the income tax, Congress and the lobbyists will work together to make constant changes to the tax code. The FAIRtax fixes this problem because of its simplicity. So the FAIRtax accomplishes all of the Presidents tax reform goals and it fixes the evasion and stability problems. What's not to like?
Sep 5th, 2017
Franklin S. from Ocklawaha, FL signed.
Sep 5th, 2017
Franklin S. from Ocklawaha, FL signed.
Sep 5th, 2017
Edward J. from New Port Richey, FL writes:
The FAIR TAX is the obvious answer to our terrible income tax system. Our Congress and Senate MUST support it!!!
Sep 5th, 2017
Louis B. from Lynn Haven, FL writes:
Our children and grandchildren will thank you for your support of "The Fair Tax." We need reform, and this is it. For Fl. District 2 Neal Dunn, and for Sen. Rubio, and Sen. Nelson of Fl. We need your support of this important new concept. More importantly, the citizens of these United States deserve better than what we now have.