Tell Congress: End 'Gun-Free Zones' At Military Bases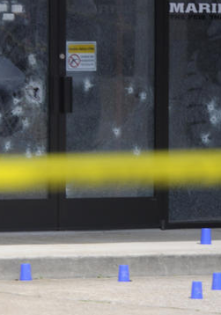 June 2009: Abdulhakim Mujahid Muhammad kills 1 and injures another at a recruiting station in Little Rock, Arkansas...
November 2009: Nidal Malik Hasan kills 13 and injures 32 at the Soldier Readiness Center in Fort Hood, Texas...
September 2013: Aaron Alexis kills 12 and injures 3 at Navy Yard in Washington, DC...
April 2014: Ivan A. Lopez kills 3 and injures 16 marking the second mass-shooting in Fort Hood, Texas...
July 2015: Muhammad Youssef Abdulazeez kills 5 and injures 2 at a recruiting center in Chattanooga, Tennessee...
All of these tragedies were facilitated by federal policy that mandates 'Gun-Free Zones' at bases and other military workplaces.
If you agree that Congress must end 'Gun-Free Zones' for the military, add your name below and proceed to send a personalized message to your U.S. Representative and Senators on this issue.
Post Public Comments
Public Comments (13,914)
Aug 11th, 2017
Belinda E. from Townsend, DE writes:
These Soldiers a trained to protect us and yet they have their rights to protect themselves taken away. As the Proud Mom of a Soldier evey Mom wants their Sons an Daughters safe and we worry that they are not safe on a Military base . This is a disgrace that has to be changed for the Men an Women who give everthing to Serve and ask nothing in return. Make our Soldiers safe no matter where they are.
Aug 3rd, 2016
Susan H. from Clearwater, FL writes:
Aren't. These guys and gals trained to protect us and themselves at all times?? WTH??? Give them their guns to keep on them always. Surely they know when they should not carry a gun. Lord, please have Mercy on our Country!
Apr 8th, 2016
Someone from Lutz, FL signed.
Mar 17th, 2016
cindy c. from Middleport, PA signed.
Feb 11th, 2016
Someone from Fort Worth, TX signed.
Jan 22nd, 2016
Douglas A. from Boaz, AL writes:
No gun-free zones anywhere! It's an invitation to disasters.
Jan 12th, 2016
Mary T. from San Angelo, TX signed.
Nov 28th, 2015
mark w. from New Castle, VA signed.
Nov 22nd, 2015
Douglas A. from Boaz, AL writes:
Totally outrageous--as usual!!!
Nov 20th, 2015
Someone from North Beach, MD signed.