Tell Congress: Impeach Obama for Ignoring the 5th and 6th Amendments!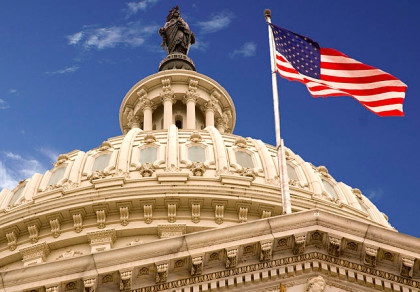 "No person shall be ... deprived of life, liberty, or property, without due process of law." - Fifth Amendment
"In all criminal prosecutions, the accused shall enjoy the right to a speedy and public trial, by an impartial jury of the state and district wherein the crime shall have been committed …" – Sixth Amendment
Obama Administration Voids the 6th Amendment, Violates Constitution
We need no more evidence to show Barack Obama and his Administration's animosity towards the Constitution and the People it protects.
In a response to Senator Rand Paul regarding whether or not the Obama Administration believes it is in their power to assassinate Americans via drone strikes on American soil, Attorney General Eric Holder wrote on March 4:
"It is possible, I suppose, to imagine an extraordinary circumstance in which it would be necessary and appropriate under the Constitution and applicable laws of the United States for the President to authorize the military to use lethal force within the territory of the United States."
This confession is not only extraordinarily disturbing; it is a damning confirmation of the White House's unconstitutional lawbreaking.
The President, under the Constitution, is given absolutely no authority to execute Americans or "waive" due process that the Fifth and Sixth Amendments guarantee!
Holder's admission stands to prove that Obama believes that he is above the law – above the Constitution he swore to uphold against enemies foreign and domestic.
Congress must impeach President Obama over his usurpation of the Constitution – the Supreme Law of the Land.
Take Action and Demand that Lawmakers file Articles of Impeachment, convict, and remove Barack Obama from office.
Post Public Comments
Public Comments (679)
Oct 26th, 2016
kelly e. from Van Nuys, CA writes:
Obama is complete and utter destruction of human values
Mar 29th, 2016
Justin H. from Toledo, OH signed.
Mar 10th, 2016
Deb C. from Metairie, LA writes:
Obama is not only violating and abusing Constitution, he is putting all of it to shame ..He is forgetting that he is not above the law and constitution .. These kinds of precedence causes more danger than it seems , and these kinds of precedence and false obedience in vested interest has affected American people very negatively ..
Nov 6th, 2015
Clinton S. from Glendive, MT signed.
Jul 6th, 2014
Someone from Hastings, MN writes:
BALANCE THE BUDGET WITH SPENDING CUTS & PROGRAM ELIMINATIONS. END OBUMMERCARE, IRS, EPA TO START. DEFEND ARE BORDERS, & NO AMNESTY TO ILLEGALS!! START UPHOLDING THE CONSTITUTION!
Jun 28th, 2014
Chap C. from Tucson, AZ writes:
Let's not forget the 1st, 2nd & 4th that he continues to violate
Jun 24th, 2014
Someone from Hastings, MN signed.
May 27th, 2014
Someone from Old Hickory, TN signed.
Jan 26th, 2014
Robert L. from Old Hickory, TN signed.
Dec 30th, 2013
Someone from Collinsville, AL writes:
Why is Congress so willing to allow this guy serve his time and live off of a government paycheck the rest of his life?