Tell Congress: Defend Privacy, Rein In NSA
"What will become of us if the feds can watch our every move and hear our every conversation and learn our every expenditure and read our every email and find out what we eat and whom we love and how we live?"- Judge Andrew Napolitano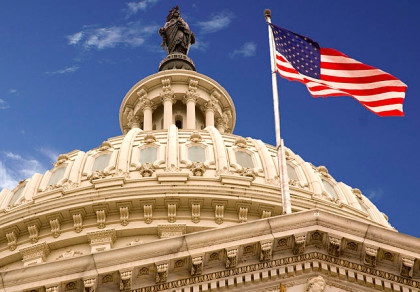 "What will become of us if the feds can watch our every move and hear our every conversation and learn our every expenditure and read our every email and find out what we eat and whom we love and how we live?"- Judge Andrew Napolitano
With the federal government regularly surveilling phone metadata, emails, and other forms of digital communication, it's time for U.S. lawmakers to stand up, defend our privacy, and end the NSA's unconstitutional spying.
Reps. Justin Amash, John Conyers, and Patriot Act author Jim Sensenbrenner are sponsoring comprehensive legislation to rein in the National Security Agency and curb their sweeping surveillance powers.
Their bill, the USA FREEDOM Act, would:
- modify section 215 of the Patriot Act to end mass unwarranted surveillance and restore probable cause;
- require the Foreign Intelligence Surveillance Court to provide lawmakers with court opinions and policies, thereby ending "secret" laws;
- allow internet and telecommunications companies to make public the number of NSA requests they have received;
- establish an office for a "privacy advocate" to represent the interests of Americans and their privacy before the Foreign Intelligence Surveillance Court; and
- close domestic and foreign loopholes by modifying Title IV and section 702(b) of the Foreign Intelligence Surveillance Act.
With the NSA's misinterpretation (abuse) of law – providing them "allowance" to spy on anyone anywhere – it's clear this legislation is needed to start ending government's ugly, unconstitutional surveillance programs.

We need to rally lawmakers right away and demand that they get behind this needed legislation in defense of our privacy.
Take Action! Sign the petition and tell your U.S. Representative and Senators to sponsor the USA FREEDOM Act -- not Feinstein's "fake fix" -- and curb the National Security Agency's broad, warrantless surveillance powers!
Post Public Comments
Public Comments (3,303)
May 29th, 2014
Someone from Park Ridge, IL signed.
May 21st, 2014
Someone from Indianapolis, IN signed.
May 21st, 2014
Catherine R. from Palm Coast, FL writes:
May 19th, 2014
Francis M. from Piedmont, SC signed.
May 18th, 2014
Ray B. from Cordova, TN signed.
May 18th, 2014
Rob H. from Pittsburgh, PA signed.
May 17th, 2014
Wanda H. from Port Saint Lucie, FL signed.
May 17th, 2014
George C A. from Killeen, TX signed.
May 16th, 2014
Someone from Ilion, NY writes:
Millions of men and women did not serve in our military defending us, just to have a bunch of politicians allow illegal wire/email/phone surveillance by our government.
May 16th, 2014
Someone from Littleton, CO signed.