Tell Congress: Defend the Benghazi Select Committee
NEVER FORGET. NEVER RELENT. 9/11/12.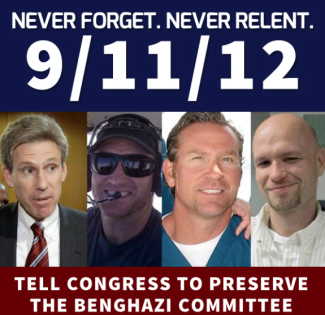 Right now, forces in the United States Congress are pushing to dissolve the Benghazi Select Committee.
Using a procedural tactic, enemies of the Benghazi investigation are forcing a vote on whether or not to keep the probe alive… they're arguing the committee is a "misuse of official resources."
That's why it's so important that you take action today! Help Special Operations Speaks tell legislators to defend the Benghazi Investigation, not dismantle it.
Take action! Sign your name below and proceed to send customizable letters to your U.S. Representative.
First, Enter Your Zip Code