Tell Congress: Abolish the U.S. Department of Education
Messages Sent So Far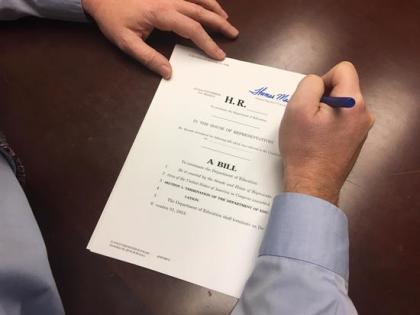 Members of Congress need to abolish the Department of Education and get the federal government out of our schools.
Sign the petition and tell your U.S. Representative and Senators to support and pass H.R. 899, a bill that includes a single sentence that states, "The Department of Education shall terminate on December 31, 2018."
Education is not the responsibility of the federal government, but the responsibility of parents first and communities second. The absolute highest level of civil authority over education permitted under the Constitution is State government.
Public Comments
Mar 9th, 2017
Lloyd L. from Portland, OR signed.
Mar 9th, 2017
Thomas E. from Glendale, AZ signed.
Mar 9th, 2017
Thomas E. from Glendale, AZ signed.
Mar 9th, 2017
Someone from Kansas City, MO writes:
Education today is not wisdom, history, civics, literature, dialogue, discernment, or critical thinking. Taught to the lowest common denominator, "Education" is indoctrination. As a teacher, parent, and grandparent who is appalled at the coarseness of the govt curriculum, I appeal to you legislators to turn off the spigot. Close down the DOE, and give parents local control. For the children's sake . . .
Mar 9th, 2017
Stephanie K. from Oakdale, CA writes:
Our public schools have become not the teaching institutions that they were intended to be, but institutions of indoctrination into less than healthy lifestyles.
Mar 9th, 2017
Someone from Cheyenne, WY writes:
"The difference between failure and success is doing a thing nearly right and doing a thing exactly right." - Ed Simmons
Mar 9th, 2017
Lou S. from Wichita, KS writes:
As many states (ours included) struggle with increasing costs of education, now is the time to push for State's Rights and turn the education responsibilities over to the respective States. Elimination of the U.S. Dept of Education is a step in the right direction. This coupled with allowing school choice can allow states to determine the best education for its children. Especially the low income families desiring better alternatives for their kids! Now is the time to push for these actions!
Mar 9th, 2017
Donald K. from Norwalk, CT writes:
The government has no business being involved with education and/or health care (look at the VA).
Mar 9th, 2017
Someone from Medford, OR writes:
Educate, don't indoctrinate! We should educate locally--not federally and don't need a government agency collecting monies dumbing children down into common core. Get rid of Department of Education
Mar 9th, 2017
Milan R. from Weidman, MI writes:
This layer of bureaucracy only adds additional cost and confusion to the education process. Since it's introduction by the Carter administration education costs have soared and effectiveness has declined!!! Government intervention is a detriment not an asset!!!
Mar 9th, 2017
Charles F. from Lake Charles, LA signed.
Mar 9th, 2017
Rebecca B. C. from Modesto, CA writes:
I am a teacher and teaching was better before we had all this Washington D. C. interference. Education of children needs to be restored to more local state and county control for common sense and less cost to everyone. Rebecca B. Clover, 95356
Mar 9th, 2017
Thomas L. from Milwaukee, WI writes:
It is very important to return to the individual states their rightful power as stated in the United States Constitution! Not only on education but other areas as well.
Mar 9th, 2017
John B. from Saratoga Springs, NY signed.
Mar 9th, 2017
Pierre B. from Rossville, GA writes:
Mar 9th, 2017
Mike S. from Kettle Falls, WA writes:
We have been throwing money at education for over 45 years, more all the time. We are sooooo far behind even third world countries in the quality of K-12 education, yet we do not learn. So many of the productive careers in science and engineering are filled with foreigners (which is fine). As we all know, local control of education would cost a lot less than federal.
Mar 9th, 2017
George R. from Jacksonville, FL writes:
The overwhelming success of home schooling across this country today, and the well established fact that we, as a nation, are declining in the world in educational standing, are glowing testaments to the fact that the federal government has no place in the education of our children.
Mar 9th, 2017
Godfrey S. from Fort Myers, FL signed.
Mar 9th, 2017
Someone from Marble, NC writes:
The US Department of Education was never as much a champion of "education" as it was a champion of teacher's unions. It served their interests, not the interests of students and parents who are mostly forgotten in the politics of education.
Mar 9th, 2017
Phil H. from Austin, TX writes:
As a product of and participanting parent in the Texas public school systems, I have never witnessed a legitimate functional role the federal Department of Education ever played. Local elected school boards and the state board of education are all the oversight necessary to educate our children. If a federal Department of Education is justified then, in like manner, a Department of Municipalities is also justified to, ostensilby, oversee all the elected City Councils of every state in the union.
Mar 9th, 2017
Douglas M. from Powhatan, VA signed.
Mar 9th, 2017
Someone from Amarillo, TX writes:
We need local input and back to basics - yes remove Government from our schools.
Mar 9th, 2017
Someone from Lititz, PA writes:
Please support H.R. 899 - this should be passed !! My three grandchildren were home schooled then two of them graduated from college with honors and have responsible, productive jobs. The other one has a landscaping business with several employees. The federal gov't must let the parents, communities and states do school education.
Mar 9th, 2017
Harry W. from Aledo, TX writes:
We do not need a federal department of indoctrination! Local school boards should determine every aspect of public education. Without government interference.
Mar 9th, 2017
Stephen R. from Inwood, WV writes:
This will result in doing away with another unnecessary department, that is just a drag on the federal budget! SMR,III
Mar 9th, 2017
Don C. from Gulf Shores, AL writes:
In accordance with Amendment 10 and Art 1, Section 8 of the Constitution, the Federal Government is not authorized any powers or authority over education. The Federal Department of Education is unconstitutional and needs to go away.
Mar 9th, 2017
James M. from Ephrata, PA writes:
The Federal jurisdiction over State and Local schools is not found or practiced under the guide lines of our American Constitution! This blind function of a federal agency needs cleansed..
Mar 9th, 2017
Chris O. from Littlestown, PA writes:
Time to downsize governments roll in the people's lives.......since the federal government has more then enough on it's plate to fix....this should be thrown back to the states and parents should be allowed more of a say about their children's education!
Mar 9th, 2017
Rick L. from Hillsboro, OR signed.
Mar 9th, 2017
Donna T. from Justin, TX writes:
If the republicans are truly listening; then get behind this!
Mar 9th, 2017
Richard S. from Perth Amboy, NJ signed.
Mar 9th, 2017
Someone from Smithville, MO writes:
Please do the job that the federal government was organized to do, protect the 50 states from all enemies both foreign and domestic. The rest of the problems should be the responsibility of the individual states.
Mar 9th, 2017
Barbara P. from Canal Winchester, OH writes:
How often we have said "We need no Department of Education" at the Federal level. Now H. R. 899 easily read and understood bill you have ever seen is available for your signature of support. Please sign this bill immediately to support our local education departments to be able to stand up and do what we and they want to do for our students and their parents who support our schools.
Mar 9th, 2017
Someone from Fort Collins, CO signed.
Mar 9th, 2017
See Y. from San Jose, CA signed.
Mar 9th, 2017
william h. from Olivehurst, CA signed.
Mar 9th, 2017
David D. from The Dalles, OR signed.
Mar 9th, 2017
Lawrence L. from Olathe, KS writes:
Federal politicians want to purposely dumb down our children and grand children while their's attend the best schools possible. It is time for change. No more brainwashed educational tactics should henceforth be permitted by politicians in Washington, D.C.
Mar 8th, 2017
Stephen H. from Mansfield, OH signed.
Mar 8th, 2017
Someone from Round Rock, TX writes:
The termination date should be Much, Much Sooner ! The Federal Government has been the instigator of the, 'Dumbing Down' of the Untied States citizenry for many years !!