Tell Chuck & Nancy to Stop the Witch Hunt
Do your job for the American People!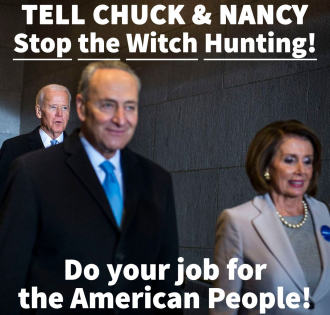 Democrats in Congress refuse to accept the findings of the Mueller Report. As President Trump says, they are desperate for a "do over" - but we're not going to let them get away with it.

While the Left accuses President Trump of a phony "cover-up," Democrats in Congress issued more subpoenas to interview folks who've already been interviewed by the Special Counsel; pressed White House Administration officials to turn over the President's tax returns for no "legitimate legislative purpose;" held marathon readings of the Mueller Report in the Capitol hearing room, the House floor, and the Senate floor; and threatened to hold basically anyone in contempt of Congress for refusing to play along with their political charade.

Meanwhile, American manufacturers, farmers, and ranchers are desperately waiting for Nancy Pelosi to bring the USMCA to the House floor for a vote to ratify the revised NAFTA trade deal. With the USMCA trade agreement between the U.S., Canada, and Mexico, the U.S. will be well on its way to greater economic prosperity. Congress should immediately ratify the USMCA and end the partisan witch hunts!
First, Enter Your Zip Code