Tell U.S. Attorney General Loretta Lynch to PROSECUTE Hillary Clinton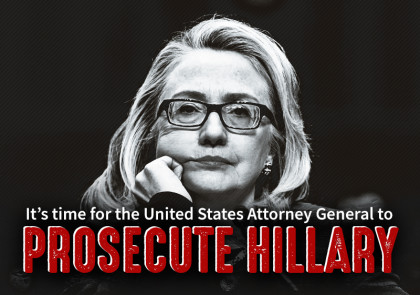 Hillary Clinton is not above the law.
The facts are in: Mrs. Clinton has already openly admitted to…
- Diverting public records from government control;
- Placing classified information in a non-classified location; and,
- Destroying subpoenaed evidence after receiving subpoena notice.
For these acts alone – not to mention her unconstitutional receipt of gifts from foreign government while sitting as U.S. Secretary of State, or the fact that her actions cost American lives in Benghazi, Libya – Hillary Clinton must be put on trial.
But there will be no prosecution without a prosecutor.
That's why we're asking you to stand with us and demand U.S. Attorney General Loretta Lynch to pursue legal action against Hillary Clinton in response to her lawless acts.
Attorney General Loretta Lynch has the authority to start a prosecution, and we must urge her to use her authority justly against Hillary Clinton.
Law is the law. No one is exempt.
Add your name below to send a personal message to U.S. Attorney General Loretta Lynch demanding that Hillary Clinton be prosecuted.
First, Enter Your Zip Code