Tell U.S. Senators to CONFIRM Judge Neil Gorsuch to the Supreme Court
Messages Sent So Far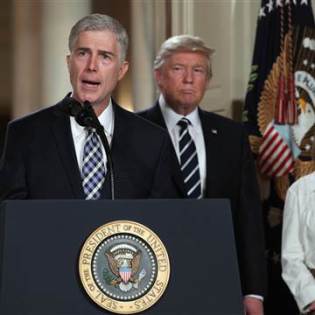 The United States Senate must confirm Judge Neil Gorsuch to the Supreme Court of the United States.
Judge Gorsuch has a track record of standing with the Constitution and is the best replacement for the late Justice Antonin Scalia on the bench.
Gorsuch is a strict originalist who believes that the Constitution's meaning is fixed -- that it's what the founder's wrote it to be -- not a "living, breathing document" as judicial activists regularly assert whenever they wish to steamroll the Supreme Law.
Constitutional Judge Andrew P. Napolitano strongly supports Gorsuch's nomination, saying he would bring a "Scalia-like dose of skepticism about the government" to the Highest Court in the land.
With key cases headed to the Supreme Court in the coming days -- on healthcare, the Second Amendment, transgendered school bathrooms, etc. -- it's crucial that the United States Senate confirms Judge Neil Gorsuch now.
Take action and sign the petition demanding both of your U.S. Senators to vote in favor of Judge Neil Gorsuch to the United States Supreme Court!
Post Public Comments
Public Comments (6,770)
1 hour ago
Lee C. from Safford, AZ writes:
We need a Judge who will honor and follow the Constitution.
1 hour ago
Tom D. from West Bountiful, UT writes:
Time for a new congress. One that will represent the people.
11 hours ago
Marjean T. from Mackay, ID writes:
11 hours ago
Chris and Tammy K. from Fort Worth, TX writes:
Vote in favor of Judge Neil Gorsuch to the United States Supreme Court!
Feb 18th at 8:37 pm
Michael B. from Texarkana, TX signed.
Feb 18th at 7:10 pm
Lonnie V. from Joplin, MO signed.
Feb 18th at 6:24 pm
Ronald E. from Norwalk, CT signed.
Feb 18th at 5:28 pm
Thomas B. from St. Louis, MO writes:
I believe that judges, most importantly Supreme Court Judges, should uphold the Constitution and the law of the land as per Congress intended and that Judge Gorsuch will do just that-uphold the constitution and the law and not manipulate it for any political agenda. It is despicable what the courts are doing--and not doing for the laws passed by congress and our constitution.
Feb 18th at 4:59 pm
Lila O. from Pierceton, IN writes:
Stop dragging your feet; confirm Gorsuch!!!!
Feb 18th at 3:52 pm
Bill D. from Norman, OK writes:
No one is more qualified to serve on the U.S. Supreme Court than Judge Neil Gorsuch