Tell U.S. Senators to CONFIRM Judge Neil Gorsuch to the Supreme Court
Messages Sent So Far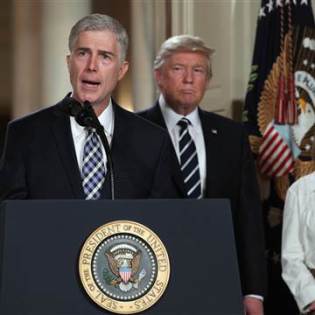 The United States Senate must confirm Judge Neil Gorsuch to the Supreme Court of the United States.
Judge Gorsuch has a track record of standing with the Constitution and is the best replacement for the late Justice Antonin Scalia on the bench.
Gorsuch is a strict originalist who believes that the Constitution's meaning is fixed -- that it's what the founder's wrote it to be -- not a "living, breathing document" as judicial activists regularly assert whenever they wish to steamroll the Supreme Law.
Constitutional Judge Andrew P. Napolitano strongly supports Gorsuch's nomination, saying he would bring a "Scalia-like dose of skepticism about the government" to the Highest Court in the land.
With key cases headed to the Supreme Court in the coming days -- on healthcare, the Second Amendment, transgendered school bathrooms, etc. -- it's crucial that the United States Senate confirms Judge Neil Gorsuch now.
Take action and sign the petition demanding both of your U.S. Senators to vote in favor of Judge Neil Gorsuch to the United States Supreme Court!
Post Public Comments
Public Comments (13,433)
just now
Patrick P. from Richmond, KY signed.
5 minutes ago
William S. from Knoxville, TN writes:
Please confirm Gorsuch at whatever cost. If the "nuclear" option was good enough for the Democrats, then Republicans should use it!
5 minutes ago
Donna C. from Seguin, TX writes:
Neil Gorsuch has proven to be an ideal candidate for Supreme Court justice. Judge Gorsuch is mindful of the responsibility the position requires and there is no reason not to vote in favor of his confirmation .
10 minutes ago
Someone from Des Plaines, IL signed.
15 minutes ago
Someone from Forest, VA writes:
Even with all of the GOTCHA questions-the dems cannot shake Mr. Gorsuch--so please grow up and put him in his Supreme Court position...that he has earned. UNLIKE some of the fruit cakes that Obama put in there.
15 minutes ago
John J. from Manor, PA signed.
15 minutes ago
James P. from Idabel, OK writes:
Cmon guys don't be bad losers. Everyone knows Schumer is an AH.
20 minutes ago
THOMAS D. from League City, TX writes:
I judge Gorsuch is the "common sense individual " we the people need.and demand. Senator schumer is nothing but a bad actor.
20 minutes ago
Barbara L. from Clearwater Beach, FL writes:
This obstructionist behavior must stop. Please vote to confirm judge Gorsuch!
20 minutes ago
Someone from Ypsilanti, MI writes:
Judge Grouch is the right person for Supreme Court. Please support my choice.