Tell Congress: Support H.R. 973 and Refuse All Unconstitutional Foreign Laws
STOP the U.N.'s attempts to impose their un-American resolutions to curb Free Speech ...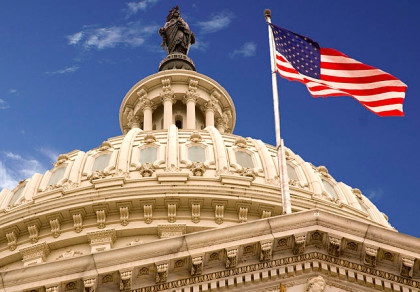 Barack Obama and liberal politicians are trying to RESTRICT First Amendment free speech rights -- by implementing UNITED NATIONS resolutions that supersede our Constitution!
We all know that the U.N. is anti-American. They hate our values, they hate our Constitution, they hate our God-given rights.
Now, the Obama regime is trying to curtail our most fundamental First Amendment rights -- especially the right to Free Speech -- by pushing U.N. resolutions that create a "special class" of speech that is NOT free at all! As the Washington Post reported:
"…the Obama administration supported the passage of a resolution in the U.N. Human Rights Council to create an international standard restricting some anti-religious speech (its full name: 'Combating Intolerance, Negative Stereotyping and Stigmatization of, and Discrimination, Incitement to Violence and Violence Against, Persons Based on Religion or Belief'). Egypt's U.N. ambassador heralded the resolution as exposing the 'true nature' of free speech and recognizing that 'freedom of expression has been sometimes misused' to insult religion.

At a Washington conference last year to implement the resolution, Secretary of State Hillary Rodham Clinton declared that it would protect both 'the right to practice one's religion freely and the right to express one's opinion without fear.' But it isn't clear how speech can be protected if the yardstick is how people react to speech -- particularly in countries where people riot over a single cartoon. Clinton suggested that free speech resulting in 'sectarian clashes' or 'the destruction or the defacement or the vandalization of religious sites' was not, as she put it, 'fair game.'"
DO YOU GET IT? The United Nations wants to restrict everybody's free speech, especially if it "insults" a "peaceful religion" like ISLAM… and Obama and his minions want to FORCE America to follow the U.N.'s resolutions!!!
WE MUST STAND UP AS AMERICANS AND SAY NO TO U.N. ATTACKS ON AMERICAN FREE SPEECH! TAKE ACTION NOW -- SIGN AND SEND YOUR PETITION AND LETTERS TO LAWMAKERS DEMANDING THAT THEY SUPPORT HR 973 TO KEEP ALL FOREIGN LAW -- INCLUDING SHARIA & U.N. LAW -- FROM ENTERING UNITED STATES' COURTS!

Public Comments
Oct 23rd, 2012
Jack S. from Lady Lake, FL writes:
Get the U.S. out of the U. N. and the U. N. out of the U. S.!
Oct 23rd, 2012
Jeffrey P. from Laughlin, NV writes:
Get your heads out of the Luciferian New World Order United Nations*****and stand up for the Constitution, the Bill of Rights and the Declaration of independence.
Oct 23rd, 2012
Paul W. from San Antonio, TX signed.
Oct 23rd, 2012
Charles P. from Clarkesville, GA signed.
Oct 23rd, 2012
Thomas H. from Saluda, SC signed.
Oct 23rd, 2012
Darrell P. from Everett, WA writes:
It is long over due that we be REPRESENTED by people that realize IT IS NOT THEIR PERSONAL INTERESTS they are supposed to be pushing for. LET ALONG filling their accounts.
Oct 23rd, 2012
Larry R. from Mankato, MN writes:
The U.N. has no right to tell a country what their citizens can say or not say.
Oct 23rd, 2012
Yvonne L. from Torrance, CA writes:
We should not pass any law giving authority to any other governing body outside the USA!
Oct 23rd, 2012
Scott P. from Harrisburg, PA writes:
Oct 23rd, 2012
Ken & Mary M. from Livermore, CA signed.
Oct 23rd, 2012
Monty B. from Wisconsin Dells, WI signed.
Oct 23rd, 2012
DONALD&ELEANOR L. from Sun City West, AZ signed.
Oct 23rd, 2012
Doris M. from Webster, TX signed.
Oct 23rd, 2012
Marianne R. from Covina, CA signed.
Oct 23rd, 2012
Someone from Humble, TX signed.